Electricity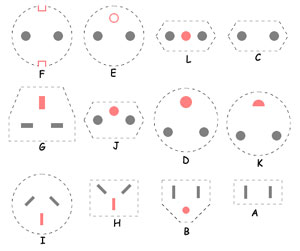 All of our holiday homes are connected up with electricity (220 V). In Denmark the socket has two round holes or three holes (230 volts with earth connection). See figure C and K.

English sockets are type C and G.

The electricity-meter is placed external on the house. In modern houses the electricity-meter can be supplied with a lid. Lift the lid a bit in order to open the electricity-meter. Almost all Danish electricity-meters show the numbers without any point - all numbers are whole kilowatt.

If a fuse or a group of fuses are disconnected, power cuts can occur – Relay and fuses.

Read more about Electricity consumption. For settlement of the consumption of electricity, please see Consumption settling.