Holiday home, 17-2263, Vorupor
Category:

Floor plan
The holiday home
Rental price
Description
Eco-friendly
Internet
Woodburning stove
Renovated: 2018
3 bedrooms
Holiday home suitable for 6 persons . The holiday home is 80 m² and is build in 1970. In 2018 the holiday home was partial renovated. No pets allowed.The holiday home is equipped with 1 energy-saving heat pump. The holiday home has washing machine. Tumble dryer. Freezer with a capacity of 102 litres. Further more there is 1 wood-burning stove. The holiday home is situated on a 800 m² natural site. Situated 1800 m from the sea. Nearest shop is 1500 m away. A 40 m² terrace belong to the holiday home. Parking place by the holiday home. All
together there are 3 bedrooms. The beds are divided on: 2 sleeping places in double bed. 2 sleeping places in single beds. 2 sleeping places in bunk bed. The kitchen is equipped with 1 refrigerator. There are 4 ceramic cooking plates, hot-air oven, microwave oven and dishwasher. There is 1 bathroom with shower cabinet and 1 toilet, hereof 1 guest bathroom. The holiday home contains 1 TV.1 DVD player. Radio. At least 4 Danish channels. At least 4 German channels. Wireless internet at your disposal.
Please note: Youth groups (15-25 years of age) not allowed. Smoking is prohibited. By violation of this prohibition a fee of min. EUR 420 will be charged.
Copyright:
Sol og Strand Feriehusudlejning A/S
Bedrooms

3

Ground area

800 m2

Beds

6

Living area

80 m2

Cot

0 pcs

Fenced site

No

High chair

0 pcs

Terrace

40 qm

Toilet

1

Activity room

No

Shield terrace

No

Woodburning stove

Yes

Parking by the house

Yes

Year built

1970

Pets allowed

No

Renovated

2018

Playground equipment

No
Washing machine

Yes

Tumbler

Yes

Dish washer

Yes

Refrigerator

1 pcs

Freezer

Yes (102 liter)

Oven

Yes

Microwave oven

Yes

Cooking plates

Yes, 4 pcs
Swimmingpool

No

Whirlpool

No

Sauna

No

Sunbed

No

Steam cabin

No
Sea

1,8 km

Sea view

No

Groceries

1,5 km
DVD

Yes, 1 pcs

Game console

No

Phone

No

WiFi

TV

1 pcs




Danish TV channels

4+




German TV channels

4+
Energy-conserving heat pump

Yes
0 evaluations in the guestbook

Category
Close equipment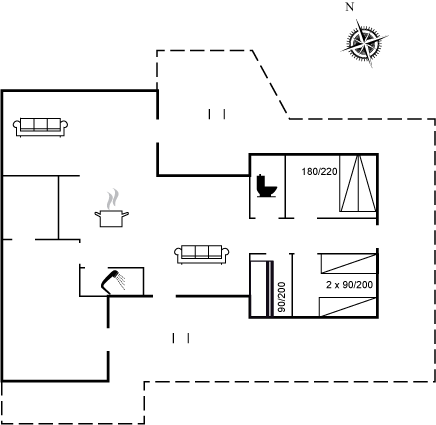 Symbol directory








Close floor plan
Close photos
House and attractions on map
+

Sandtornvej 50, 7700 Vorupor
Choose the type of attraction that you wish to visit, in a self-elected distance from your holiday home.
Attractions in a radius of
Sort by
Attractions with discount in the rest of Denmark
App

Bring the experiences along on the move. With the Sol og Strand app you always have a list of 1,500 attractions in Denmark at hand. Choose attractions according to your interests and max distance from your position. The attractions are presented on a list or a map. More info.
Close house and attractions on map
Here you can read about the holiday experiences of former guests in the holiday home. Our holiday guests have granted stars to the house, area, price and service.
Still no comments in the guestbook
Average:
House:
Area:
Service:
Price:
Total:
100% verified reviews
Close guestbook
Vorupør is an old fishing hamlet with a cosy and vivid atmosphere, surrounded by beautiful and unspoiled nature.
In the popular holiday resort Vorupør in Thy the fishermen still draw their boats and fishing vessels up on the landing place every day after use - a very old and well-preserved tradition. From the 350 metres long breakwater, next to the new open-air sea bath, you can follow the activities at close range.
It is often possible to buy fresh fish and shellfish directly from the boats on the beach.
The town offers good shops with clothes, handicraft, amber, candles and pottery. Furthermore, you will find more restaurants and interesting sights here - e.g. an aquarium and a museum.
Vorupør is surrounded by beach and large, preserved dune and moor areas. Here you will stay in charming and scenic surroundings, enjoy yourselves with the family, engage yourselves in leisure activities in the fresh sea breeze and visit some of the interesting sights of the area. The nearest larger town is Thisted, 22 km towards east.

Read more about Vorupor
North-western Jutland - the Danish Riviera
All the way from Skagen in the north to Agger in the south you can experience some of the finest, whitest and broadest sandy beaches in Northern Europe. Small, picturesque holiday towns are situated all the way along the coast. Some places it is still possible to watch the fishermen as they drag their boats up on the beach, as it has been done for hundreds of years.
At Grenen, the northernmost point of Denmark, you can place each of your feet in different oceans, The Skagerak and the Kattegat.
Anywhere along the coast you can enjoy some of the most scenic sunsets over the North Sea.

Read more about NW Jutland
Attractions
Under Map to the house you can see all attractions in the area, choose which type of attraction you wish to visit, and seek out attractions in a self-elected distance from your holiday home.
Local offices
Sol og Strand
Klitmøller
Ørhagevej 117
7700 Thisted
Phone: +45 97938233
Email: nr-vorupor@sologstrand.dk

Office manager
Anna Lise
Opening Hours (Klitmøller)
Monday
Tuesday
Wednesday
Thursday
Friday
Saturday
Sunday
23/06/2018
06/07/2018
09:00
17:00
09:00
17:00

Closed

09:00
17:00
09:00
17:00
09:00
18:00

Closed

07/07/2018
03/08/2018
09:00
17:00
09:00
17:00
09:00
17:00
09:00
17:00
09:00
17:00
09:00
20:00
10:00
15:00
04/08/2018
31/08/2018
09:00
17:00
09:00
17:00

Closed

09:00
17:00
09:00
17:00
09:00
18:00

Closed
Telephone +45 99444444 (Sale)
Monday
Tuesday
Wednesday
Thursday
Friday
Saturday
Sunday
07/04/2018
24/06/2018
09:00
18:00
09:00
18:00
09:00
18:00
09:00
18:00
09:00
18:00

Closed

Closed

25/06/2018
01/07/2018
09:00
18:00
09:00
18:00
09:00
18:00
09:00
18:00
09:00
18:00
09:00
19:00
09:00
15:00
02/07/2018
12/08/2018
09:00
18:00
09:00
18:00
09:00
18:00
09:00
18:00
09:00
18:00
09:00
20:00
09:00
15:00
13/08/2018
26/08/2018
09:00
18:00
09:00
18:00
09:00
18:00
09:00
18:00
09:00
18:00
09:00
19:00
09:00
15:00
27/08/2018
07/10/2018
09:00
18:00
09:00
18:00
09:00
18:00
09:00
18:00
09:00
18:00

Closed

Closed
Opening Hours
Period
23-06 - 06-07
Monday
09.00 - 17.00
Tuesday
09.00 - 17.00
Wednesday
- - -
Thursday
09.00 - 17.00
Friday
09.00 - 17.00
Saturday
09.00 - 18.00
Sunday
- - -
Period
07-07 - 03-08
Monday
09.00 - 17.00
Tuesday
09.00 - 17.00
Wednesday
09.00 - 17.00
Thursday
09.00 - 17.00
Friday
09.00 - 17.00
Saturday
09.00 - 20.00
Sunday
10.00 - 15.00
Period
04-08 - 31-08
Monday
09.00 - 17.00
Tuesday
09.00 - 17.00
Wednesday
- - -
Thursday
09.00 - 17.00
Friday
09.00 - 17.00
Saturday
09.00 - 18.00
Sunday
- - -
Close area
Marks and category of Sol og Strand
+
Sol og Strand have visited and evaluated the holiday home on 11-01-2018
We evaluate the holiday home on a scale from 1 to 5. Read more about our marks
Beds, bed linen and mattresses:
Sofa set:
Dining table set:
Bathrooms:
Kitchen:
Cutlery, pots and frying pans:
Multimedia:
Flooring, walls and celings:
Outdoor maintenance:
Terraces:
Average:
2.65
=

Neighboringhouses on map
+
Find an extra house within walking distance to
Nabohuse søgeblok her, men kan ikke på grund af dobbelt form tag :D