Holiday homes in Denmark
Extracts from the guestbooks of our holiday homes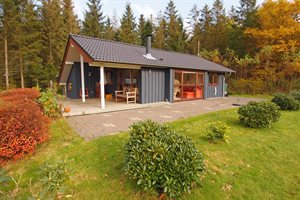 This is the first time we rent a vacation house in Denmark, so I can't really compare with other properties. But for us, this house bordered on perfect. There were four o..
News and inspiration
for the holiday
Løkken offers plenty of summer holiday activities for both children and adults. Rent a holiday home in Løkken this summer and take part in the arrangements.
Spend your summer holiday in Søndervig with free wifi, a terrain blanket for the beach and plenty of sand sculptures.
Vadehavscentret is an interesting centre, which communicate knowledge about the Danish Wadden Sea, its birds and animals as well as the nature around the sea.
Extracts from the guestbooks
of our holiday homes
There are many types of accommodation in Denmark, but the country is probably most famous for its many holiday homes. A holiday home provides room for the whole family and enables you to enjoy great nature experiences.
In some of Denmark's lovely holiday towns you will find inviting apartments, which create the perfect settings for a relaxing and eventful holiday. Our apartments in Denmark are situated close to interesting cultural sights and tempting restaurants.
With Sol og Strand you will find more than 5,500 holiday cottages in Denmark. All of our holiday cottages are located in the very best holiday areas in Denmark and are available in all price ranges. So it is just up to you to choose the right holiday cottage for your vacation.
Explore Denmark. Enjoy the high sky, each other, the fresh air and the lovely beaches - with a holiday home as your base.
Whether you are looking for luxury holiday homes or merely wish to relax in simple surroundings, you will find what you are searching for with Sol og Strand.
Discount
Last minute
Arrive next Saturday and obtain discount.
Bonus Holiday
Big discount when you book 2 weeks.
Autumn holiday
Book a holiday home for the autumn holiday now.
Admission tickets
Holiday Home + Tourist Attractions