Doors/Windows - Practical-info
Doors/Windows
For security reasons many doors cannot be locked or unlocked unless the handle is pushed upwards.

Please remember to lock all windows and check that the door has been locked before you leave the house. In this connection we want to draw your attention to the fact that neither the house owner nor SOL OG STRAND has an insurance that covers your private belongings. Video cameras, radios, etc. should therefore not be left in the house unattended.

Please note that special weather conditions (dry – wet, warm – cold) may cause windows or doors to jam.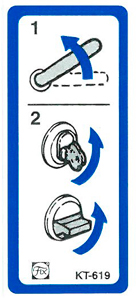 A
B
C
D
E
F
G
H
I
J
K
L
M
N
O
P
Q
R
S
T
U
V
W
Y