Spend some quality time in a holiday home in Vrist
Holiday cottages in Vrist, Western Jutland, Denmark!
The holiday home area Vrist is a tranquil and scenic holiday destination. The holiday homes are situated in a dune area, right behind the wide sandy beach of the North Sea and close to the town Harboror, where you will find everything that you need during your holiday. Vrist is a popular holiday destination for guests, who love nature, water sport and the North Sea.
Guest assessments from Vrist
58 guests have granted an average assessment of 4,47 out of 5 possible stars.
Area
Vrist is situated right at the North Sea, between the 5 km long lake Ferring Sø and the Liim Fiord. The town Lemvig lies 13 km towards east. The holiday houses are sheltered behind the high dunes and surrounded by a slightly hilly and quiet nature area. Here you can relax, enjoy your selves, swim in the sea, hike in the area, fish or visit some of the local sights.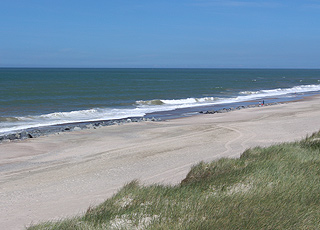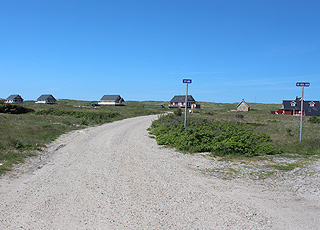 Beach
The beach in Vrist is a sandy beach with dunes and Blue Flag. It is also very suitable for children. You are not allowed to bring your car to the beach. It is very popular to fly with kites or model planes here. An ideal place for walks - no matter the time of the year.
Nature
The sea, a lake, an inlet, hilly landscape and level areas with, covered with heather, surround Vrist. Here the nature is clean and unspoiled. The meadow area Vrist Enge between Lemvig and Harboør consists of 5 small lakes. In these wetlands you can experience a rich bird life.
Activities
The area invites walks on the beach, in the dunes, at the inlet and at the lake Ferring Sø. Anglers have good possibilities for a haul both in the sea, in the inlet as well as in the Put & Take fishpond Vejlby Klit Fiskesø. Furthermore, it is possible to surf in the area.
Worth a visit
The fortress Thyborøn Fæstningen used to be the largest fortress installation in Denmark's and consists of the remains of 64 bunkers from World War 2. Sneglehuset (the snail house) in Thyborøn is a house, covered with millions of seashells both inside and outside. Inside the house you can see Denmark's largest collection of snails and bottle ships.
Excursion spots
The open-air museum 'Hjerl Hede Frilandsmuseum' near Vinderup is an interesting and lifelike museum for the whole family. See among other things how the daily life in the country 150 years ago is vitalized. The flower park 'Jesperhus Blomsterpark' on the Liim Fiord island Mors also offers a jungle zoo and a play land. The park is one of the largest of its kind in Scandinavia. LEGOLAND, app. 140 km from Vrist, is build out of 50 million toy bricks. The park offers a number of opportunities for family activities.
Author: Ann Winter
Copyright © 2003-2020 Sol og Strand Feriehusudlejning A/S
Holiday homes in Vrist
Destinations (Western Jutland)
 

Vrist

Reg. no.: 20-1094

100 m to water

 

Vrist

Reg. no.: 20-1107

50 m to water

 

Vrist

Reg. no.: 20-1103

150 m to water

 

Vrist

Reg. no.: 20-1126

100 m to water

 

Vrist

Reg. no.: 20-1124

150 m to water

 

Vrist

Reg. no.: 20-1076

50 m to water

 

Vrist

Reg. no.: 20-1109

500 m to water

 

Vrist

Reg. no.: 20-1006

150 m to water

 

Vrist

Reg. no.: 20-0007

300 m to water

 

Vrist

Reg. no.: 20-1011

200 m to water

 

Vrist

Reg. no.: 20-1123

300 m to water

 

Vrist

Reg. no.: 20-1112

75 m to water

 

Vrist

Reg. no.: 20-1118

250 m to water