Spend some quality time in a holiday home in Sdr. Felding
Holiday cottages in Sdr. Felding, Western Jutland, Denmark!
In Sdr. Felding you are surrounded by scenic moor landscapes, lakes, streams and forests.
Guest assessments from Sdr. Felding
2 guests have granted an average assessment of 4,50 out of 5 possible stars.
Area
Sdr. Felding is a small and cosy town on the moors of Western Jutland. It is located near bigger towns like Skjern, Brande and Herning, and app. 30 km from the inlet Ringkøbing Fjord. In Sdr. Felding you are surrounded by hills and moor areas, forests, lakes and the idyllic stream Skjern Å. This area is ideal for anglers and nature lovers. And at the same time Sdr. Felding is close to towns, sights and amusements for the whole family. You can e.g. visit LEGOLAND® and Givskud Zoo, which are both located about 40 km from your holiday home, and 50 km from here you can swim in the North Sea. It is possible to buy groceries in Sdr. Felding. In Herning, 30 km towards north, you will find cafés, restaurants and shopping opportunities.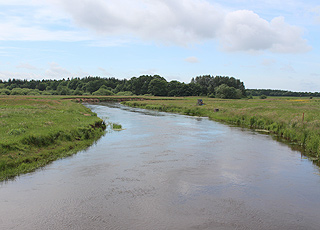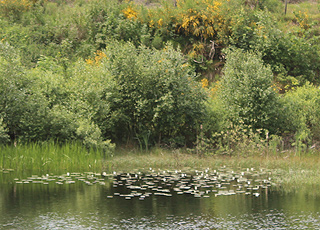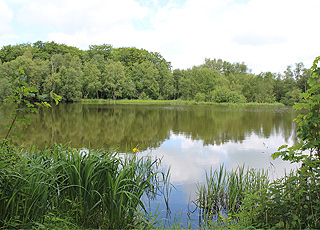 Beach
The nearest bathing beach is available by the inlet Ringkøbing Fjord, 30 km from Sdr. Felding. Here you can swim and windsurf in the calm and shallow water. If you wish to swim in the waves of the North Sea by the wide and sandy beaches with dunes, Søndervig and Nymindegab is located just 50 km from here.
Nature
Hilly landscapes, forests and beautiful heathery moor areas surround Sdr. Felding. The stream Skjern Å flows close by Sdr. Felding, and because of that, the landscape is very luxuriant. The many lakes and streams of the area attract many anglers and nature lovers. 9 km to the north of Sdr. Felding you will find the pretty lake Kulsøen, which is a recreational forest area with a fire ring and nature paths as well as a nature reserve with a rich birdlife. With its many forest paths and good viewpoints Birkebæk Plantage near Skarrild is an obvious excursion point (9 km). Near this forest area you can also experience the three bronze age mounds Hjortsballehøjene. 10 km towards west you will find the moor Borris Hede - a varying nature area with plantations, heather areas and the river valley of Omme Å. A number of rare plants, a rich wildlife as well as 14 grave mounds and 5 milestones are available here. Just east of Hoven you can see a colony of heron (12 km towards south).
Activities
The stream Skjern Å offers very good fishing opportunities. However, the stream is preserved from 1st October till 1st April each year. The stream is surrounded by a scenic, varying and tranquil nature, which can be enjoyed while you fish. It is also possible to fish in the lakes and Put & Take ponds of the area. The area invites leisure activities, and you can hike and drive on bicycle in nature, sail in canoe on Skjern Å, play golf or learn how to surf on Ringkøbing Fjord. In Herning you can visit a swimming baths or Baboon City - a play and activity centre for the whole family.
Worth a visit
Experience folklore and war history on the museum of Skarrild-Karstoft (9 km). By the scenic heather areas and the forest by the stream Karstoft Å you will find the former manor house Skarrildhus, which is beautifully restored and surrounded by a lovely romantic park. Here you will also find a rhododendron park and an idyllic old watermill (9 km). At the village museum of Hoven you can see exhibitions about the nature of Western Jutland and about how the poor moor parish has developed to a well-functioning village (13 km). Near Hoven you can admire the impressive estate Heimdal Gods.
Excursion spots
At the regional museum Rækker Møllegård near Skjern you can see a collection of old utility items, a 200 years old farmhouse and Søren Kierkegaard room (20 km). In Herning you will find a number of galleries, a Steen Steensen Blicher museum, the amusement centre Baboon City, shops and restaurants (27 km). In Jyllands Park Zoo near Videbæk you can experience, pet and feed the more than 700 animals from the whole world (30 km). LEGOLAND® offers speed, excitement and fun experiences for the whole family. Experience Star Wars® characters, knights in armours, pirates, tough cowboys, wild Indians and much more (40 km). In Givskud Zoo you can drive through a safari area in your own car or with a safari bus and come close to the animals of Africa, North America and South America (48 km). Tipperne is a preserved bird sanctuary in Ringkøbing Fjord. Here birds from all of Scandinavia take up residence between their winter quarters and breeding places (50 km).
Author: Ann Winter
Copyright © 2003-2020 Sol og Strand Feriehusudlejning A/S
Holiday homes in Sdr. Felding
Destinations (Western Jutland)
 

Sdr. Felding

Reg. no.: 24-4201

25000 m to water