Spend some quality time in a holiday home in Romo, Lakolk
Holiday cottages in Romo, Lakolk, Western Jutland, Denmark!
The popular holiday area Lakolk on Romo offers one of Denmark''s widest sandy beaches and many lovely holiday homes in the scenic dune landscape behind the North Sea. A holiday in a holiday home in Lakolk on Romo invites beach activities and family comfort. Here you will find everything that you can wish for from a holiday in a holiday home.
Guest assessments from Romo, Lakolk
268 guests have granted an average assessment of 4,66 out of 5 possible stars.
Area
Lakolk is the oldest holiday area on Romo, situated on the western side of the island, right by one of Europe''s loveliest bathing beaches. The old and evocative holiday house area Lakolk is surrounded by the North Sea, lovely beach and an undulating dune area with rush and heather. You can experience some of the island''s oldest and still very well-preserved holiday houses from 1895 in Lakolk. It is possible to buy groceries in the centre Lakolk Butikscenter. The town also offers more leisure activities, restaurants, the museum Rømø Mini Museum, the riding centre Rømø Ranch Ridecenter and a candle factory. The nearest larger town is Skærbæk, which is situated on the mainland, 19 km from Lakolk. Romo is connected with the mainland through a 10 km long dam, and the island offer lovely nature, a long, wide and sandy beach, the Jutland Wadden Sea, the North Sea, fresh sea breeze, a rich wildlife, many birds, well-preserved Romo-farms and a cosy island atmosphere.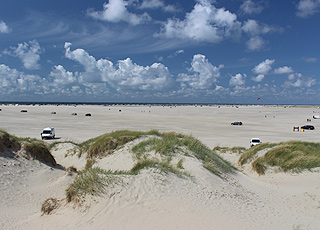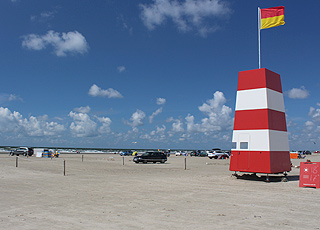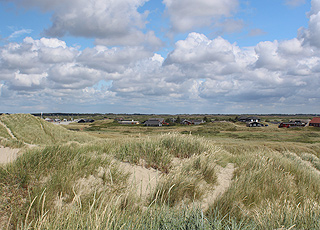 Beach
Scandinavia's widest sandy beach, the 15 km long Lakolk Strand, is situated right by Lakolk. It is possible to drive your car all the way down to the waters edge. However, traffic-free areas as well as areas for windsurfers are also available on the beach. During the summer period lifeguards keep an eye out for the bathers. The fine, completely stone-free sandy beach has shallow water, a sandy bottom, dunes and Blue Flag. Therefore, it is very suitable for children. The beach is rather unusual because of its width - between 1.5 and 6 km - which invites beach activities of every kind. Activities like windsurfing, kite buggy driving and flying with kites are very popular here. The difference between high and low tide is substantial, and twice a day the water level changes significantly. Therefore you are to be careful when you park your car close to the water.
Nature
A scenic dune area with rush and heather surrounds Lakolk, and further inland, heathery areas, grassy dunes, nature areas with pines, a rich animal life and many walking paths characterize the nature. Tvismark Plantage (4 km) consists of forest areas, open dune areas, heathery areas and a viewpoint. In the plantation you can follow a 3 km long and marked route and from the viewpoint Høstbjerg you can enjoy the view over Romo. In clear weather it is possible to see all the way to Esbjerg towards north and to the island Sild towards south. The northern part of the island has been laid out as a bird sanctuary for the many wading birds of the Jutland Wadden Sea. Seals also reside on the island, and within the later years more sperm whales have stranded on Romo. Romo consists of 90 % nature landscapes, where trees and bushes bear witness of the rough North Sea wind. The largest plantations of the island are Kirkeby Plantage and Vråby Plantage.
Activities
The wide beach Lakolk Strand invites activities like surfing, kite flying, petanque, kitebuggy driving, walks and horseback riding. Furthermore, you are able to walk on the sea floor - without getting wet - and find interesting things, brought in by the tide. A number of riding centres are available on the island, and e.g. by Rømø Ranch Ridecenter in Lakolk you can rent horses and ride out in the nature along the marked bridle paths. The scenic environs of Lakolk invite walks, activities and stays. By Juvre you will find a lovely fishpond, which is easily accessible, also with a pushchair and a wheelchair (6 km). On the 920 m long track in Skærbæk Gokart Center you can challenge each other and experience speed and excitement. The leisure centre Skærbæk Fritidscenter contains a swimming baths with i.a. water slide, springboards, hot water pools and a sauna. Golf players can try out the courses at Arrild Golf Club (33 km), Ribe Golf Klub (39 km) and Toftlund Golf Club (40 km).
Worth a visit
The candle factory Rømø Lys is located in the shopping arcade of Lakolk. Dip your own candles, choose between more colours and pay according to weight. Rømø Mini Museum in Lakolk informs about the nature of Romo and the influence of the tide throughout the years. The nature centre Naturcenter Tønnisgård by Tvismark is established in an old Romo-farm with thatched roof and displays an exhibition about the nature and culture of Romo (5 km). The national museum Kommandørgården by Toftum is a restored farm from 1748, showing the prosperity, which was brought to Romo by the commodores (5 km). Denmark''s oldest and smallest school is also situated by Toftum. The historic school was used in the years 1784-1874. In Juvre you can experience a garden fence, which was made out of whale jaws in 1772 (6 km). Rømø Sommerland in Osterby is an amusement and activity park with more than 40 different activities, e.g. water world and minigolf course (11 km).
Excursion spots
Skærbæk Museum is a regional museum, which has been established in a former merchant''s house from 1909. The culture and history of the district is illustrated here (19 km). Step into the world of the iron age in the park Hjemsted Oldtidspark. The centre contains a museum, an iron age farm, graves, underground passages etc (20 km). Visit the culture town Løgumkloster and explore the interesting convent, erected by monks in the 12th. century (38 km). Play viking for a day at the viking centre Lustrupholm VikingeCenter in Denmark''s oldest town Ribe, and meet with the blacksmiths, bow makers, weavers and cooks of the viking age and see their families and homes (39 km). In Tonder you can sense a cosy atmosphere in Denmark''s oldest provincial town with the interesting historic museums (47 km).
Author: Ann Winter
Copyright © 2003-2020 Sol og Strand Feriehusudlejning A/S
Holiday homes in Romo, Lakolk
Destinations (Western Jutland)
 

Romo, Lakolk

 

Beds: 5   •   Bedrooms: 3
Pets allowed: 1   •   200 m to water

 

 

 

Romo, Lakolk

 

Beds: 6   •   Bedrooms: 3
Pets allowed: 1   •   500 m to water

 

 

 

Romo, Lakolk

 

Beds: 6   •   Bedrooms: 3
Pets allowed: no   •   350 m to water

 

 

 

Romo, Lakolk

 

Beds: 6   •   Bedrooms: 3
Pets allowed: 1   •   400 m to water

 

 

 

Romo, Lakolk

 

Beds: 6   •   Bedrooms: 3
Pets allowed: no   •   500 m to water

 

 

 

Romo, Lakolk

 

Beds: 4   •   Bedrooms: 2
Pets allowed: no   •   350 m to water

 

 

 

Romo, Lakolk

 

Beds: 7   •   Bedrooms: 4
Pets allowed: no   •   500 m to water

 

 

 

Romo, Lakolk

 

Beds: 6   •   Bedrooms: 3
Pets allowed: 3   •   700 m to water

 

 

 

Romo, Lakolk

 

Beds: 6   •   Bedrooms: 3
Pets allowed: 1   •   550 m to water

 

 

 

Romo, Lakolk

 

Beds: 9   •   Bedrooms: 3
Pets allowed: 1   •   800 m to water

 

 

 

Romo, Lakolk

 

Beds: 6   •   Bedrooms: 3
Pets allowed: 1   •   800 m to water

 

 

 

Romo, Lakolk

 

Beds: 8   •   Bedrooms: 4
Pets allowed: 2   •   500 m to water

 

 

 

Romo, Lakolk

 

Beds: 6   •   Bedrooms: 3
Pets allowed: 1   •   300 m to water

 

 

 

Romo, Lakolk

 

Beds: 6   •   Bedrooms: 2
Pets allowed: 3   •   100 m to water

 

 

 

Romo, Lakolk

 

Beds: 6   •   Bedrooms: 3
Pets allowed: no   •   300 m to water

 

 

 

Romo, Lakolk

 

Beds: 6   •   Bedrooms: 3
Pets allowed: no   •   450 m to water

 

 

 

Romo, Lakolk

 

Beds: 8   •   Bedrooms: 3
Pets allowed: no   •   500 m to water

 

 

 

Romo, Lakolk

 

Beds: 6   •   Bedrooms: 3
Pets allowed: 1   •   500 m to water

 

 

 

Romo, Lakolk

 

Beds: 5   •   Bedrooms: 3
Pets allowed: 1   •   350 m to water

 

 

 

Romo, Lakolk

 

Beds: 8   •   Bedrooms: 3
Pets allowed: 1   •   400 m to water

 

 

 

Romo, Lakolk

 

Beds: 6   •   Bedrooms: 3
Pets allowed: no   •   400 m to water

 

 

 

Romo, Lakolk

 

Beds: 8   •   Bedrooms: 3
Pets allowed: 1   •   500 m to water

 

 

 

Romo, Lakolk

 

Beds: 6   •   Bedrooms: 3
Pets allowed: 1   •   400 m to water

 

 

 

Romo, Lakolk

 

Beds: 6   •   Bedrooms: 3
Pets allowed: no   •   430 m to water

 

 

 

Romo, Lakolk

 

Beds: 4   •   Bedrooms: 2
Pets allowed: no   •   500 m to water

 

 

 

Romo, Lakolk

 

Beds: 4   •   Bedrooms: 2
Pets allowed: no   •   450 m to water

 

 

 

Romo, Lakolk

 

Beds: 3   •   Bedrooms: 2
Pets allowed: 1   •   325 m to water

 

 

 

Romo, Lakolk

 

Beds: 6   •   Bedrooms: 3
Pets allowed: no   •   400 m to water

 

 

 

Romo, Lakolk

 

Beds: 6   •   Bedrooms: 3
Pets allowed: no   •   500 m to water

 

 

 

Romo, Lakolk

 

Beds: 4   •   Bedrooms: 2
Pets allowed: no   •   500 m to water

 

 

 

Romo, Lakolk

 

Beds: 6   •   Bedrooms: 2
Pets allowed: 1   •   450 m to water

 

 

 

Romo, Lakolk

 

Beds: 4   •   Bedrooms: 2
Pets allowed: 1   •   500 m to water

 

 

 

Romo, Lakolk

 

Beds: 6   •   Bedrooms: 3
Pets allowed: no   •   1400 m to water

 

 

 

Romo, Lakolk

 

Beds: 8   •   Bedrooms: 3
Pets allowed: 2   •   700 m to water

 

 

 

Romo, Lakolk

 

Beds: 8   •   Bedrooms: 4
Pets allowed: 3   •   500 m to water

 

 

 

Romo, Lakolk

 

Beds: 8   •   Bedrooms: 3
Pets allowed: 2   •   600 m to water

 

 

Inclusive cleaning

 

Romo, Lakolk

 

Beds: 6   •   Bedrooms: 3
Pets allowed: no   •   800 m to water

 

 

 

Romo, Lakolk

 

Beds: 6   •   Bedrooms: 3
Pets allowed: 1   •   1000 m to water

 

 

 

Romo, Lakolk

 

Beds: 6   •   Bedrooms: 3
Pets allowed: no   •   600 m to water

 

 

 

Romo, Lakolk

 

Beds: 6   •   Bedrooms: 3
Pets allowed: 2   •   700 m to water

 

 

 

Romo, Lakolk

 

Beds: 8   •   Bedrooms: 4
Pets allowed: 1   •   400 m to water

 

 

 

Romo, Lakolk

 

Beds: 4   •   Bedrooms: 2
Pets allowed: no   •   500 m to water

 

 

 

Romo, Lakolk

 

Beds: 8   •   Bedrooms: 4
Pets allowed: 1   •   500 m to water

 

 

 

Romo, Lakolk

 

Beds: 4   •   Bedrooms: 2
Pets allowed: 3   •   600 m to water

 

 

 

Romo, Lakolk

 

Beds: 8   •   Bedrooms: 3
Pets allowed: 1   •   700 m to water

 

 

 

Romo, Lakolk

 

Beds: 7   •   Bedrooms: 3
Pets allowed: no   •   600 m to water

 

 

Inclusive cleaning

 

Romo, Lakolk

 

Beds: 8   •   Bedrooms: 4
Pets allowed: no   •   600 m to water

 

 

 

Romo, Lakolk

 

Beds: 4   •   Bedrooms: 2
Pets allowed: 3   •   300 m to water

 

 

 

Romo, Lakolk

 

Beds: 6   •   Bedrooms: 3
Pets allowed: no   •   400 m to water

 

 

 

Romo, Lakolk

 

Beds: 4   •   Bedrooms: 2
Pets allowed: 3   •   350 m to water

 

 

 

Romo, Lakolk

 

Beds: 4   •   Bedrooms: 3
Pets allowed: 1   •   500 m to water