Spend some quality time in a holiday home in Klegod
Holiday cottages in Klegod, Western Jutland, Denmark!
The holiday area Klegod by the west coast of Jutland offers a wide sandy beach with dunes and lovely holiday homes in the dune area behind the North Sea. When you spend your holiday in a holiday home in Klegod, you are surrounded by tranquil nature, but still close to the activities in Sondervig. The holiday area urge to activities in nature.
Guest assessments from Klegod
109 guests have granted an average assessment of 4,67 out of 5 possible stars.
Area
The 35 km long and only 2.5 km wide bar Holmsland Klit, situated between the North Sea and the inlet Ringkøbing Fjord, is a magnificent and quiet holiday area with impressive dunes and preserved conservation areas. In excess of nature, the area offers an abundance of leisure activities of both sporting as well as cultural nature. Both the sea and the inlet are within reach, and therefore all kinds of aquatics can be carried on here with advantage. In Klegod you will find a grocer that are open all year round. Søndervig, about 5 km from Klegod, offers good shopping possibilities and more restaurants.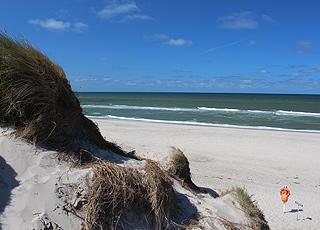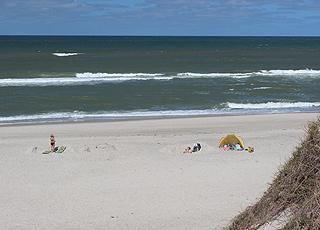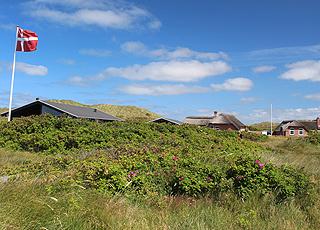 Beach
The sandy beach in Klegod is long and wide and has fine sand and dunes. The beach invites bathing, sun bathing, water and beach activities as well as walks.
Nature
Only few places in Denmark is it possible to experience such a distinctive nature with an inlet on one side and the sea on the other. Both in Klegod and along the entire stretch of coast on the bar Holmsland Klit you will find a unique nature with preserved dune areas and water at more sides.
Activities
Along the sea and the inlet Ringkøbing Fjord, windsurfers will find some of Europe's best surf conditions. The large shallow areas and the safe surroundings make it both easy and fun to learn to surf here. Søndervig, about 5 km from Klegod, offers a lovely 18-hole golf course as well as a water world. Anglers have good possibilities for a haul from the coast, on the sea and in the fishpond Klegod Ørredsø.
Worth a visit
The preserved bird sanctuary Tipperne at the inlet Ringkøbing Fjord is a bird Mekka - thousands of migratory birds can be observed here. From the 38 m high lighthouse Nr. Lyngvig Fyr, situated between the towns Hvide Sande and Søndervig, you can enjoy a fabulous view of the water and the landscape.
Excursion spots
Its red tiled roofs and old cobbled streets characterize the old, pretty provincial town, Ringkøbing. The town is situated about 16 km from Klegod and is definitely worth a visit. LEGOLAND, app. 90 km from Klegod, is build out of 50 million toy bricks. The park offers a number of opportunities for family activities. In Givskud you can visit a combined lion park and zoo. Meet with more than 1,000 animals from the whole world on the 60 hectares large area.
Author: Ann Winter
Copyright © 2003-2020 Sol og Strand Feriehusudlejning A/S
Holiday homes in Klegod
Destinations (Western Jutland)
 

Klegod

Reg. no.: 22-2655

200 m to water

 

Klegod

Reg. no.: 22-2664

900 m to water

 

Klegod

Reg. no.: 22-2592

400 m to water

 

Klegod

Reg. no.: 22-2115

800 m to water

 

Klegod

Reg. no.: 22-2640

450 m to water

 

Klegod

Reg. no.: 22-2103

300 m to water

 

Klegod

Reg. no.: 22-2630

700 m to water

 

Klegod

Reg. no.: 22-2000

800 m to water

 

Klegod

Reg. no.: 22-3094

250 m to water

 

Klegod

Reg. no.: 22-2002

500 m to water

 

Klegod

Reg. no.: 22-2001

1000 m to water

 

Klegod

Reg. no.: 22-2666

450 m to water

 

Klegod

Reg. no.: 22-2036

800 m to water

 

Klegod

Reg. no.: 22-2646

250 m to water

 

Klegod

Reg. no.: 22-2644

400 m to water

 

Klegod

Reg. no.: 22-2136

900 m to water

 

Klegod

Reg. no.: 22-2130

800 m to water

 

Klegod

Reg. no.: 22-2522

400 m to water

 

Klegod

Reg. no.: 22-2658

600 m to water

 

Klegod

Reg. no.: 22-2670

250 m to water

 

Klegod

Reg. no.: 22-2668

800 m to water

 

Klegod

Reg. no.: 22-2659

700 m to water

 

Klegod

Reg. no.: 22-2669

700 m to water

 

Klegod

Reg. no.: 22-2018

500 m to water

 

Klegod

Reg. no.: 22-2532

600 m to water

 

Klegod

Reg. no.: 22-2108

500 m to water

 

Klegod

Reg. no.: 22-2533

500 m to water

 

Klegod

Reg. no.: 22-2557

800 m to water

 

Klegod

Reg. no.: 22-2091

500 m to water