Spend some quality time in a holiday home on Fano, Nyby
Holiday cottages on Fano, Nyby, Western Jutland, Denmark!
The holiday homes in Nyby are located in a hilly dune area behind the lovely bathing beach of Fanø
Guest assessments from Fano, Nyby
7 guests have granted an average assessment of 4,29 out of 5 possible stars.
Area
The Danish holiday home area Nyby on Fanø is situated in the scenic plantation Torp Plantage, close to the wide and more kilometres long sandy beach in Rindby. The cosy holiday homes are located in a secluded, hilly dune area, and from many holiday homes you can enjoy a view of the area or the sea. The area has a rich animal life, and often you can experience rabbits, but also pheasants and roe deer around the holiday homes. You can buy groceries in Nyby, as the supermarket of the area is open year round. Besides the scenic nature and the lovely beach, Nyby offers Piratgolf – a large, beautiful and interesting minigolf course with pirate theme, as well as a large horse farm, where you can rent horses and ride out into the nature with a guide or on your own. Nyby lies very close to the popular beach Rindby Strand, where you will find more restaurants and shops.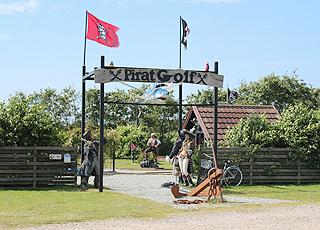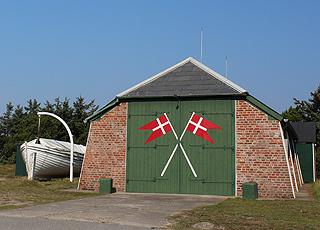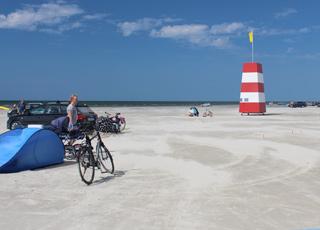 Beach
When you stay in a holiday home in Nyby, you are close to the lovely North Sea beach of Fanø. Fanø has one of one the best and most child-friendly beaches in Denmark: An 18 km long, wide, clean and white sandy beach with dunes, where you can find shelter. The beach offers Blue Flag, tranquil water and a sandy bottom. And you can drive your car on the wide sandy beach of Rindby. Because of the difference in the height of tide, you have a good chance of finding amber on the beach. Furthermore, you can walk, swim, surf or fly with a kite and engage yourselves in various beach activities during your holiday in Nyby.
Nature
The holiday homes in Nyby are surrounded by the 10 hectare large and very scenic plantation Torp / Melbjergdal Plantage. The area is characterized by forest and moor landscapes with heather, and you can experience a rich animal life here. Often the pheasants and the wild rabbits come very close to your holiday home. Furthermore, you can see many bird species here, and along the sand banks of the shore, you can experience seals. Close to Nyby you will find Fanø Klitplantage, where you can follow more marked routes, walk exercise your dog in the dog forest or visit a great forest playground with a grill area. If you wish to experience a sandy desert on Fanø, you can walk up to the northern part of the North Sea beach. Here you will find Søren Jessens Sand – a spectacular, where the North Sea and the desert meet.
Activities
Near the holiday homes of Nyby you will find the minigolf course Piratgolf, where the whole family can challenge each other in interesting pirate surroundings. Near the minigolf course you will find a large horse farm, and here you can rent horses and experience you holiday area and the nature of Fanø from a horse back – alone or together with a group. The wide sandy beach of Rindby invites various beach activities, like e.g. swimming, kite flying, blowkart and buggy driving as well as wind and kite surfing. If you play golf, you can test the beautiful seaside golf course behind the dunes of Fanø Bad. It is ideal ride on bicycles on Fanø because of its size and beautiful nature. The scenic plantations invite hikes. Anglers can try their luck along the shores or in a Put&Take fishpond in Rindby. Each year in June you can experience an impressive kite festival, International Kite Fliers Meeting, on the beach of Rindby. And in August a smaller kite festival for families.
Worth a visit
In Nordby, 2 km from your holiday home in Nyby, you can visit Fanø Museum, which has been established in a modest Fanø house. Here you can see a collection of 200 years old furniture, tools and other interesting things. Nordby also offers Fanø Skibsfarts- og Dragtsamling, which exhibits ship models and costumes, as well as more interesting galleries. Sønderho, 9 km towards south, was previously elected to be the village of the year. The idyllic town consists of beautiful houses with thatched roofs and cosy paths, which lead you around the museum village. Here you will also find Hannes Hus, a plain and almost intact Sønderho home from the 18th century, a beautiful windmill as well as Fanø Kunstmuseum, which exhibits paintings and watercolour paintings with Fanø as scene.
Excursion spots
During your stay in a holiday home on Fanø you can visit Esbjerg and experience an active commercial town with a rich culture life. Among other things you can visit the art museum Esbjerg Kunstmuseum, an amber museum, an open-air museum as well as the fishing and shipping museum Fiskeri- og Søfartsmuseet, or you can shop or dine at a restaurant in the centre of Esbjerg. Take a trip to LEGOLAND, where more than 50 amusements make sure that the whole family experience speed, excitement and fun! (66 km).
Author: Ann Winter
Copyright © 2003-2020 Sol og Strand Feriehusudlejning A/S
Holiday homes on Fano, Nyby
Destinations (Western Jutland)
 

Fano, Nyby

Reg. no.: 28-4050

1000 m to water

 

Fano, Nyby

Reg. no.: 28-2008

1250 m to water

 

Fano, Nyby

Reg. no.: 28-4238

1000 m to water

 

Fano, Nyby

Reg. no.: 28-4240

1100 m to water