Spend some quality time in a holiday home in Truust
Holiday cottages in Truust, SE Jutland, Denmark!
Surrounded by clear lakes, gentle hills, exciting attractions, and the longest river in Jutland - Gudenå.
Guest assessments from Truust
16 guests have granted an average assessment of 4,06 out of 5 possible stars.
Area
Your holiday home is situated in beautiful countryside between woodland, gentle hills, and numerous lakes and rivers that invite you to go canoeing or swimming. Within a radius of 5 km are good shopping possibilities, and if you don't fancy cooking, then we recommend dining at the delightful restaurant Truust Kro. This restaurant has friendly service and many traditional Danish courses on the menu. Your holiday home is situated not far from Denmark's largest attractions and fascinating towns. Silkeborg has many museums and art galleries, and exciting shops ¿ all less than 15 km from your holiday home. The town is an especially exciting destination for art lovers. Århus (41km) has much to offer, such as Tivoli Friheden, Kunstmuseet ARoS, Den Gamle By, Marselisborg Skoven, Latinerkvarteret with its small alleyways, and the many cafés by Århus Å.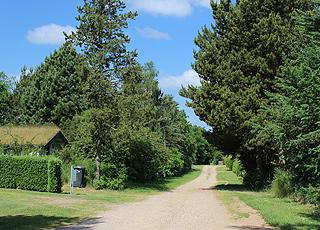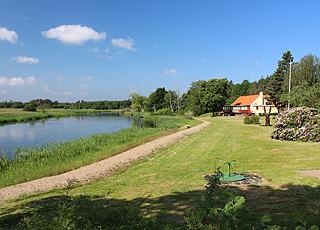 Beach
You can bathe at Hinge Søbad (9 km) by Hinge Sø, with its sandy beach and jetty. The lake's bottom is sand and stone. Almindsø by Silkeborg (16 km) has two beaches: Østre and Vestre Søbad. One of Denmark's cleanest bathing lakes, in the summer it has changing facilities and lifeguards. If you want to swim in the sea, then take a trip to the lovely beach at Kattegat (70 km) or Vesterhavet (112 km).
Nature
Arnakkekilden - a natural spring with fresh, iron-rich water by KunstCentret Silkeborg Bad is a splendid destination set in a lovely renovated sanatorium. Located in beautiful, untamed countryside along Gudenåen, Gjern Bakker (16 km) is outstanding. The hills were formed during the last Ice Age and there can be a difference in elevation of up to 90 metres. There is a lovely view over the hilly landscape and Sminge Sø from the protected area of Store Troldhøj. Himmelbjerget (147 m high) is a well-known destination and has a wonderful view over the surrounding countryside (32 km).
Activities
In your holiday area there are many pathways that are perfectly suitable for hiking and bicycle rides. It is also possible to go canoeing in the area. Truust Camping is located right by Gudenå river, and offers you the possibility to hire a canoe and go canoeing up to 160 km down the river! If you'd rather, you can take a trip on the world's oldest operating steamboat, the 'Hjejlen', and sail on the Silkeborg to Himmelbjerget route. In the holiday area there are also several golf courses and the unique Tange Sø Golfklub is only 11 km away. You can also enjoy a pleasant and peaceful day at Grønbæk Put & Take, which is only 1 km away. Here you can fish for different types of trout and salmon, pike, zander and eel. Silkeborg also offers the indoor go-kart centre 'Karting World Silkeborg', a place where you can easily spend several action-packed hours (13 km).
Worth a visit
At the car museum Jysk Automobilmuseum in Gjern (15 km) you can experience a collection of 140 restored vehicles. The electricity museum Elmuseet is situated by Denmark's largest hydroelectric power station, Gudenaacentralen (Tangeværket). The exhibition shows a comprehensive collection of items that tell of electricity production, electricity distribution, and electricity consumption since the 1920s (15 km). Silkeborg Museum is set in the town's oldest building, and is a cultural history museum with exhibitions including, the Ice Age, an antique glass collection, and the main attraction - Tollundmanden - the Tollund Man - is a well-preserved corpse from prehistoric times exhumed from the local marshes. The fresh water centre AQUA in Silkeborg is also worth a visit. Here the whole family can learn more about Denmark's waterways and lakes, and have a pleasant time in a delightful park which includes an animal park and play area.
Excursion spots
In Labyrinthia in Rodelund (24 km), you can visit Europe's largest 3D maze - and try to get out again! Labyrinthia has a museum, a kryptotek, and a giant maze. With its jungle pathways, crocodiles, and waterfalls, Randers Regnskov (rainforest) (36 km) is an exciting place to visit. Keep your eyes and ears open and experience a truly special tropical world with animals and plants that live freely under the rainforest's dome. Mønsted Kalkgruber is one of the world's largest limestone mines, and is a really fantastic place with small lakes and babbling brooks, which contribute to creating an uncanny, creepy atmosphere (43 km). Løveparken (Lion park) Givskud Zoo is both a zoo and a safari park. Drive past the wild animals in your car and come close to, among others, hippos and lions (72 km). Last - but not least - is Legoland, where over 50 million Lego bricks have been assembled to create life-like minibuildings and attractions. A gigantic experience for the whole family (82 km)!
Author: Ann Winter
Copyright © 2003-2020 Sol og Strand Feriehusudlejning A/S
Holiday homes in Truust
Destinations (SE Jutland)
 

Truust

 

Beds: 6   •   Bedrooms: 2
Pets allowed: 3   •   42000 m to water

 

 

 

Truust

 

Beds: 8   •   Bedrooms: 4
Pets allowed: no  

 

 

 

Truust

 

Beds: 6   •   Bedrooms: 3
Pets allowed: 1  

 

 

 

Truust

 

Beds: 4   •   Bedrooms: 2
Pets allowed: no