Spend some quality time in a holiday home in Skarrev
Holiday cottages in Skarrev, SE Jutland, Denmark!
Skarrev is a cosy and scenically situated holiday area on the north side of the inlet 'Aabenraa Fjord'.
Guest assessments from Skarrev
41 guests have granted an average assessment of 4,39 out of 5 possible stars.
Area
Skarrev is situated on the south coast of the peninsular Løjt Land in South Jutland, only a few km from the old market town Aabenraa. A scenic and quiet nature, an inlet, an undulating landscape, fields, forests, idyllic sunken roads, beautiful old houses with thatched roofs and more relics surround the family area. Skarrev is an ideal holiday destination if you wish to enjoy nature or make use of some of the numerous leisure activities and sights of the area. It is possible to buy groceries in the area. In Aabenraa you will find a cosy town environment as well as good shopping possibilities and restaurants.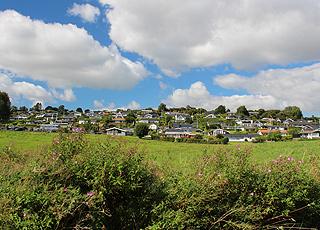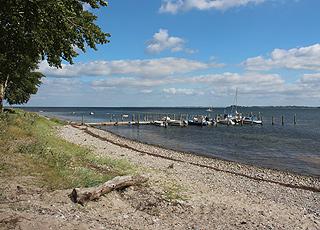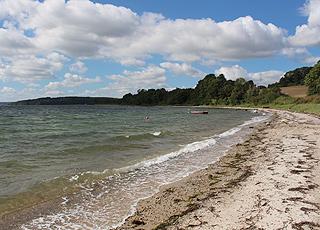 Beach
A good, about 10 metres wide and sandy beach with more bathing jetties are available by the inlet 'Aabenraa Fjord' opposite Skarrev. Windsurfers will also find good conditions here. Furthermore, it is possible to launch small boats from the beach if you wish to sail of fish on the inlet.
Nature
Skarrev is located by the wide inlet 'Aabenraa Fjord', and outside Skarrev you will find a reef, on which you can walk or fish from. Green hardwood forest, peaceful and unspoiled nature, inlet and an undulating terrain surround the holiday house area. The nature of Løjt Land differs from the rest of the South Jutland landscape, as the nature is more dramatic and undulating. The scenic area invites walks along the many paths and small roads.
Activities
Anglers will find ideal fishing opportunities on the reef opposite Skarring and along the shore of the inlet. Deep-sea fishing trips onboard a fishing vessel are arranged from Aabenraa. The area is also rich in Put & Take fishponds. Windsurfers will find good conditions by Skarrev. Golf players can try out one of the 9 golf courses of South Jutland. Lovely nature experiences await you along the marked walking and bicycle paths of the area. Riding at the ring events take place every weekend during the summer around South Jutland.
Worth a visit
The area is rich in relics. One of Denmark''s best preserved grave mounds Myrpold is scenically situated by Skarrev, and from here you can enjoy the magnificent view towards Als and Funen. When the burial chamber was discovered, grave gifts and 10 skeletons were found inside. A couple of kilometres east of here, the long barrow Tvekløft is situated. Løjtland is characterized by a number of beautiful, restored houses with thatched roofs, which are a sight in themselves. You will find a number of interesting castles in the area, like e.g. Aabenraa Slot, Gram Slot and Gottorp Schloss (the latter in Germany).
Excursion spots
Visit the old market town Aabenraa, where you can enjoy the harbour, the beach, the lovely pedestrian street with squares, the old part of town as well as the castle Aabenraa Slot, which is surrounded by water and trees (10 km). The animal park Haderslev Dyrehave is a 100 hectares large scenic and undulating area with forest, open grass areas and meadows. About 100 fallow deer live in this park, which is situated close to Haderslev (28 km). Go on a daytrip to the German border, which is situated no more than 40 km from Skarrev. LEGOLAND is build out of 50 million toy bricks. More than 50 activities provide you with speed, excitement and experiences! LEGOLAND offers knights in armaments, pirates, tough cowboys, wild Indians and much, much more (100 km).
Author: Ann Winter
Copyright © 2003-2020 Sol og Strand Feriehusudlejning A/S
Holiday homes in Skarrev
Destinations (SE Jutland)
 

Skarrev

 

Beds: 4   •   Bedrooms: 2
Pets allowed: 1   •   250 m to water

 

 

 

Skarrev

 

Beds: 4   •   Bedrooms: 2
Pets allowed: no   •   300 m to water

 

 

 

Skarrev

 

Beds: 6   •   Bedrooms: 3
Pets allowed: no   •   350 m to water

 

 

 

Skarrev

 

Beds: 6   •   Bedrooms: 2
Pets allowed: no   •   300 m to water

 

 

 

Skarrev

 

Beds: 4   •   Bedrooms: 3
Pets allowed: no   •   350 m to water

 

 

 

Skarrev

 

Beds: 4   •   Bedrooms: 2
Pets allowed: 1   •   400 m to water