Spend some quality time in a holiday home in Rørbæk Sø
Holiday cottages in Rørbæk Sø, SE Jutland, Denmark!
When you spend your holiday in a holiday home by the idyllic lake Rørbæk Sø, you are surrounded by the scenic moors of Jutland.
Guest assessments from Rørbæk Sø
guests have granted an average assessment of 0,00 out of 5 possible stars.
Area
The tranquil and scenic holiday area Rørbæk Sø is located in the centre of Jutland and is a paradise for angler and nature lovers. The holiday homes are situated in the hilly nature, surrounding the beautiful lake. Here you can fish, hike in the forested hills or along the ancient road Hærvejen, which crosses through the area, sail in canoe or merely relax and enjoy nature. Around lake Rørbæk Sø you will find a restaurant, which is open during the summer, as well as the smokehouse and fish farm Vester Mølle Dambrug. By the fish part you can also rent canoes. Holiday home rental near Rørbæk Sø is ideal for holiday guests, who wish to enjoy the unspoiled nature on the moors of central Jutland. You can buy groceries in Vesterlund, 3 km from Rørbæk Sø, and you will also find shops and restaurants in Brande and Give. Silkeborg, 41 km towards north, offers pedestrian streets, restaurants and sights for the whole family.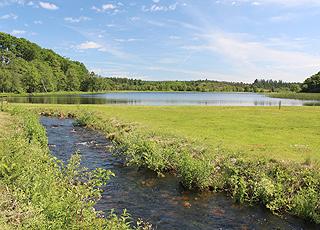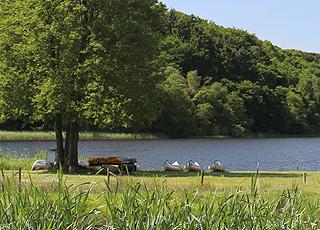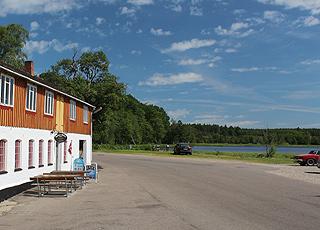 Beach
Holiday in a holiday home near Rørbæk Sø is not perfect for a beach holiday. As Rørbæk Sø is located in the centre of Denmark, the drive to the good bathing beaches of the shores is long. However you can swim in the lovely bathing lakes, e.g. in Brande (14 km) and Silkeborg (41 km). The nearest bathing beach is located in Juelsminde on the east coast, 63 km from Rørbæk Sø.
Nature
The nature, surrounding the lake Rørbæk Sø, is scenic at all times of the year. The lake, which is part of the river valley Skjernådalen, is surrounded by forest, steep slopes, soft hills and moor areas with heather and mulberry bushes. Rørbæk Sø has a large population of pikes, breams and other freshwater fish. In the autumn you can see many ducks here. Furthermore, you can experience roe deer, red deer, fish eagle and kingfisher around Rørbæk Sø. Close to Rørbæk Sø you will find the ridge of Jutland, and here, in Tinnet Krat, two of Denmark''s largest streams, Skjernåen and Gudenåen, rise here. Skjern Å flows right through the lake Rørbæk Sø. In more places around the lake you will find tables, benches, fire rings and grills. Here you can relax and enjoy the view. You can visit the nature centre Koutrupgård in a former inn and the vititor centre Ballesbækgård, which shows an interesting landscape exhibition.
Activities
The area is rich in fish and attracts many anglers, who can throw their lines in lakes, streams and Put & Take fishponds. Close to your holiday home you can fish by the fish farm Vester Mølle dambrug, which is a part of the Rørbæk Sø. The scenic nature also invites hikes, and you can follow 12 hikes along the lake Rørbæk Sø. You can also sail in canoe on the stream Skjern Å. You can rent canoes at Skjern Å Kanofart, right by Rørbæk Sø. Golfers have many opportunities in Central Jutland, and you can e.g. try the courses of Give Golfklub, Brande Golfklub and Jelling Golfklub. If you feel like swimming in lovely hot water, you can visit the waterworld in Thyregod (9 km).
Worth a visit
At the visitor centre Ballesbækgård you can see a landscape exhibition and make use of tables, benches and grills. In the beautiful building of Vester Palsgaard you can see 2 interesting exhibitions, which tell about region in texts and pictures (11 km towards north). Visit the house, the cowshed, the barn and the old forge at Hjortsvang Museum in Tørring and experience rural life through 200 years (13 km). At the culture-historical museum, Give Egnens Museum, you can see varying special exhibitions about the moor and its inhabitants as well as visit the museum forest, which contains an interesting nature playground (15 km).
Excursion spots
Try a ride with the vintage train Bryrup-Vrads, which takes you on a 5 km beautiful drive through forest and nature areas (app. 16 km to both towns). In GIVSKUD ZOO you can experience around 50 different animal species at close range. You can walk around in zoo or drive in your own car through the impressive safari park. You can also join a guided tour in the safari bus. Go back a couple of million years and visit the dinosaur park, which contains 40 naturally sized dinosaurs in scenic forest surroundings (22 km). The two runic stones in Jelling were erected by Gorm the Old in the year 935. The stones are part of the UNESCO World Heritage List (30 km). Take your family to LEGOLAND. Here you will find impressive LEGO structures as well as cosy, fund and wild rides for the whole family (33 km). Go on a daytrip to Silkeborg, where you can shop, sail on the lakes, visit Museum Jorn and climb the ''mountain'' Himmelbjerget (41 km).
Author: Ann Winter
Copyright © 2003-2020 Sol og Strand Feriehusudlejning A/S
Holiday homes in Rørbæk Sø
Destinations (SE Jutland)
 

Rørbæk Sø

 

Beds: 6   •   Bedrooms: 3
Pets allowed: no