Spend some quality time in a holiday home in Hejlsminde
Holiday cottages in Hejlsminde, SE Jutland, Denmark!
The popular holiday area Hejlsminde is situated by the Little Belt and offers a wide sandy beach, town life, a marina and many nice holiday homes, from which more are highly situated and has a sea view. A holiday home in Hejlsminde is a perfect starting point for an active family holiday.
Guest assessments from Hejlsminde
88 guests have granted an average assessment of 4,38 out of 5 possible stars.
Area
Hejlsminde is situated by the Little Belt, with a view of Funen, in a scenic area near forest, beach, sights and nature attractions. The town has a cosy boat harbour. You can easily find a lovely holiday home here and in many of our holiday homes, your dog is welcome. Right behind the town and the lock the bird sanctuary Hejlsminde Nor is situated and further inland you will find the scenic nature area Skamlingsbanken. The holiday house area of Hejlsminde is situated in quiet surroundings. Hejlsminde offers a water world, a minigolf course, tennis courts, shopping possibilities and restaurants.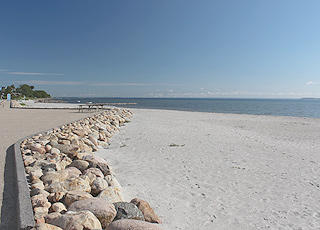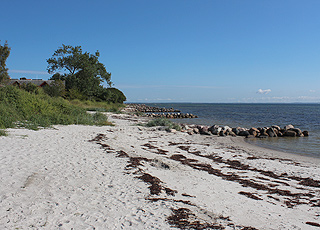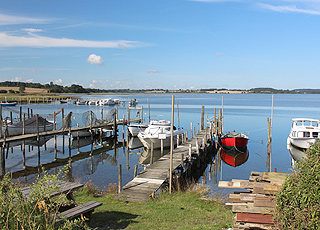 Beach
The beach of Hejlsminde is a lovely bathing beach, which is suitable for children. Here you will find beach volley courts, which are available for everyone and can be used for free.
Nature
Holiday home rental is a good opportunity to experience nature at a close range. The nature, surrounding Hejlsminde, is characterized by hills, valleys, green areas and beautiful beech forests, which grow all the way down to the water. The bird sanctuary Hejlsminde Nor is a shallow cove with a surface of about 350 hectares, which borders on forest of reeds, fields and meadows. From Skamlingsbanken towards north, the landscape falls gradually towards Hejlsminde Nor. Skamlingsbanken is a scenic nature area with the highest point in South Jutland (113 metres). From here you can enjoy the magnificent view of the Little Belt, Funen and the area between Kolding and Christainsfeld. This area is characterized by large elevations and deep gorges. The landscape appears lush with slightly hilly fields, beech forests, field boundaries and hedges along the roads.
Activities
Enjoy yourselves with new and amusing activities when you go on holiday in a holiday home. A minigolf course is available in Hejlsminde and you will find golf courses in Kolding, Haderslev and Jels. Bunker Golf is for everyone - with or without knowledge of golf - and you can try it right outside Hejlsminde. The Little Belt offers good conditions for sailing, windsurfing and bathing. The area is ideal for walks along the water or in the scenic nature. Equally, a number of marked bicycle paths are available in the area. Anglers will find ideal opportunities here, as it is possible to fish both directly from the shores as well as from a boat on the sea. Furthermore, a number of Put & Take fishponds and streams, which is abounding in fish, are available in the area. So you will find plenty of angling opportunities during your holiday in a holiday home in Hejlsminde.
Worth a visit
The bird sanctuary 'Heilsminde Nor' is situated right behind the town and the lock. You will find the best viewpoints on the southern shore, where the road is elevated over the surface of the water, as well as from the harbour of Hejlsminde. The town Christiansfeld is situated about 9 km from Hejlsminde and is very famous because of its gingerbreads.
Excursion spots
Kolding offers cosy old streets, green recreational areas, good shopping possibilities, museums, art galleries, theatres, evocative squares with restaurants and cafés, a rich music and night life, the lake 'Slotssøen' and the more than 700 years old royal castle 'Koldinghus' (18 km). LEGOLAND is build out of 50 million toy bricks. More than 50 activities provide you with speed, excitement and experiences! 'The funniest playground for the whole family' offers knights in armaments, pirates, tough cowboys, wild Indians and much, much more (65 km). In Givskud you can visit a combined lion park and zoo. Meet with more than 1,000 animals from the whole world on the 60 hectares large area and get close to both hippos and zebras. Go on a day trip to the German border, which lies no more than 75 km from Hejlsminde.
Author: Ann Winter
Copyright © 2003-2020 Sol og Strand Feriehusudlejning A/S
Holiday homes in Hejlsminde
Destinations (SE Jutland)
 

Hejlsminde

 

Beds: 6   •   Bedrooms: 2
Pets allowed: no   •   75 m to water

 

 

 

Hejlsminde

 

Beds: 4   •   Bedrooms: 2
Pets allowed: 1   •   30 m to water

 

 

 

Hejlsminde

 

Beds: 6   •   Bedrooms: 3
Pets allowed: 2   •   500 m to water

 

 

 

Hejlsminde

 

Beds: 6   •   Bedrooms: 3
Pets allowed: no   •   700 m to water

 

 

 

Hejlsminde

 

Beds: 6   •   Bedrooms: 3
Pets allowed: no   •   900 m to water

 

 

 

Hejlsminde

 

Beds: 6   •   Bedrooms: 3
Pets allowed: 1   •   150 m to water

 

 

 

Hejlsminde

 

Beds: 6   •   Bedrooms: 3
Pets allowed: 2   •   700 m to water

 

 

 

Hejlsminde

 

Beds: 4   •   Bedrooms: 2
Pets allowed: no   •   50 m to water

 

 

 

Hejlsminde

 

Beds: 4   •   Bedrooms: 2
Pets allowed: no   •   100 m to water

 

 

 

Hejlsminde

 

Beds: 6   •   Bedrooms: 3
Pets allowed: 1   •   250 m to water

 

 

 

Hejlsminde

 

Beds: 10   •   Bedrooms: 4
Pets allowed: 1   •   1000 m to water

 

 

 

Hejlsminde

 

Beds: 6   •   Bedrooms: 3
Pets allowed: 3   •   950 m to water

 

 

 

Hejlsminde

 

Beds: 6   •   Bedrooms: 3
Pets allowed: no   •   400 m to water

 

 

 

Hejlsminde

 

Beds: 6   •   Bedrooms: 3
Pets allowed: 1   •   500 m to water

 

 

 

Hejlsminde

 

Beds: 6   •   Bedrooms: 3
Pets allowed: 3   •   1000 m to water

 

 

 

Hejlsminde

 

Beds: 6   •   Bedrooms: 3
Pets allowed: 1   •   850 m to water

 

 

 

Hejlsminde

 

Beds: 6   •   Bedrooms: 2
Pets allowed: no   •   100 m to water

 

 

 

Hejlsminde

 

Beds: 4   •   Bedrooms: 1
Pets allowed: 1   •   100 m to water

 

 

 

Hejlsminde

 

Beds: 6   •   Bedrooms: 2
Pets allowed: no   •   50 m to water

 

 

 

Hejlsminde

 

Beds: 4   •   Bedrooms: 0
Pets allowed: 1   •   10 m to water

 

 

 

Hejlsminde

 

Beds: 4   •   Bedrooms: 2
Pets allowed: 1   •   50 m to water

 

 

 

Hejlsminde

 

Beds: 4   •   Bedrooms: 1
Pets allowed: no   •   50 m to water

 

 

 

Hejlsminde

 

Beds: 4   •   Bedrooms: 2
Pets allowed: no   •   300 m to water