Spend some quality time in a holiday home in Bryrup
Holiday cottages in Bryrup, SE Jutland, Denmark!
Bryrup is situated in some of the most scenic settings in Denmark - a paradise for nature lovers and anglers.
Guest assessments from Bryrup
15 guests have granted an average assessment of 4,40 out of 5 possible stars.
Area
The cosy and quiet town Bryrup lies in a valley gorge in a lovely nature area behind the town Ry and the 'mountain' Himmelbjerget in the highlands of Central Jutland. Both the town and the holiday houses are situated right by the idyllic lake 'Bryrup Langsø', which is a very popular angling lake. In Bryrup you will find grocery shops and more restaurants.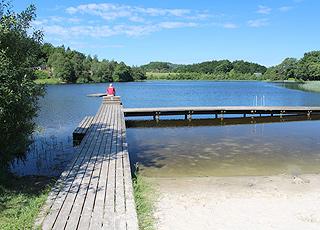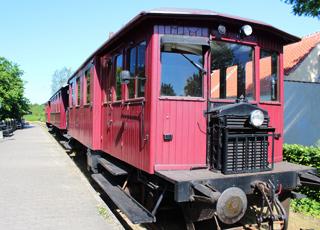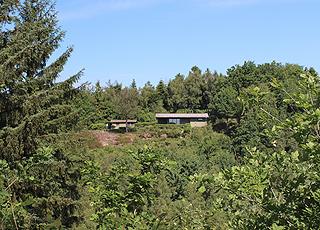 Beach
As Bryrup is situated inland, it is far to the bathing beaches of the coastline; about 50 km to the beaches of the east coast and the Kattegat (Dyngby Strand and Rude Strand), about 80 km to the inlet 'Ringkøbing Fjord' (Skaven Strand) and about 110 km to the North Sea (Nymindegab). However, you can swim from a bathing jetty in the lake 'Bryrup Langsø' and in the lake 'Hundsø', where you will find a small sandy beach. Furthermore, a swimming baths is available in Them, 10 km from Bryrup.
Nature
The nature, surrounding Bryrup, varies between a lush landscape, moor, lakes, hills and streams. 'Bryrup Langsø', which is situated by the town and the holiday house area, is a long and rather shallow lake, which is abounding in fish. The lakes 'Karlsø', 'Langsø', 'Kvindsø' and 'Kulsø' are connected by the stream, which flows through Bryrup. One of Denmark's highest 'mountains', Himmelbjerget (147 metres high), is situated in scenic surroundings, close to Bryrup. The area is rich in forests. Just north of Bryrup the large beech forest 'Velling Skov' is situated. West of the town you will find another forest with 2 viewpoints; 'Velling Kalv' and 'Velling Gavl'.
Activities
Anglers will find unique fishing opportunities in the make lakes, streams and Put & Take fishponds of the district. The area is rich in walking routes and nature paths. From these paths you can enjoy the varying landscape and the peaceful nature. Go on a sail with 'Hjejlen' - Denmark's oldest and operating paddle steamer. 'Himmelbjerg Golf' is situated close to Bryrup, and besides an 18-hole course, the club also offers a 9-hole Pay & Play course.
Worth a visit
Many craftsmen have settled in this area, and their workshops and studios are often open for visitors. The vintage railway Bryrup-Vrads is Denmark's shortest, but also most beautiful railway. Along the 5 km long railway stretch you can enjoy the sight of the forests, lakes and preserved areas. By Labyrinthia, close to Rodelund, you can try out Europe's largest 3D- maze (13 km).
Excursion spots
The 147 m high 'mountain' Himmelbjerg is one of the most famous and scenic excursion points of the area. From the top of the 'mountain' you can enjoy magnificent view of the surrounding landscape. 'Øm Kloster Museum' by Ry is a historic convent museum with a ruin park, a historic medicine collection, a herb garden and a skeleton collection (20 km). Forest and lakes surround the art centre 'Kunstcentret Silkeborg Bad', and here, nature, art and beautiful buildings form a synthesis (21 km). 'AQUA Ferskvands Akvarium' in Silkeborg is Denmark's only and Northern Europe's largest fresh water aquarium. Silkeborg also offers 'Silkeborg Museum' and the art museum 'Silkeborg Kunstmuseum'. At 'Jysk Automobilmuseum' in Gjern you can observe an impressive collection of 140 restored vintage vehicles (36 km). In Givskud you can visit a combined lion park and zoo. Meet with more than 1,000 animals from the whole world on the 60 hectares large area (38 km).
Author: Ann Winter
Copyright © 2003-2020 Sol og Strand Feriehusudlejning A/S
Holiday homes in Bryrup
Destinations (SE Jutland)
 

Bryrup

 

Beds: 6   •   Bedrooms: 2
Pets allowed: 1   •   800 m to water

 

 

 

Bryrup

 

Beds: 6   •   Bedrooms: 2
Pets allowed: 1  

 

 

 

Bryrup

 

Beds: 6   •   Bedrooms: 3
Pets allowed: no   •   1000 m to water

 

 

 

Bryrup

 

Beds: 4   •   Bedrooms: 2
Pets allowed: 1