Spend some quality time in a holiday home in Binderup
Holiday cottages in Binderup, SE Jutland, Denmark!
The holiday area Binderup on the east coast of Jutland encourages an anctive family holiday on and around the beach. The holiday homes of Binderup are situated right behind the beach and from more holiday homes you can enjoy a view of The Little Belt, the beach and the charming area. A holiday home in Binderup is a good starting point for nature experiences and excursions in the area.
Guest assessments from Binderup
18 guests have granted an average assessment of 4,50 out of 5 possible stars.
Area
Binderup is a holiday area, which is very suitable for families with children, as the distances to both forest and beach are short. Binderup is situated right by the Little Belt and from the area you can enjoy the view of Funen. The area lies about 10 km south of Kolding, 15 km north of Christiansfeld, right under the Stendrup peninsular and close to the scenic nature area Skamlingsbanken. Binderup is an ideal holiday destination if you wish to spend your holiday in rural and idyllic surroundings, close to forest and beach, and with a many sights and nature attractions within reach. An ideal holiday destination for those of you, who wish to live in a holiday home in rural idyll, close to forest and beach with many sights and natural attractions within reach. It is possible to buy groceries in the area.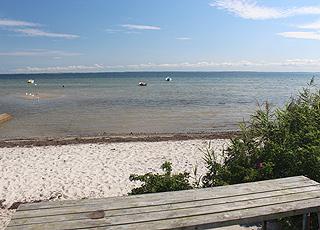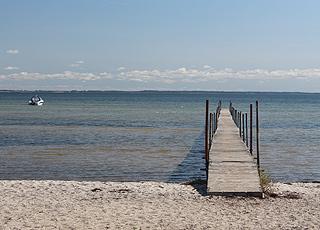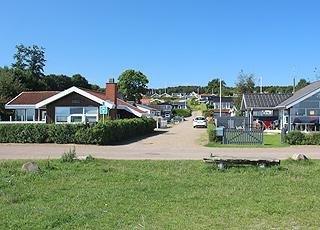 Beach
The beach 'Bjert Strand' by Binderup is a sandy beach with a long bathing jetty as well as a lovely esplanade. The beach is very suitable for children, as the water is shallow.
Nature
Beach and green recreational areas surround Binderup. When you spend your holiday in a holiday home here, plenty of scenic nature experiences await you. You will find some of the most beautiful beech forest of the country around the area Skamlingsbanken. A path leads you here directly from Binderup. Skamlingsbanken is a scenic nature area with the highest point in South Jutland (113 metres). From here you can enjoy the magnificent view of the Little Belt, Funen and the area between Kolding and Christainsfeld. This area is characterized by large elevations and deep gorges. The landscape appears lush with slightly hilly fields, beech forests, field boundaries and hedges along the roads. The forests Stendrup Skovene on the peninsular Stendrup consist of hardwood and beech forest. Here you will also find historic relics like i.a. long barrows and ramparts from the Middle Ages. Solkærenge north of Binderup is a large moor area, where a number of birds rest during springtime.
Activities
Anglers will find good fishing opportunities both from the shores of Binderup as well as in the Put & Take fishponds of the area. So bring your fishing gear along on your holiday an have new angling experiences. Binderup also offers good conditions for windsurfers. A minigolf course is available inn the area. Lovely nature experiences await you along the many walking paths of the area.
Worth a visit
The town Christiansfeld is situated about 15 km from Binderup and is very famous because of its gingerbreads. The area, surrounding Binderup, is distinguished because of the many scenic nature areas, like f.x. 'Skamlingsbanken', the forests 'Stendrup Skovene' and the meadow area 'Solkærenge'.
Excursion spots
Holiday home rental in Binderup enables you to go on many interesting excursions. Kolding offers cosy old streets, green recreational areas, good shopping possibilities, museums, art galleries, theatres, evocative squares with restaurants and cafés, a rich music and night life, the lake Slotssøen and the more than 700 years old royal castle Koldinghus (10 km). LEGOLAND is build out of 50 million toy bricks. More than 50 activities provide you with speed, excitement and experiences! ''The funniest playground for the whole family'' offers knights in armaments, pirates, tough cowboys, wild Indians and much, much more (55 km). In Givskud you can visit a combined lion park and zoo. Meet with more than 1,000 animals from the whole world on the 60 hectares large area and get close to both hippos and zebras. Go on a day trip to the German border, which lies no more than 80 km from Binderup.
Author: Ann Winter
Copyright © 2003-2020 Sol og Strand Feriehusudlejning A/S
Holiday homes in Binderup
Destinations (SE Jutland)
 

Binderup

 

Beds: 6   •   Bedrooms: 3
Pets allowed: no   •   100 m to water

 

 

 

Binderup

 

Beds: 6   •   Bedrooms: 4
Pets allowed: 1   •   200 m to water

 

 

 

Binderup

 

Beds: 6   •   Bedrooms: 3
Pets allowed: no   •   90 m to water

 

 

 

Binderup

 

Beds: 6   •   Bedrooms: 3
Pets allowed: no   •   150 m to water

 

 

 

Binderup

 

Beds: 6   •   Bedrooms: 3
Pets allowed: no   •   200 m to water

 

 

 

Binderup

 

Beds: 6   •   Bedrooms: 3
Pets allowed: no   •   250 m to water

 

 

 

Binderup

 

Beds: 4   •   Bedrooms: 1
Pets allowed: no   •   100 m to water

 

 

 

Binderup

 

Beds: 4   •   Bedrooms: 2
Pets allowed: no   •   50 m to water