Spend some quality time in a holiday home in Alken
Holiday cottages in Alken, SE Jutland, Denmark!
The scenic area, surrounding Alken, is a Paradise for nature lovers and anglers.
Guest assessments from Alken
4 guests have granted an average assessment of 4,75 out of 5 possible stars.
Area
Alken is situated directly by the lake Moss Sø, which is abounding in fish and where it is possible to swim. The scenically situated market town Skanderborg lies only 6 km from Alken and offers shops, restaurants and leisure activities.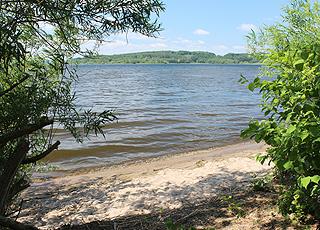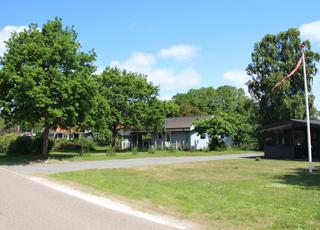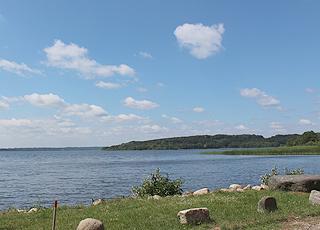 Beach
You can swim in the lake Moss Sø, but if you wish to swim in the sea, you can drive about 30 km and reach the beach of Saksild. Here you will find one of the best bathing beaches of the Jutland eastern coast. The wide, sandy beach is suitable for children, offers a bathing jetty and invites walks and various beach activities. Furthermore, the conditions for windsurfing are good here.
Nature
The scenic nature around Alken, the highland of Central Jutland, is characterized by fields, lakes, hills and forests. The forest 'Marselisborgskovene' is situated in the southern outskirts of Århus - a very scenic area with many bicycle and walking paths. Here you can also get close to i.a. roe deer and wild boar within an enclosed area.
Activities
Anglers will find ideal fishing opportunities in the lake Moss Sø, which is also suitable as a bathing lake. Lovely nature experiences await you along the many walking and bicycle paths of the area. As an example, you can drive on your bicycle around the lakes Moss Sø and Skanderborg Sø. Golf players can try out more courses in this area, which is very rich in golf courses. The 3 nearest courses are those of the clubs 'Skanderborg Golf Klub', 'Horsens Golfklub' and 'Aarhus Aadal Golf Club'. In Skanderborg you can make use of a bowling alley, a swimming baths as well as tennis courts.
Worth a visit
The small and charming village Boes contains a number of old houses with thatched roofs and is definitely worth a visit. Boes is situated only 3 km west of Alken. Visit the commercial town Skanderborg, which is one of Denmark's most scenically situated towns. Here you will find a lovely town centre with many shops and restaurants as well as a beautiful culture centre with many different culture and leisure activities. 'Øm Kloster Museum' by Ry is a historic convent museum with a ruin park, a historic medicine collection, a herb garden and a skeleton collection (10 km).
Excursion spots
Visit Århus, the 'capital' of Jutland, with the amusement park 'Tivoli Friheden', the open-air museum 'Den Gamle By', the music house 'Musikhuset', the small and intimate alleys of the Latin Quarter, the cosy pedestrian streets, the lively atmosphere by the stream 'Vadestedet' as well as the forest 'Marselisborgskoven' (29 km). In Givskud you can visit a combined lion park and zoo. Meet with more than 1,000 animals from the whole world on the 60 hectares large area (70 km). LEGOLAND is build out of 50 million toy bricks. More than 50 activities provide you with speed, excitement and experiences! 'The funniest playground for the whole family' offers knights in armaments, pirates, tough cowboys, wild Indians and much, much more (80 km).
Author: Ann Winter
Copyright © 2003-2020 Sol og Strand Feriehusudlejning A/S
Holiday homes in Alken
Destinations (SE Jutland)
 

Alken

 

Beds: 5   •   Bedrooms: 3
Pets allowed: no  

 

 

 

Alken

 

Beds: 5   •   Bedrooms: 2
Pets allowed: 1