Spend some quality time in a holiday home in Rorvig
Holiday cottages in Rorvig, Sealand, Denmark!
The charming holiday area Rorvig on North Sealand offer a cosy harbour environment with a smoke house and restaurants, ferry port with a route to Hundested, lovely beaches, scenic nature and holiday homes for everyone. During your holiday in Rorvig you are surrounded by sights and activity opportunities.
Guest assessments from Rorvig
40 guests have granted an average assessment of 4,68 out of 5 possible stars.
Area
The idyllic fishing hamlet Rørvig is situated by the approach of the inlet 'Isefjord'. Here you will find a cosy town centre with old fishing houses, an evocative ferry and fishing harbour as well as marina with more restaurants and a smokehouse. The ferry sails from here to Hundested. You will find good shopping possibilities in Rørvig. A number of artists have settled in Rørvig and the immediate vicinity, and you will find their galleries, studios, collections, exhibitions, potteries etc. all over the place.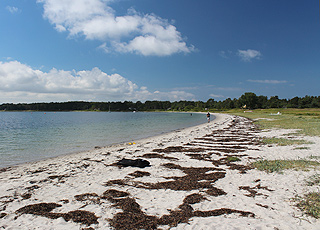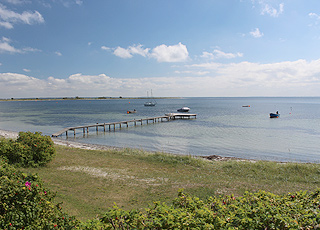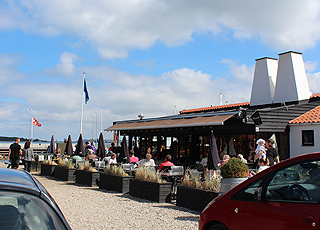 Beach
Rørvig has a lovely beach with fine, white sand, small dunes and lyme grass. The beach is very suitable for children, as the water is shallow by the waters edge and the bottom is sandy. The beach between Nykøbing Sjælland and Rørvig has been awarded with the Blue Flag.
Nature
Pine plantations surround the holiday house area of Rørvig. Furthermore, the landscape is characterized by a lovely beach, hills, heath and cliffs. The sand drift plantation 'Rørvig Sandflugtsplantage' contains a beautiful, colourful and varying area with inland dunes and a rich bird life. The wetlands 'Hovvig Fuglereservat' is a bird sanctuary, situated a few km south of Rørvig. The 27 km long path 'Isefordsstien', which starts in Rørvig and ends in Kongsøre, leads you right through the wetlands, where you can observe the birds from a large gazebo. By Korshage, to the north of Rørvig, migratory birds sojourn during spring and autumn. 'Skansehage' is a low isthmus, 4 km east of Rørvig, and here you will also find a rich bird life.
Activities
The area is ideal for anglers, as it is possible to fish along the shores, in the lakes, streams and canals of the area as well as in the 4 Put & Take trout fishponds of the district. Bicycles can be rented and tested along the 27 km long path 'Isefjordssti', from which you can enjoy the scenic nature as well as grave mounds and thingsteads. Golf players will also find good opportunities in the area. The golf club 'Odsherred Golfklub' by Højby offers an 18-hole course and by 'Mensalgårds Golfklub' a Pay & Play course is available. Furthermore, you will find good golf courses by Kalundborg and Holbæk. In Nykøbing Sjælland you can bowl in a bowling alley, which also offers entertainment for the youngest in the family (8 km).
Worth a visit
In Rørvig you can visit a studio and a pottery among other things. The area offers a number of galleries and workshops, where you can meet with the local craftsmen, who display their art for you. Every week throughout the summer you can experience a huckster market in the harbour of Rørvig. Visit the cosy marked torn Nykøbing Sjælland, which offers a bakery museum, a museum garden, a Sherlock Holmes museum as well as a pedestrian street with cafés and shops.
Excursion spots
The amusement park 'Sommerland Sjælland' offers more than 60 activities for the whole family, like a cosy canoe trip, a wild ride in the roller coaster or a visit to the largest water world in Sealand (9 km) The tongue of land 'Sjællands Odde' has a cosy fishing harbour with a smokehouse, which was designed by the famous Danish designer Arne Jacobsen (28 km). In the zoo 'Odsherreds Zoo Dyrepark' by Asnæs you can experience about 600 animals, divided into more than 85 species, a new monkey house, a terrarium, goats to stroke, a playground etc. (26 km). The castle 'Dragsholm Slot' by Hørve is Denmark's oldest castle. The former fortress from the early Middle Ages contains a dungeon and offers many ghost stories. A beautiful palace garden belongs to the castle (35 km).
Author: Ann Winter
Copyright © 2003-2020 Sol og Strand Feriehusudlejning A/S
Holiday homes in Rorvig
 

Rorvig

Reg. no.: 90-0057

250 m to water

 

Rorvig

Reg. no.: 90-0021

1000 m to water

 

Rorvig

Reg. no.: 90-0056

2000 m to water

 

Rorvig

Reg. no.: 90-0472

500 m to water

 

Rorvig

Reg. no.: 90-0058

150 m to water

 

Rorvig

Reg. no.: 90-0052

1000 m to water

 

Rorvig

Reg. no.: 90-0041

200 m to water

 

Rorvig

Reg. no.: 90-0038

1300 m to water

 

Rorvig

Reg. no.: 90-0043

375 m to water

 

Rorvig

Reg. no.: 90-0046

2000 m to water

 

Rorvig

Reg. no.: 90-0050

500 m to water

 

Rorvig

Reg. no.: 90-0044

1000 m to water