Holiday home, 17-2235, Vorupor
Category:

Floor plan
The holiday home
Rental price
Holiday at a lower price
+
Short Stay
This holiday home offers Short Stays. Short Stays can be 2 to 5 days of holiday, such as a weekend break or an extended weekend.
You can take Short Stays during these periods:

06-01-2018 - 29-06-2018
29-09-2018 - 04-01-2019
23-03-2019 - 28-06-2019
28-09-2019 - 01-11-2019
Description
Eco-friendly
Internet
Woodburning stove
Holiday home suitable for 6 persons . The holiday home is 55 m² and is build in 1962. In 2010 the holiday home was partial renovated. You can bring along 1 pet.The holiday home is equipped with 1 energy-saving heat pump. The holiday home has washing machine. Freezer with a capacity of 30 litres. Further more there is 1 wood-burning stove. The holiday home is situated on a 900 m² natural site. Situated 800 m from the sea. Situated 4000 m from lake. Nearest shop is 500 m away. A 30 m² terrace belong to the holiday home. Parking
place by the holiday home. All together there are 2 bedrooms. The beds are divided on: 2 sleeping places in double bed. 2 sleeping places in single beds. 2 sleeping places in sofa bed (double). The kitchen is equipped with 1 refrigerator. There are 4 ceramic cooking plates, hot-air oven. There is 1 bathroom with shower cabinet and 1 toilet. The holiday home contains 1 TV.1 DVD player. Radio. At least 4 Danish channels. At least 4 German channels. Wireless internet at your disposal.
Please note: Youth groups (15-25 years of age) not allowed.
Copyright:
Sol og Strand Feriehusudlejning A/S
Bedrooms

2

Ground area

900 m2

Beds

6

Living area

55 m2

Cot

0 pcs

Fenced site

No

High chair

0 pcs

Terrace

30 qm

Toilet

1

Activity room

No

Shield terrace

No

Woodburning stove

Yes

Parking by the house

Yes

Year built

1962

Pets allowed

1

Renovated

2010

Playground equipment

No
Washing machine

Yes

Tumbler

No

Dish washer

No

Refrigerator

1 pcs

Freezer

Yes (30 liter)

Oven

Yes

Microwave oven

No

Cooking plates

Yes, 4 pcs
Swimmingpool

No

Whirlpool

No

Sauna

No

Sunbed

No

Steam cabin

No
Sea

800 m

Sea view

No

Lake

4 km

Groceries

500 m
DVD

Yes, 1 pcs

Game console

No

Phone

No

WiFi




Speed

Download max. 60 Mbit




Upload max. 10 Mbit

TV

1 pcs




Danish TV channels

4+




German TV channels

4+
Energy-conserving heat pump

Yes
Close equipment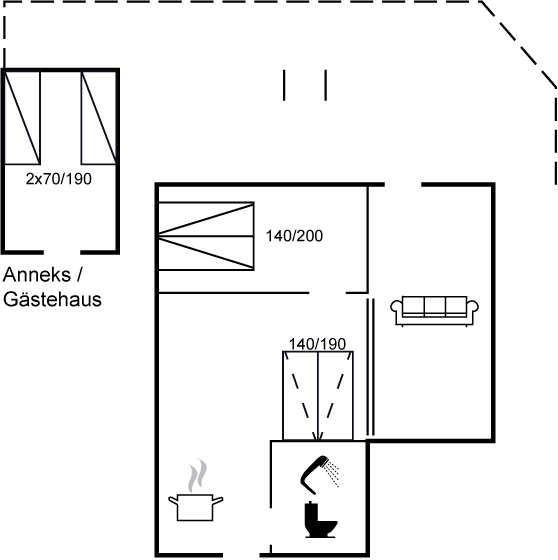 Symbol directory







Close floor plan
Close photos
House and attractions on map
+

Blåbærvej 4, 7700 Vorupor
Choose the type of attraction that you wish to visit, in a self-elected distance from your holiday home.
Attractions in a radius of
Sort by
Attractions with discount in the rest of Denmark
App

Bring the experiences along on the move. With the Sol og Strand app you always have a list of 1,500 attractions in Denmark at hand. Choose attractions according to your interests and max distance from your position. The attractions are presented on a list or a map. More info.
Close house and attractions on map
Here you can read about the holiday experiences of former guests in the holiday home. Our holiday guests have granted stars to the house, area, price and service.
Visited the holiday home 15 July 2017 - 29 July 2017 Karl Heinz, Neustadt
House:
Area:
Service:
Price:
Total:
Leider hörte man zur unserer Urlaubszeit in diesen Urlaubsgebiet jeden Tag irgend welchen Baulärm,schade.....
Visited the holiday home 13 August 2016 - 20 August 2016 Sol og Strand guest
House:
Area:
Service:
Price:
Total:
Echt gemütliches Ferienhaus, wir fühlten uns von Tag eins daheim. Grundsätzlich bestens ausgestattet, auch wenn ein paar alltägliche Dinge fehlten. Man sollte halt grundsätzlich nichts vergessen. Weg zum Ort oder Meer ist schnell gemacht, leider sind die Nachbarn aber auch teilweise etwas nah. Etwas mehr Abgeschiedenheit hatten wir uns erhofft, zum Glück war aber nur die fensterärmere Seite bewohnt. Zum Service von Sonne und Strand kann man eig nur sagen: Besser geht es nicht, obwohl der Router mal upgedatet werden könnte. Alles in Allem hat sich die Hütte mehr als gelohnt und die Vorauszahlung war großzügig berechnet.
Visited the holiday home 12 September 2015 - 19 September 2015 Sol og Strand guest
House:
Area:
Service:
Price:
Total:
Mark given without comments
Visited the holiday home 15 August 2015 - 29 August 2015 Sol og Strand guest
House:
Area:
Service:
Price:
Total:
Ein tolles Haus und schön gelegen in Sdr. Vorupoer. Der Wohnraum mit Küche ist das Highligt dieses Hauses. Nach 2 Wochen in den Betten sehnt man sich nach dem eigenen Bett - aber das ist bei allen Ferienhäusern in DK so. Habe in diesem Jahr eine gründliche Reinigung des Vorgängers vermisst ( Dusche + Toilette ) und der Receiver war defekt (hier hat die Problembehebung v.Sa bis Do!! gedauert) Man kam uns aber beim Preis der Endreinigung entgegen.Am Anreisetag sollte ein Notdienst für solche Mängel bereit stehen oder eine Vorabprüfung des Hauses und aller Geräte erfolgen.
Visited the holiday home 1 August 2015 - 8 August 2015 Sol og Strand guest
House:
Area:
Service:
Price:
Total:
Mark given without comments
Visited the holiday home 18 July 2015 - 1 August 2015 Sol og Strand guest
House:
Area:
Service:
Price:
Total:
Haben uns sehr wohl gefühlt in diesem Ferienhaus. Besonders schön: Der lichtdurchflutete "Wintergarten" - mit seinen sehr gemütlichen Sitzgelegenheiten. Sehr gute Ausstattung mit Geschirr, Töpfen und Pfannen und was man sonst als Selbstversorger so braucht. Fernsehen über Satellit mit vielen deutschen Programmen. Wer wie wir ein breites Bett zum Schlafen gewohnt ist, tut sich schwer mit dem eher mäßig breiten Doppelbett. Einer ist deshalb zum Schlafen auf die Bettcouch im Wohnbereich umgezogen. War ein wenig lästig, aber es ging.
Average:
House:
Area:
Service:
Price:
Total:
100% verified reviews
Close guestbook
Vorupør is an old fishing hamlet with a cosy and vivid atmosphere, surrounded by beautiful and unspoiled nature.
In the popular holiday resort Vorupør in Thy the fishermen still draw their boats and fishing vessels up on the landing place every day after use - a very old and well-preserved tradition. From the 350 metres long breakwater, next to the new open-air sea bath, you can follow the activities at close range.
It is often possible to buy fresh fish and shellfish directly from the boats on the beach.
The town offers good shops with clothes, handicraft, amber, candles and pottery. Furthermore, you will find more restaurants and interesting sights here - e.g. an aquarium and a museum.
Vorupør is surrounded by beach and large, preserved dune and moor areas. Here you will stay in charming and scenic surroundings, enjoy yourselves with the family, engage yourselves in leisure activities in the fresh sea breeze and visit some of the interesting sights of the area. The nearest larger town is Thisted, 22 km towards east.

Read more about Vorupor
North-western Jutland - the Danish Riviera
All the way from Skagen in the north to Agger in the south you can experience some of the finest, whitest and broadest sandy beaches in Northern Europe. Small, picturesque holiday towns are situated all the way along the coast. Some places it is still possible to watch the fishermen as they drag their boats up on the beach, as it has been done for hundreds of years.
At Grenen, the northernmost point of Denmark, you can place each of your feet in different oceans, The Skagerak and the Kattegat.
Anywhere along the coast you can enjoy some of the most scenic sunsets over the North Sea.

Read more about NW Jutland
Attractions
Under Map to the house you can see all attractions in the area, choose which type of attraction you wish to visit, and seek out attractions in a self-elected distance from your holiday home.
Local offices
Sol og Strand
Klitmøller
Ørhagevej 117
7700 Thisted
Phone: +45 97938233
Email: nr-vorupor@sologstrand.dk

Office manager
Anna Lise
Opening Hours (Klitmøller)
Monday
Tuesday
Wednesday
Thursday
Friday
Saturday
Sunday
23/06/2018
06/07/2018
09:00
17:00
09:00
17:00

Closed

09:00
17:00
09:00
17:00
09:00
18:00

Closed

07/07/2018
03/08/2018
09:00
17:00
09:00
17:00
09:00
17:00
09:00
17:00
09:00
17:00
09:00
20:00
10:00
15:00
04/08/2018
31/08/2018
09:00
17:00
09:00
17:00

Closed

09:00
17:00
09:00
17:00
09:00
18:00

Closed
Telephone +45 99444444 (Sale)
Monday
Tuesday
Wednesday
Thursday
Friday
Saturday
Sunday
07/04/2018
24/06/2018
09:00
18:00
09:00
18:00
09:00
18:00
09:00
18:00
09:00
18:00

Closed

Closed

25/06/2018
01/07/2018
09:00
18:00
09:00
18:00
09:00
18:00
09:00
18:00
09:00
18:00
09:00
19:00
09:00
15:00
02/07/2018
12/08/2018
09:00
18:00
09:00
18:00
09:00
18:00
09:00
18:00
09:00
18:00
09:00
20:00
09:00
15:00
13/08/2018
26/08/2018
09:00
18:00
09:00
18:00
09:00
18:00
09:00
18:00
09:00
18:00
09:00
19:00
09:00
15:00
27/08/2018
07/10/2018
09:00
18:00
09:00
18:00
09:00
18:00
09:00
18:00
09:00
18:00

Closed

Closed
Opening Hours
Period
23-06 - 06-07
Monday
09.00 - 17.00
Tuesday
09.00 - 17.00
Wednesday
- - -
Thursday
09.00 - 17.00
Friday
09.00 - 17.00
Saturday
09.00 - 18.00
Sunday
- - -
Period
07-07 - 03-08
Monday
09.00 - 17.00
Tuesday
09.00 - 17.00
Wednesday
09.00 - 17.00
Thursday
09.00 - 17.00
Friday
09.00 - 17.00
Saturday
09.00 - 20.00
Sunday
10.00 - 15.00
Period
04-08 - 31-08
Monday
09.00 - 17.00
Tuesday
09.00 - 17.00
Wednesday
- - -
Thursday
09.00 - 17.00
Friday
09.00 - 17.00
Saturday
09.00 - 18.00
Sunday
- - -
Close area
Marks and category of Sol og Strand
+
Sol og Strand have visited and evaluated the holiday home on 07-12-2015
We evaluate the holiday home on a scale from 1 to 5. Read more about our marks
Beds, bed linen and mattresses:
Sofa set:
Dining table set:
Bathrooms:
Kitchen:
Cutlery, pots and frying pans:
Multimedia:
Flooring, walls and celings:
Outdoor maintenance:
Terraces:
Average:
2.25
=

Neighboringhouses on map
+
Find an extra house within walking distance to
Nabohuse søgeblok her, men kan ikke på grund af dobbelt form tag :D