Spend some quality time in a holiday home in Saltum
Holiday cottages in Saltum, NW Jutland, Denmark!
The cosy holiday area Saltum offers a wide sandy beach with high dunes and lovely holiday homes in the dune landscape behind the beach. And many houses have a secluded location. When you spend your holiday in a holiday home in Saltum, you are close to sights and activities for the whole family.
Guest assessments from Saltum
214 guests have granted an average assessment of 4,64 out of 5 possible stars.
Area
Saltum Strand is an attractive holiday area by the lovely North Sea beach, and here you can always find a great holiday home. Saltum Strand is a lovely and cosy forest/plantation area in the bay Jammerbugten. The area is popular because of the nature, the magnificent sandy beach, the good holiday homes and the ideal location in relation to holiday towns, amusements, fishponds and golf courses. Furthermore, the tranquil and very family-friendly area offers a number of leisure activities for the whole family. In the town of Saltum, which is located a few kilometres behind the shore, you will find shops and a couple of restaurants. Saltum in Northern Jutland is a lovely area for holiday home rental and here you can easily find a holiday home, where you can bring your dog.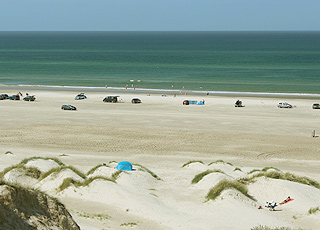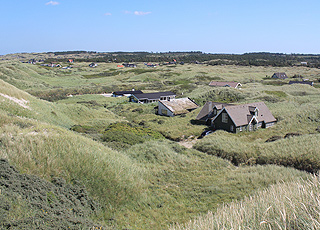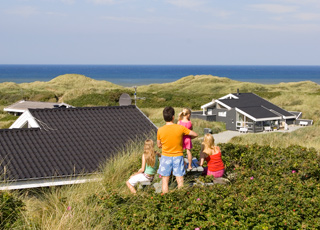 Beach
The beach Saltum Strand is a broad and lovely sandy beach, which is an extension of the beach of Blokhus. The clean and child-friendly beach has been awarded with the Blue Flag. Here you can swim, sunbathe, walk, windsurf, play beach volley, build sandcastle etc. High dunes with lyme grass bound the beach to the east. Here it is always possible to find a sheltered hollow. Cars are allowed on the beach.
Nature
Behind the dunes the area is characterized by large, hilly plantation areas with dunes, forest and nature paths. The landscape of Saltum is placid, very scenic and recreational - perfect for a relaxing holiday in a holiday home. Between Saltum and Grønhøj you can visit the reserve Lille Norge. The beautiful and peaceful forest and nature areas stretch all the way down to the North Sea and invites walks. From the viewpoint Guldagerhøj in Lille Norge you can enjoy the view of the whole bay Jammerbugten.
Activities
In the plantation area behind the dunes of the beach you will find more marked paths, which are suitable for hikes and horseback riding, when you go on holiday in a holiday home in Saltum in Northern Jutland. You can rent riding horses in the area. A number of golf courses are available. You can e.g. play on the 18-hole, scenically situated course of Blokhus Klit Golf Center (10 km) or on the 18-hole course of Lokken Golfklub, which is located between fields and plantations (17 km). Anglers will find good opportunities here, as it is possible to fish directly from the shore as well as in the Put & Take fishponds of the area. In Blokhus you can make use of a subtropical aquapark with a 40-metres long water slide, children''s pool, jacuzzi, sauna and wellness centre among other things (5 km). Action House in Lokken offers bowling, laser game, paintball, go-cart, pinball arcade, ballroom, electrical cars, internet café, restaurant and discotheque (16 km).
Worth a visit
Galleri Saltum in the town of Saltum has been established in the former dairy and exhibits among others sculptures, paintings and jars. Go on a day trip to Faarup Sommerland, which offers a large waterworld, plenty of cosy and wild amusements for everyone in the family as well as many green spaces (2 km). Haven i Hune is a colourful and inspiring garden, where you can take a walk and visit a café (13 km). In Hune you can also see beautiful paper cuttings in Center for Papirkunst as well as impressive sculptures, made out of wood, sand and concrete, in Skulpturparken Blokhus. The cosy and evocative seaside town Blokhus offers shops, restaurants, pubs, ice-cream stalls and entertainment on the square (14 km). In the holiday area Lokken you will find plenty of shops and restaurants, fishing vessels and white beach huts (16 km).
Excursion spots
Behind Lokken you will find the impressive Borglum Kloster - a former monastery from the beginning of the 12th century with exhibitions, an abbey church and parklike surroundings (22 km). Experience the high sand dunes of Rubjerg Knude as well as the lighthouse Rubjerg Knude Fyr, which is partly covered in sand and located very close to the edge of the sand slope, leading down to the sea. From the dunes and the lighthouse you can enjoy the impressive view of the North Sea and the landscape (25 km). At Nordsoen Oceanarium you can watch interesting fish and marine animals in the large aquariums and playful seals in Sealariet (46 km).
Author: Ann Winter
Copyright © 2003-2020 Sol og Strand Feriehusudlejning A/S
Holiday homes in Saltum
Destinations (NW Jutland)
 

Saltum

Reg. no.: 13-0079

290 m to water

 

Saltum

Reg. no.: 13-0024

150 m to water

 

Saltum

Reg. no.: 13-0260

100 m to water

 

Saltum

Reg. no.: 13-0018

225 m to water

 

Saltum

Reg. no.: 13-0300

100 m to water

 

Saltum

Reg. no.: 13-0377

250 m to water

 

Saltum

Reg. no.: 13-0345

260 m to water

 

Saltum

Reg. no.: 13-0271

300 m to water

 

Saltum

Reg. no.: 13-0364

2000 m to water

 

Saltum

Reg. no.: 13-0211

400 m to water

 

Saltum

Reg. no.: 13-0379

470 m to water

 

Saltum

Reg. no.: 13-0001

250 m to water

 

Saltum

Reg. no.: 13-0304

300 m to water

 

Saltum

Reg. no.: 13-0385

600 m to water

 

Saltum

Reg. no.: 13-0274

700 m to water

 

Saltum

Reg. no.: 13-0193

80 m to water

 

Saltum

Reg. no.: 13-0343

600 m to water

 

Saltum

Reg. no.: 13-0021

230 m to water

 

Saltum

Reg. no.: 13-0128

150 m to water

 

Saltum

Reg. no.: 13-0268

400 m to water

 

Saltum

Reg. no.: 13-0366

2300 m to water

 

Saltum

Reg. no.: 13-0332

1800 m to water

 

Saltum

Reg. no.: 13-0353

1500 m to water

 

Saltum

Reg. no.: 13-0270

140 m to water

 

Saltum

Reg. no.: 13-0298

50 m to water

 

Saltum

Reg. no.: 13-0109

200 m to water

 

Saltum

Reg. no.: 13-0294

1500 m to water

 

Saltum

Reg. no.: 13-0361

350 m to water

 

Saltum

Reg. no.: 13-0306

800 m to water

 

Saltum

Reg. no.: 13-0383

1100 m to water

 

Saltum

Reg. no.: 13-0327

240 m to water

 

Saltum

Reg. no.: 13-0350

650 m to water

 

Saltum

Reg. no.: 13-0387

1500 m to water

 

Saltum

Reg. no.: 13-0359

500 m to water

 

Saltum

Reg. no.: 13-0392

900 m to water

 

Saltum

Reg. no.: 13-0140

500 m to water

 

Saltum

Reg. no.: 13-0295

500 m to water

 

Saltum

Reg. no.: 13-0227

350 m to water

 

Saltum

Reg. no.: 13-0020

310 m to water

 

Saltum

Reg. no.: 13-0356

200 m to water

 

Saltum

Reg. no.: 13-0395

300 m to water

 

Saltum

Reg. no.: 13-0152

290 m to water

 

Saltum

Reg. no.: 13-0102

480 m to water

 

Saltum

Reg. no.: 13-0365

2700 m to water

 

Saltum

Reg. no.: 13-0130

500 m to water

 

Saltum

Reg. no.: 13-0369

1700 m to water

 

Saltum

Reg. no.: 13-0357

280 m to water

 

Saltum

Reg. no.: 13-0342

900 m to water

 

Saltum

Reg. no.: 13-0242

400 m to water

 

Saltum

Reg. no.: 13-0139

600 m to water

 

Saltum

Reg. no.: 13-0376

1600 m to water

 

Saltum

Reg. no.: 13-0299

1200 m to water

 

Saltum

Reg. no.: 13-0133

700 m to water

 

Saltum

Reg. no.: 13-0320

600 m to water

 

Saltum

Reg. no.: 13-0039

350 m to water

 

Saltum

Reg. no.: 13-0101

250 m to water

 

Saltum

Reg. no.: 13-0072

150 m to water

 

Saltum

Reg. no.: 13-0348

1450 m to water

 

Saltum

Reg. no.: 13-0321

2000 m to water