Holiday home, 11-1048, Nr. Rubjerg
Category:

Floor plan
The holiday home
Rental price
Holiday at a lower price
+
Bonus-Holiday
Get a Bonus Holiday discount on this house.
Choose at least 14 consecutive days in the calendar. Then you will automatically be granted a Bonus Holiday discount.
The discount is offered in the below periods:
25-08-2018 to 19-10-2018

20-04-2019 to 21-06-2019

24-08-2019 to 18-10-2019

Bonus-Holiday cannot be combined with other discounts.
2-persons-discount
We can grant you a 2-persons-discount of up to 25 % on a number of special holiday homes and apartments if you book at least 7 nights. You can avail yourselves of the offer if you are maximum two persons. However, children under the age of three are not included in the max number.
The discount is offered in the below periods:
21-04-2018 to 22-06-2018

25-08-2018 to 19-10-2018

20-04-2019 to 21-06-2019

24-08-2019 to 18-10-2019
2-persons-discount cannot be combined with other discounts.
Description
Internet
Woodburning stove
Living area: 120 m2
Holiday home suitable for 8 persons as well as 1 child up to 3 years. The holiday home is 120 m² and is build in 2006. You can bring along 2 pets. The holiday home has washing machine. Freezer with a capacity of 40 litres. Further more there is 1 wood-burning stove. For the youngest ones there is 1 high chair. The holiday home is situated on a 2500 m² natural site. Situated 300 m from the sea. Nearest shop is 6000 m away. A 70 m² terrace belong to the holiday home. Furthermore the house has a 6 m² covered terrace. Swing. Parking place by the holiday home. All together there are 2 bedrooms. The beds are divided on: 8 sleeping
places in double beds. Moreover 1 cot for a baby (0-3 years). The kitchen is equipped with 1 refrigerator with freezing-compartment . There are 4 ceramic cooking plates, hot-air oven, microwave oven and dishwasher. There are 2 bathrooms with shower cabinet and 2 toilets, hereof 1 guest bathroom. There is floor heating in 1 bathroom.. The sauna offers opportunity for relaxation. You can relax in the indoor whirlpool for 2 persons. The holiday home contains 1 TV.1 DVD player. Radio. CD player. At least 4 Danish channels. At least 4 German channels. Wireless internet at your disposal.
Please note: Youth groups (15-25 years of age) not allowed. Smoking is prohibited. By violation of this prohibition a fee of min. EUR 420,- will be charged.
Copyright:
Sol og Strand Feriehusudlejning A/S
Bedrooms

2

Ground area

2500 m2

Beds

8

Living area

120 m2

Cot

1 pcs

Fenced site

No

High chair

1 pcs

Terrace

70 qm

Toilets

2

Roofed terrace

6 qm

Activity room

No

Shield terrace

No

Woodburning stove

Yes

Parking by the house

Yes

Year built

2006

Pets allowed

2

Renovated

No

Playground equipment

Yes, 1 pcs
Washing machine

Yes

Tumbler

No

Dish washer

Yes

Refrigerator with
freezing-compartment

Yes

Freezer

Yes (40 liter)

Oven

Yes

Microwave oven

Yes

Cooking plates

Yes, 4 pcs
Swimmingpool

No

Whirlpool

Yes

Sauna

Yes

Sunbed

No

Steam cabin

No
Sea

300 m

Sea view

No

Groceries

6 km
DVD

Yes, 1 pcs

Game console

No

Phone

No

WiFi

TV

1 pcs




Danish TV channels

4+




German TV channels

4+
Close equipment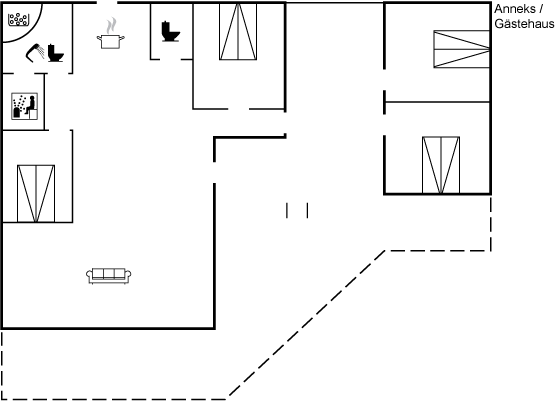 Symbol directory








Close floor plan
Close photos
House and attractions on map
+

Zobelvej 1, 9480 Nr. Rubjerg
Choose the type of attraction that you wish to visit, in a self-elected distance from your holiday home.
Attractions in a radius of
Sort by
Attractions with discount in the rest of Denmark
App

Bring the experiences along on the move. With the Sol og Strand app you always have a list of 1,500 attractions in Denmark at hand. Choose attractions according to your interests and max distance from your position. The attractions are presented on a list or a map. More info.
Close house and attractions on map
Here you can read about the holiday experiences of former guests in the holiday home. Our holiday guests have granted stars to the house, area, price and service.
Visited the holiday home 12 August 2017 - 26 August 2017 Uwe, Malsch-Völkersbach
House:
Area:
Service:
Price:
Total:
Super Ferienhaus, sehr hell mit sehr guter Ausstattung. Nur leider war die Sonnenbank und das Duschpanel nicht vorhanden. Hat aber an den Urlaub nicht gestört. Kann man jede Zeit weiter empfehlen. Den Service auf alle Fälle auch. Halt dänisch👍 Wir kommen wieder, wie schon so oft!
Visited the holiday home 1 July 2017 - 22 July 2017 Sol og Strand guest
House:
Area:
Service:
Price:
Total:
1. Im Bad gibt es zu wenige Hängemöglichkeiten für Hand- und Badetücher. 2. Es gibt nur ein Bad und eine Gästetoilette, nicht 2 Bäder wie im Katalog angegeben. 3. Den kommenden Feriengästen sollte mitgeteilt werden, dass der Strand nur über eine steile Treppe zu erreichen ist.
Contribution from Sol og Strand
Vielen Dank für Ihr Feedback. Wir werden es an den Hausbesitzer weiterleiten, und auch unsere Hausbeschreibung überarbeiten. Wir hoffen Sie hatten einen schönen Urlaub nichtdestotrotz.
Visited the holiday home 20 May 2017 - 3 June 2017 Michael, Klein Gladebrügge
House:
Area:
Service:
Price:
Total:
Ein tolles Haus, welches wir 2 Wochen mit 2 Erw. und 2 Hunden bewohnen durften. Schön groß und hell, mehrere Schlafzimmer und eine große Holzterasse haben uns begeistert. Nirgends musste ich mit 190cm Körpergröße meinen Kopf einziehen. Allerdings die Tannen, die man auf dem Hauptfoto sieht, gibt es nicht mehr. Sie wurden gerade gefällt. Diese Seite des Hauses ist aber die abgewandte, da dort der Weg/Strasse verläuft und man ja nach hinten heraus wohnt.Die Terasse ist nicht einsehbar, da eine Holzwand mit Tür diese von der Strasse abtrennt.
Visited the holiday home 6 May 2017 - 20 May 2017 Udo, Unna
House:
Area:
Service:
Price:
Total:
Das Haus und die Umgebung haben voll unseren Erwartungen entsprochen. Wir waren bereits dreimal zu Gast in der wohnlichen Atmosphäre. Der Service hat auch bei kleineren Beanstandungen reibungslos und zufriedenstellend funktioniert. Die Aufrüstung durch einen WLAN-Zugang macht das Objekt nahezu perfekt. Wir würden uns einen Trockner und die Erneuerung der Dusche wünschen. Preis und Leistung sind stimmig.
Visited the holiday home 10 September 2016 - 24 September 2016 Andrea, Gross Wittensee
House:
Area:
Service:
Price:
Total:
Das Haus hatten wir nun bereits zum 4. Mal bewohnt, die Lage bzw. das Grundstück ist einfach (fast) unübertrefflich. Das Haus ist ebenfalls schön, gut eingerichtet und allgemein gepflegt.
Visited the holiday home 2 July 2016 - 9 July 2016 Robert, Cercany
House:
Area:
Service:
Price:
Total:
Overall very good exeprience. Spacious modern house, well equiped. 10 min walk to the beach, short drive or bike trip to Lokken, Lonstrup. Smaller ground area-not big enough for e.g. football, trees close to the house, good privacy. Trampoline for kids included.
Visited the holiday home 14 May 2016 - 28 May 2016 Sol og Strand guest
House:
Area:
Service:
Price:
Total:
Das Haus bzw. die Lage ist für uns einfach unübertrefflich! Das Das Grundstück ist an den Seiten so zugewachsen, dass es nicht einsehbar ist. Zur Strasse ist eine Hoftor, das Grundstück liegt direkt am Wanderweg, der aber auch durch hohe Tannen zum Grundstück abgeschirmt ist. Es ist en Naturgrundstück, für kleinere ykinder zum spielen vielleicht nicht so ideal.Das Haus selbst wirkt für sein Alter seeehr gepflegt, es ist scheinbar regelmäßig vom Eigentümer genutzt.
Visited the holiday home 30 April 2016 - 14 May 2016 Udo, Unna
House:
Area:
Service:
Price:
Total:
Mark given without comments
Average:
House:
Area:
Service:
Price:
Total:
100% verified reviews
Close guestbook
Nr. Rubjerg in the bay Jammerbugten offers spectacular nature, leisure activities and nearby sights.
Nr. Rubjerg is a cosy holiday home area in tranquil and scenic surroundings. Throughout the years the area has attracted many visitors, who are fascinated by the forces of nature and the dramatic cliffs, from which the sea claims a piece every year. In Nr. Rubjerg you can relax in the recreational surroundings, engage yourselves in leisure activities as well as enjoy the North Sea and the distinctive nature, while you are still close to charming holiday resorts like Lønstrup (5 km) and Løkken (11 km), larger towns like f.x. Hjørring (18 km) as well as sights and amusements for the whole family.
Read more about Nr. Rubjerg
North-western Jutland - the Danish Riviera
All the way from Skagen in the north to Agger in the south you can experience some of the finest, whitest and broadest sandy beaches in Northern Europe. Small, picturesque holiday towns are situated all the way along the coast. Some places it is still possible to watch the fishermen as they drag their boats up on the beach, as it has been done for hundreds of years.
At Grenen, the northernmost point of Denmark, you can place each of your feet in different oceans, The Skagerak and the Kattegat.
Anywhere along the coast you can enjoy some of the most scenic sunsets over the North Sea.

Read more about NW Jutland
Attractions
Under Map to the house you can see all attractions in the area, choose which type of attraction you wish to visit, and seek out attractions in a self-elected distance from your holiday home.
Local offices
Sol og Strand
Løkken
Søndergade 33
9480 Løkken
Phone: +45 96670900
Email: lokken@sologstrand.dk

Office manager
Gaby
Opening Hours (Løkken)
Monday
Tuesday
Wednesday
Thursday
Friday
Saturday
Sunday
23/06/2018
14/09/2018
09:00
17:00
09:00
17:00
09:00
17:00
09:00
17:00
09:00
17:00
09:00
19:00
09:00
13:00
Telephone +45 99444444 (Sale)
Monday
Tuesday
Wednesday
Thursday
Friday
Saturday
Sunday
02/07/2018
12/08/2018
09:00
18:00
09:00
18:00
09:00
18:00
09:00
18:00
09:00
18:00
09:00
20:00
09:00
15:00
13/08/2018
26/08/2018
09:00
18:00
09:00
18:00
09:00
18:00
09:00
18:00
09:00
18:00
09:00
19:00
09:00
15:00
27/08/2018
07/10/2018
09:00
18:00
09:00
18:00
09:00
18:00
09:00
18:00
09:00
18:00

Closed

Closed
Opening Hours
Period
23-06 - 14-09
Monday
09.00 - 17.00
Tuesday
09.00 - 17.00
Wednesday
09.00 - 17.00
Thursday
09.00 - 17.00
Friday
09.00 - 17.00
Saturday
09.00 - 19.00
Sunday
09.00 - 13.00
Close area
Marks and category of Sol og Strand
+
Sol og Strand have visited and evaluated the holiday home on 13-01-2016
We evaluate the holiday home on a scale from 1 to 5. Read more about our marks
Beds, bed linen and mattresses:
Sofa set:
Dining table set:
Bathrooms:
Kitchen:
Cutlery, pots and frying pans:
Multimedia:
Flooring, walls and celings:
Outdoor maintenance:
Terraces:
Average:
3.05
=

Neighboringhouses on map
+
Find an extra house within walking distance to
Nabohuse søgeblok her, men kan ikke på grund af dobbelt form tag :D