Spend some quality time in a holiday home in Nr. Rubjerg
Holiday cottages in Nr. Rubjerg, NW Jutland, Denmark!
Nr. Rubjerg in the bay Jammerbugten offers spectacular nature, leisure activities and nearby sights.
Guest assessments from Nr. Rubjerg
161 guests have granted an average assessment of 4,43 out of 5 possible stars.
Area
Nr. Rubjerg is a cosy holiday home area in tranquil and scenic surroundings. Throughout the years the area has attracted many visitors, who are fascinated by the forces of nature and the dramatic cliffs, from which the sea claims a piece every year. In Nr. Rubjerg you can relax in the recreational surroundings, engage yourselves in leisure activities as well as enjoy the North Sea and the distinctive nature, while you are still close to charming holiday resorts like Lønstrup (5 km) and Løkken (11 km), larger towns like f.x. Hjørring (18 km) as well as sights and amusements for the whole family.
More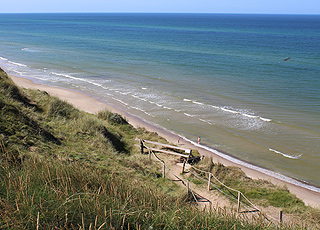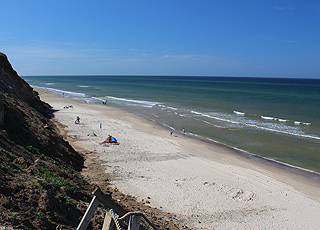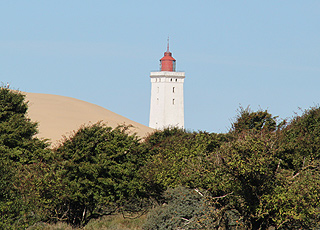 Beach
Below the steep slopes of Nr. Rubjerg you will find a lovely sandy beach, which has been awarded with the Blue Flag. The beach offers unique opportunities for swimming, sunbathing, surfing, walks as well as various beach and watersport opportunities. Experience the beautiful sunset over the North Sea from here.
Nature
Nr. Rubjerg is surrounded by a varying nature, which is both gentle and rough at the same time. The landscape is characterized by the North Sea, sandy beach, cliffs, sand dunes, inland dunes, agricultural land and forest. In the plantation Rubjerg Plantage you can go mushrooming. Near Nr. Rubjerg you can experience the impressive Rubjerg Knude - a 90 metres high hill island, which was created by the inland ice. The upper part of the dune consists of shifting sand. Rubjerg Knude is a part of the app. 15 km long cliff Lønstrup Klint, and along this you can experience the severe impact of the sand drift on the landscape.
Activities
The interesting landscape of Nr. Rubjerg invites walks, bicycle rides and horseback rides. You can follow a path along the coastal cliff from Nr. Rubjerg through the preserved landscape to Lønstrup. The North Sea is suitable for surfing, swimming and coastal fishing. The area also offers more Put & Take fishponds. A number of golf courses are available, and the nearest one is located in Løkken, where you will find a beautiful 18-hole course as well as a 9-hole Pay & Play course, which is open year round. Near Nr. Lyngby, a few km to the south, you can paraglide and hang-glide from the 30-40 m high cliffs. Action House in Løkken offers bowling alleys, laser game, paintball, go-carts, pinball arcade, ballroom, electrical cars, internet café and a discotheque (11 km).
Worth a visit
Near the hill island Rubjerg Knude you will find the lighthouse Rubjerg Knude Fyr, which is partly buried in sand. Enjoy the magnificent view from here. Experience the charming holiday resort Lønstrup with its small streets, shops, cafés, ice cream stalls and restaurants. In the outskirts of Lønstrup the fishing boats are still dragged up on the beach after use (5 km). In Family Farm Fun Park in Vittrup you can stroke and feed the animals of the petting zoo, ride on ponies, drive on small tractors, try out water cycles on a lake and picnic in scenic surroundings (7 km). Visit the holiday resort Løkken with galleries, art shops, working sweet boilers, a candle factory, old and charming fishing houses, shops, cafés and restaurants as well as a vivid nightlife (11 km). Behind the shore you can visit Børglum Kloster - a beautiful, old monastery from the 1180¿ies with atmosphere, exhibitions, a church and parklike surroundings (12 km).
Excursion spots
The cosy market town Hjørring offers a pedestrian street with specialist shops, interesting museums, a manor house and more mediaeval buildings (18 km). In the amusement park Fårup Sommerland & Aquapark you can try out more than 50 entertainments for the whole family, including Denmark's largest aquapark and Denmark's longest switchback Falken (23 km). The aquarium Nordsømuseet in Hirtshals contains Europe's largest saltwater aquarium: Ocenariet, which holds 4.5 million litres of water. Here you can experience about 60 different fish species from the North Sea and even touch some of them (30 km). In Tuen near Tversted you can visit the eagle sanctuary Ørnereservatet. Come close to some of the world's greatest eagle species and watch them being fed in the air (52 km).
Author: Ann Winter
Copyright © 2003-2018 Sol og Strand Feriehusudlejning A/S
Less

18 Holiday homes in Nr. Rubjerg