Holiday home, 11-0231, Lonstrup
Category:

Floor plan
The holiday home
Rental price
Holiday at a lower price
+
Bonus-Holiday
Get a Bonus Holiday discount on this house.
Choose at least 14 consecutive days in the calendar. Then you will automatically be granted a Bonus Holiday discount.
The discount is offered in the below periods:
20-05-2018 to 29-06-2018

11-08-2018 to 04-01-2019

Bonus-Holiday cannot be combined with other discounts.
Short Stay
This holiday home offers Short Stays. Short Stays can be 2 to 5 days of holiday, such as a weekend break or an extended weekend.
You can take Short Stays during these periods:

06-01-2018 - 13-07-2018
18-08-2018 - 04-01-2019
Inclusive cleaning
Description
Woodburning stove
3 bedrooms
Holiday home suitable for 8 persons . The holiday home is 97 m² and is build in 1993. You can bring along 2 pets. The holiday home has washing machine. Tumble dryer. Further more there is 1 wood-burning stove. For the youngest ones there is 1 high chair. Solarium. The holiday home is situated on a 1400 m² natural site. Situated 2000 m from the sea. Nearest shop is 1500 m away. A 32 m² terrace belong to the holiday home. Furthermore the house has a 6 m² covered terrace. Swing. Parking place by the holiday home. All together there are 3 bedrooms. The beds are divided on: 4 sleeping
places in double beds. 4 sleeping places in bunk beds. The kitchen is equipped with 1 refrigerator. There are 4 electric hotplates, baking oven, microwave oven and dishwasher. There is 1 bathroom with shower cabinet and 2 toilets, hereof 1 guest bathroom. There is floor heating in 1 bathroom.. The sauna offers opportunity for relaxation. You can relax in the indoor whirlpool for 1 person. The holiday home contains 1 TV. Radio. At least 4 Danish channels. 1-3 Swedish channels. 1-3 Norwegian channels. 1-3 German channels. 1-3 English channels.
Copyright:
Sol og Strand Feriehusudlejning A/S
Bedrooms

3

Ground area

1400 m2

Beds

8

Living area

97 m2

Cot

0 pcs

Fenced site

No

High chair

1 pcs

Terrace

32 qm

Toilets

2

Roofed terrace

6 qm

Activity room

No

Shield terrace

No

Woodburning stove

Yes

Parking by the house

Yes

Year built

1993

Pets allowed

2

Renovated

No

Playground equipment

Yes, 1 pcs
Washing machine

Yes

Tumbler

Yes

Dish washer

Yes

Refrigerator

1 pcs

Freezer

No

Oven

Yes

Microwave oven

Yes

Cooking plates

Yes, 4 pcs
Swimmingpool

No

Whirlpool

Yes

Sauna

Yes

Sunbed

Yes

Steam cabin

No
Sea

2 km

Sea view

No

Groceries

1,5 km
DVD

No

Game console

No

Phone

No

Internet

No

TV

1 pcs




Danish TV channels

4+




German TV channels

1-3




Norwegian TV channels

1-3




Swedish TV channels

1-3




English TV channels

1-3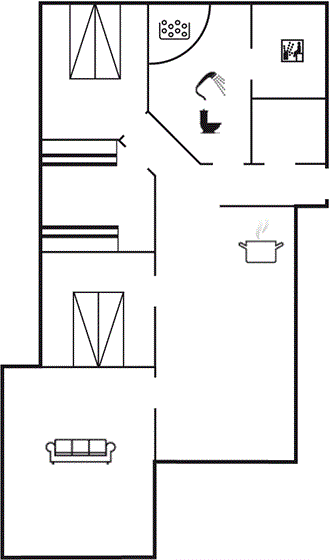 Symbol directory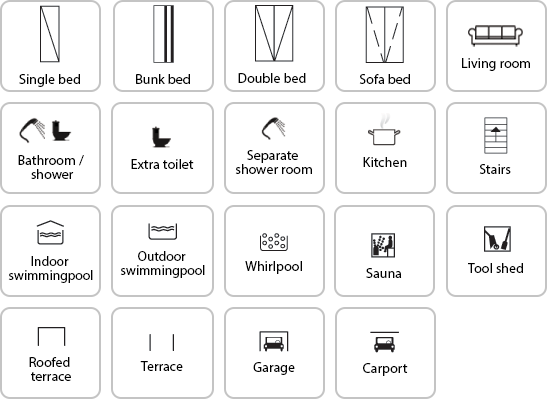 Close floor plan
Close photos
House and attractions on map
+

Skærgårdsvej 3, 9800 Lonstrup
Choose the type of attraction that you wish to visit, in a self-elected distance from your holiday home.
Attractions in a radius of
Sort by
Attractions with discount in the rest of Denmark
App

Bring the experiences along on the move. With the Sol og Strand app you always have a list of 1,500 attractions in Denmark at hand. Choose attractions according to your interests and max distance from your position. The attractions are presented on a list or a map. More info.
Close house and attractions on map
Here you can read about the holiday experiences of former guests in the holiday home. Our holiday guests have granted stars to the house, area, price and service.
Visited the holiday home 9 July 2017 - 19 July 2017 Maren, Hohnstorf
House:
Area:
Service:
Price:
Total:
Das Haus war sauber, könnte aber eine Renovierung/Anstrich vertragen. Kein Außenwasseranschluss. Das Interieur war vergleichsweise abgewohnt, besonders die Sitzmöbel im Wohnbereich. Die Küchenausrüstung ist im Vergleich unvollständig: Keine gebrauchsfähigen Schneidemesser, Müllbeutel. Die Hauslage ist schön und gepflegt.
Contribution from Sol og Strand
Vielen Dank für Ihren Gästebucheintrag. Wir werden Ihr Feedback an den Hausbesitzer weiterleiten und hoffen sie hatten einen schönen Sommer.
Visited the holiday home 8 April 2017 - 15 April 2017 Helge, Vejen
House:
Area:
Service:
Price:
Total:
Et udmærket hus. Møblerne i stuen kan være svære at komme op af for ældre.
Visited the holiday home 24 December 2016 - 7 January 2017 Ulrich, Hardegsen
House:
Area:
Service:
Price:
Total:
Eigentlich ein nettes Haus in recht zentraler Lage zum Ort. Leider scheint die Inneneinrichtung noch die erste zu sein. Sitzgelegenheiten im Wohnzimmer sowie im Esszimmer sind dafür eigentlich nicht mehr geeignet und müssten dringend ausgetauscht werden. Auch andere Möbel wue z.B Schränke neigen eher dazu, zusamnenzubrechen, als Hemden an der Kleiderstange zu halten. Daher ist das Haus leIder nicht empfehlenswert.
Visited the holiday home 8 October 2016 - 22 October 2016 Christian, Versmold
House:
Area:
Service:
Price:
Total:
Mark given without comments
Visited the holiday home 1 August 2016 - 16 August 2016 Sol og Strand guest
House:
Area:
Service:
Price:
Total:
Das Haus liegt in einer Siedlung mit vielen Ferienhäusern, die Umgebung ist schön. Leider ist das Mobiliar alt und verlebt. Auf die Couch haben wir extra Decken gelegt, da wir nicht so auf ihr sitzen wollten. Insgesamt funktionierte jedoch alles einwandfrei und das Haus wirkte insgesamt sauber. Wirklich störend war jedoch der Schimmel in der Duschkabine. So waren nicht nur einige Fugen etwas Schwarz. Sondern auch die Innenseite des Einstieges deutlich pelzig verschimmelt. Über diesen Zustand Beschwerten wir uns auch im ca 500 m entfernten Büro von sonneundstrand. Hier zeigte man sich hilfsbereit und rief sofort eine Reinigungskraft, welche nach 30 min auch da war. Die Dame zeigte sich freundlich und versuchte den Schimmel zu entfernen, was ihr nicht wirklich gelang, aus "arbeitsschutztechnischen Gründen" hätte sie keinen Schimmelentferner zur Verfügung, sie wolle dies aber nochmal im Büro ansprechen. Leider haben wir nichts mehr davon gehört. Insgesamt hatten wir einen schönen Urlaub, hätten jedoch für den Preis ein Ferienhaus erwartet, das etwas mehr in Schuss ist und keine verschimmelte Dusche hat.
Visited the holiday home 23 July 2016 - 30 July 2016 Anne-Grete, SKEDSMOKORSET
House:
Area:
Service:
Price:
Total:
Mark given without comments
Visited the holiday home 21 May 2016 - 28 May 2016 Sol og Strand guest
House:
Area:
Service:
Price:
Total:
Mark given without comments
Visited the holiday home 26 December 2015 - 2 January 2016 Sol og Strand guest
House:
Area:
Service:
Price:
Total:
Super lækkert sommerhus. Som nu er besøgt to gange. Små ting som manglede og ikke virkede kom hurtigt i orden. Sol og strand for de største ros for deres serviceniveau :) kommer gerne igen
Visited the holiday home 30 May 2015 - 6 June 2015 Sol og Strand guest
House:
Area:
Service:
Price:
Total:
Mark given without comments
Average:
House:
Area:
Service:
Price:
Total:
100% verified reviews
Close guestbook
Lønstrup is an idyllic fishing hamlet and an evocative holiday resort with shops, handicraft products and cafés.
Lønstrup is a cosy, active and vivid seaside town with narrow streets, galleries, shops, pubs, ice cream stalls and many restaurants. Most of the restaurants offer outdoor service, and some even have a view of the sea. And naturally, fish dishes always appear on the menu. Many craftsmen are attracted to this area and many have taken up residence here. You can visit them in their galleries, workshops, glass factories and museums.
In the outskirts of Lønstrup you can observe as the fishing vessels are drawn up on the beach each day after use.
The charming town life, the unique handicrafts, the many sights and the scenic nature make Lønstrup an attractive holiday destination at all times of the year.
Read more about Lonstrup
North-western Jutland - the Danish Riviera
All the way from Skagen in the north to Agger in the south you can experience some of the finest, whitest and broadest sandy beaches in Northern Europe. Small, picturesque holiday towns are situated all the way along the coast. Some places it is still possible to watch the fishermen as they drag their boats up on the beach, as it has been done for hundreds of years.
At Grenen, the northernmost point of Denmark, you can place each of your feet in different oceans, The Skagerak and the Kattegat.
Anywhere along the coast you can enjoy some of the most scenic sunsets over the North Sea.

Read more about NW Jutland
Attractions
Under Map to the house you can see all attractions in the area, choose which type of attraction you wish to visit, and seek out attractions in a self-elected distance from your holiday home.
Local offices
Sol og Strand
Lønstrup
Tannisbugtvej 2
9800 Hjørring
Phone: +45 98960990
Fax:
Email: lonstrup@sologstrand.dk

Office manager
Karin
Opening Hours
Monday
Tuesday
Wednesday
Thursday
Friday
Saturday
Sunday
12/05/2018
25/05/2018
09:00
16:00
09:00
16:00

Closed

09:00
16:00
09:00
16:00
09:00
17:00
09:00
13:00
26/05/2018
22/06/2018
09:00
16:00
09:00
16:00

Closed

09:00
16:00
09:00
16:00
09:00
17:00

Closed
Telephone +45 99444444 (Sale)
Monday
Tuesday
Wednesday
Thursday
Friday
Saturday
Sunday
07/04/2018
22/06/2018
09:00
18:00
09:00
18:00
09:00
18:00
09:00
18:00
09:00
18:00

Closed

Closed
Opening Hours
Period
12-05 - 25-05
Monday
09.00 - 16.00
Tuesday
09.00 - 16.00
Wednesday
- - -
Thursday
09.00 - 16.00
Friday
09.00 - 16.00
Saturday
09.00 - 17.00
Sunday
09.00 - 13.00
Period
26-05 - 22-06
Monday
09.00 - 16.00
Tuesday
09.00 - 16.00
Wednesday
- - -
Thursday
09.00 - 16.00
Friday
09.00 - 16.00
Saturday
09.00 - 17.00
Sunday
- - -
Close area
Marks and category of Sol og Strand
+
Sol og Strand have visited and evaluated the holiday home on 18-08-2017
We evaluate the holiday home on a scale from 1 to 5. Read more about our marks
Beds, bed linen and mattresses:
Sofa set:
Dining table set:
Bathrooms:
Kitchen:
Cutlery, pots and frying pans:
Multimedia:
Flooring, walls and celings:
Outdoor maintenance:
Terraces:
Average:
1.70
=

Neighboringhouses on map
+
Find an extra house within walking distance to
Nabohuse søgeblok her, men kan ikke på grund af dobbelt form tag :D