Holiday home, 11-0003, Lonstrup
Category:

Floor plan
The holiday home
Rental price
Description
Internet
Woodburning stove
Holiday home suitable for 4 persons . The holiday home is 59 m² and is build in 1978. You can bring along 1 pet.} Further more there is 1 wood-burning stove. The holiday home is situated on a 1000 m² Situated 900 m from the sea. Nearest shop is 1000 m away. A 15 m² terrace belong to the holiday home. Furthermore the house has a 9 m² covered terrace. You find a tool shed. Swing. Sandbox. Parking place by the holiday home. All together
there are 2 bedrooms. The beds are divided on: 4 sleeping places in single beds. The kitchen is equipped with 1 refrigerator with freezing-compartment . There are 4 electric hotplates, baking oven. There is 1 bathroom with shower cabinet and 1 toilet. The holiday home contains 1 TV. Radio. CD player. At least 4 Danish channels. At least 4 German channels. Wireless internet at your disposal.
Copyright:
Sol og Strand Feriehusudlejning A/S
Bedrooms

2

Ground area

1000 m2

Beds

4

Living area

59 m2

Cot

0 pcs

Fenced site

No

High chair

0 pcs

Terrace

15 qm

Toilet

1

Roofed terrace

9 qm

Activity room

No

Shield terrace

No

Woodburning stove

Yes

Parking by the house

Yes

Year built

1978

Pets allowed

1

Renovated

No

Playground equipment

Yes, 2 pcs
Washing machine

No

Tumbler

No

Dish washer

No

Refrigerator with
freezing-compartment

Yes

Freezer

No

Oven

Yes

Microwave oven

No

Cooking plates

Yes, 4 pcs
Swimmingpool

No

Whirlpool

No

Sauna

No

Sunbed

No

Steam cabin

No
Sea

900 m

Sea view

No

Groceries

1 km
DVD

No

Game console

No

Phone

No

WiFi

TV

1 pcs




Danish TV channels

4+




German TV channels

4+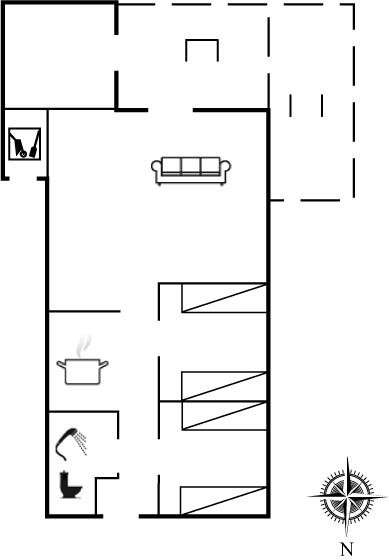 Symbol directory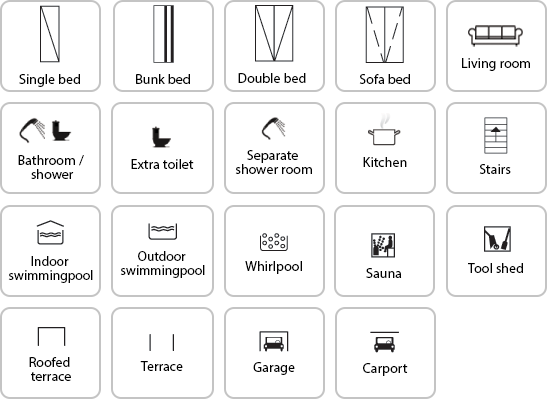 Close floor plan
Close photos
House and attractions on map
+

Sneppevej 5, 9800 Lonstrup
Choose the type of attraction that you wish to visit, in a self-elected distance from your holiday home.
Attractions in a radius of
Sort by
Attractions with discount in the rest of Denmark
App

Bring the experiences along on the move. With the Sol og Strand app you always have a list of 1,500 attractions in Denmark at hand. Choose attractions according to your interests and max distance from your position. The attractions are presented on a list or a map. More info.
Close house and attractions on map
Here you can read about the holiday experiences of former guests in the holiday home. Our holiday guests have granted stars to the house, area, price and service.
Visited the holiday home 8 July 2017 - 15 July 2017 Tina, Åbyhøj
House:
Area:
Service:
Price:
Total:
Hårde madrasser, en større varmtvandsbeholder vil gøre brusebadet mere behagelig, men et hyggelig hus med nogle gode terrsasser
Visited the holiday home 13 August 2016 - 20 August 2016 Gerda Thomsen, Sjølund
House:
Area:
Service:
Price:
Total:
Visited the holiday home 16 July 2016 - 23 July 2016 Annelise, Brøndby
House:
Area:
Service:
Price:
Total:
Måske et blandingsbatteri i brusekabinen der kan indstilles til fast temperatur, da det varme vand er meget varmt, og børn kan have svært ved at blande det.
Visited the holiday home 9 July 2016 - 16 July 2016 Lene, Holstebro
House:
Area:
Service:
Price:
Total:
Hyggeligt hus, dejligt område. Dog ville det være rart med internet og nogen danske kanaler, når nu vejret ikke var for godt. Tv'et var lidt bøvlet at finde ud af. Men bestemt et sted vi gerne kommer igen.
Contribution from Sol og Strand
Kære feriegæster, TV´et viser 8 danske kanaler . Med venlig hilsen Sol og Strand Lønstrup
Visited the holiday home 25 July 2015 - 1 August 2015 Sol og Strand guest
House:
Area:
Service:
Price:
Total:
Mark given without comments
Visited the holiday home 4 July 2015 - 18 July 2015 Sol og Strand guest
House:
Area:
Service:
Price:
Total:
Mark given without comments
Average:
House:
Area:
Service:
Price:
Total:
100% verified reviews
Close guestbook
Lønstrup is an idyllic fishing hamlet and an evocative holiday resort with shops, handicraft products and cafés.
Lønstrup is a cosy, active and vivid seaside town with narrow streets, galleries, shops, pubs, ice cream stalls and many restaurants. Most of the restaurants offer outdoor service, and some even have a view of the sea. And naturally, fish dishes always appear on the menu. Many craftsmen are attracted to this area and many have taken up residence here. You can visit them in their galleries, workshops, glass factories and museums.
In the outskirts of Lønstrup you can observe as the fishing vessels are drawn up on the beach each day after use.
The charming town life, the unique handicrafts, the many sights and the scenic nature make Lønstrup an attractive holiday destination at all times of the year.
Read more about Lonstrup
North-western Jutland - the Danish Riviera
All the way from Skagen in the north to Agger in the south you can experience some of the finest, whitest and broadest sandy beaches in Northern Europe. Small, picturesque holiday towns are situated all the way along the coast. Some places it is still possible to watch the fishermen as they drag their boats up on the beach, as it has been done for hundreds of years.
At Grenen, the northernmost point of Denmark, you can place each of your feet in different oceans, The Skagerak and the Kattegat.
Anywhere along the coast you can enjoy some of the most scenic sunsets over the North Sea.

Read more about NW Jutland
Attractions
Under Map to the house you can see all attractions in the area, choose which type of attraction you wish to visit, and seek out attractions in a self-elected distance from your holiday home.
Local offices
Sol og Strand
Lønstrup
Tannisbugtvej 2
9800 Hjørring
Phone: +45 98960990
Fax:
Email: lonstrup@sologstrand.dk

Office manager
Karin
Opening Hours
Monday
Tuesday
Wednesday
Thursday
Friday
Saturday
Sunday
12/05/2018
25/05/2018
09:00
16:00
09:00
16:00

Closed

09:00
16:00
09:00
16:00
09:00
17:00
09:00
13:00
26/05/2018
22/06/2018
09:00
16:00
09:00
16:00

Closed

09:00
16:00
09:00
16:00
09:00
17:00

Closed
Telephone +45 99444444 (Sale)
Monday
Tuesday
Wednesday
Thursday
Friday
Saturday
Sunday
07/04/2018
22/06/2018
09:00
18:00
09:00
18:00
09:00
18:00
09:00
18:00
09:00
18:00

Closed

Closed
Opening Hours
Period
12-05 - 25-05
Monday
09.00 - 16.00
Tuesday
09.00 - 16.00
Wednesday
- - -
Thursday
09.00 - 16.00
Friday
09.00 - 16.00
Saturday
09.00 - 17.00
Sunday
09.00 - 13.00
Period
26-05 - 22-06
Monday
09.00 - 16.00
Tuesday
09.00 - 16.00
Wednesday
- - -
Thursday
09.00 - 16.00
Friday
09.00 - 16.00
Saturday
09.00 - 17.00
Sunday
- - -
Close area
Marks and category of Sol og Strand
+
Sol og Strand have visited and evaluated the holiday home on 15-11-2017
We evaluate the holiday home on a scale from 1 to 5. Read more about our marks
Beds, bed linen and mattresses:
Sofa set:
Dining table set:
Bathrooms:
Kitchen:
Cutlery, pots and frying pans:
Multimedia:
Flooring, walls and celings:
Outdoor maintenance:
Terraces:
Average:
2.15
=

Neighboringhouses on map
+
Find an extra house within walking distance to
Nabohuse søgeblok her, men kan ikke på grund af dobbelt form tag :D