Spend some quality time in a holiday home in Hirtshals
Holiday cottages in Hirtshals, NW Jutland, Denmark!
Hirtshals offers versatile nature, culture, town life and activities in brotherly harmony.
Guest assessments from Hirtshals
2 guests have granted an average assessment of 5,00 out of 5 possible stars.
Area
The cosy fishing and commercial town Hirtshals is surrounded by the roaring North Sea and scenic dune landscapes. The town contains a large, evocative fishing harbour, a pedestrian street with an active commercial life, more restaurants and cafés, interesting museums and galleries as well as a characteristic lighthouse. The lovely bathing beaches, the beautiful nature, the many leisure activities and the sights make Hirtshals an ideal holiday destination for the whole family.
More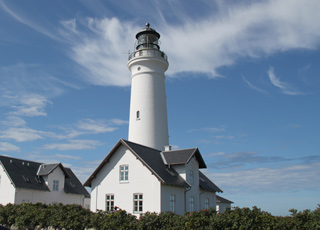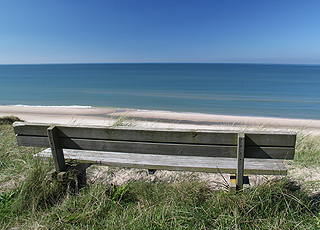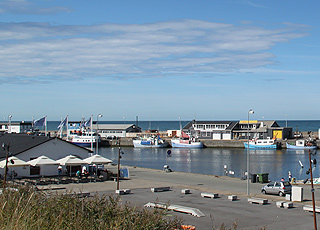 Beach
Here you can choose between two types of beaches. Hirtshals offers the child-friendly and traffic-free beach 'Husmoderstranden' as well as more wider and sandy beaches towards south and north-east. These beaches allow motoring. All beaches have been awarded with the Blue Flag and are sheltered by dunes with lyme grass. Here you can swim, sunbathe, walk, engage yourselves in beach and watersport activities as well as admire the beautiful sunset.
Nature
Hirtshals is surrounded by sea, dune landscapes, moor as well as forest and nature areas with lakes and streams. Around the lakes and the streams you will find a rich vegetation and animal life. `Folkeparken¿ is a small and cosy wood with paths, a lake with ducks, tables, benches and a playground. The forest 'Lilleheden Klitplantage' is located in the eastern outskirts of Hirtshals, and here you can experience a varying birdlife. Furthermore, this landscape offers fragrant conifers, beeches, fruit bushes, sponges, hills, fields and the stream Kjul Å, containing water, which was formerly believed to have a healing effect. In the plantation 'Uggerby Plantage' the stream Uggerby Å flows through the scenic landscape, and can be admired from the road, the bicycle track and the hiking path.
Activities
In Hirtshals Bowling Center you can bowl, play air hockey, billiards etc. You will find good hiking, riding and bicycle routes in and around the town. Among other things you can rent riding horses and follow the route through the dune plantations down to the beach. It is possible to fish from the pier in Hirtshals, from the surrounding beaches, in the stream Uggerby Å as well as in the Put & Take fishponds of the area. If you wish to go deep-sea fishing, you can sail out with a fishing vessel from the harbour of Hirtshals to wrecks or reefs - f.x. 'Det Gule Rev'. Hirtshals Golfklub, which is situated in Kjul, offers an 18-hole, slightly undulating golf course as well as a 9-hole Pay & Play course (5 km). You can rent canoes and sail on the pretty stream Uggerby Å, app. 11 km from Hirtshals.
Worth a visit
Hirtshals and the surrounding area are rich in craftsmen. Experience f.x. sculptors, painters, glassblowers, amber cutters and potters in their workshops and studios. The museum Nordsømuseet in Hirtshals contains Europe's largest salt-water aquarium Ocenariet with 4.5 million litres of water. Here you can experience app. 60 species of fish from the North Sea and even touch some of them. In Hirtshals you can also visit 'Bunkermuseet Hirtshals 10. Batteri' - a complete bunker installation from WW 2, as well as other museums, which illustrate the nature and culture history of the area. The 144 steps in the lighthouse 'Hirtshals Fyr' lead you up into a height of 35 m and from here you can enjoy a magnificent view. Hirtshals Fun Park is a large model farm with a number of animals and birds as well as activities for children of all ages. Here you can cuddle the animals, ride the ponies, play minigolf, shoot with a bow, bake twistbread in the Indian camp etc. (2 km towards south).
Excursion spots
The rustic manor house Odden in Mygdal from the 15th century is situated in scenic surroundings and contains historic interior (16 km). Experience the interesting eagle sanctuary 'Ørnereservatet' near Tversted. During the summer you can get close to some of the world's largest eagle species and watch them being fed in the air (22 km). Visit the idyllic and evocative fishing hamlet/holiday town Lønstrup, which is famous for its many galleries and craftsmen among other things (25 km). Råbjerg Mile by Kandestederne (41 km) is one of Europe¿s largest drifting dunes. The dune is app. 40 m high, moves up to 15 m each year and creates a mini desert of app. 1 km2. From the highest point of the dune you can see all the way to the top of Denmark - 'Grenen' in Skagen. In the amusement park Fårup Sommerland & Aquapark you can try out more than 50 interesting entertainments for the whole family, including Denmark's largest aquapark and Denmark's longest switchback 'Falken' (44 km).
Author: Ann Winter
Copyright © 2003-2018 Sol og Strand Feriehusudlejning A/S
Less

2 Holiday homes in Hirtshals
 

Reg. no.: 10-5904

Beds: 6

Bedrooms: 3

Pets allowed: 1

Internet: Yes

852 m to water

 

Reg. no.: 10-6108

Beds: 8

Bedrooms: 4

Pets allowed: 1

Internet: Yes

900 m to water