Spend some quality time in a holiday home in Gronhoj
Holiday cottages in Gronhoj, NW Jutland, Denmark!
Grønhøj is a tranquil and child-friendly holiday home area with a lovely beach.
Guest assessments from Gronhoj
1337 guests have granted an average assessment of 4,55 out of 5 possible stars.
Area
Grønhøj is located between the holiday resort Blokhus and Løkken. Here relaxation and comfort in scenic surroundings. The good beach and the varying hinterland with dune plantations, meadows, moors and forests make Grønhøj an extremely attractive holiday destination. A grocer is available in the area, and you will find a larger selection in the holiday towns like f.x. Løkken and Blokhus. In Grønhøj you are just a short drive away from holiday resorts, golf courses, Put & Take fishponds, activity centres, amusement parks and sights for the whole family.
More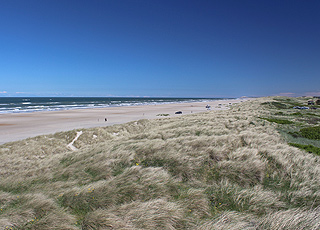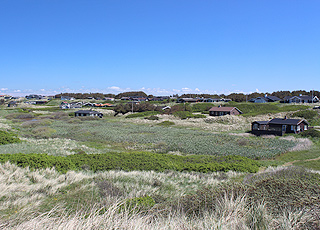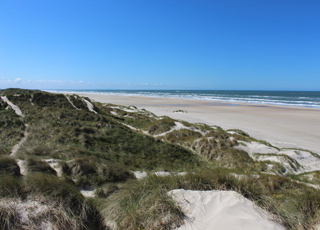 Beach
The beach of Grønhøj belongs among the best in Denmark. The fine, wide and sandy beach is situated in front of a belt of high and impressive dunes with lyme grass and sheltered hollows. The beach has been awarded with the Blue Flag and motoring is allowed on the beach. Don't miss the magnificent sunset over the North Sea from the beach, the dunes or perhaps from your holiday home. The beach is tempting at all times of the year and invites walks in all types of weather.
Nature
Grønhøj is surrounded by green and undulating landscapes of scenic beauty with moor with dunes, preserved areas, fields and forest. In the conservation area Lille Norge between Grønhøj and Saltum you can experience an undulating landscape with forest, sea and dune plantation. From the viewpoint Guldagerhøj in this area you can enjoy the view of the whole bay Jammerbugten. The beautiful forest and nature landscapes, which stretch all the way down to the North Sea, invite bicycle rides and walks.
Activities
The wide and sandy beach is ideal for swimming, sunbathing and windsurfing. Furthermore, you can paraglide from the high cliffs by the beach near Grønhøj. It is possible to rent riding horses in the area and go riding in the dunes and on the beach. Action House in Løkken offers bowling, lasergame, paintball, go-cart, pinball arcade, ballroom, electrical cars, internet café, restaurant and discotheque (10 km). Visit the subtropical aquapark in Blokhus with a long water slide, a children's pool, a jacuzzi, a sauna and a wellness centre (16 km). The area is rich in golf courses, and you can play on the 18-hole course of Løkken Golfklub, which is located between fields and plantations (10 km) or on the 18-hole, scenically situated course of Blokhus Klit Golf Center (17 km). Angers have plenty of opportunities here, as it is possible to fish directly from the shore as well as in the Put & Take fishponds of the area, f.x. Saltum Fiskepark and Løkken Fiskepark.
Worth a visit
In the amusement park Fårup Sommerland & Aquapark you can try out more than 50 entertainments for the whole family, including Denmark's largest aquapark and Denmark's longest switchback Falken (8 km). Visit the cosy tourist resort Løkken (10 km). Here you will find an active drops factory, a number of shops, restaurants, pubs, fishing vessels on the beach and entertainment during the summer. The garden of Hune 'Haven i Hune' is a 6,500 square metres beautiful, colourful and inspiring harden with f.x. sale of plants and paintings as well as a café (15 km). Behind Løkken you can visit Børglum Kloster - a beautiful, old monastery from the 1180'ies with atmosphere, exhibitions, a church and parklike surroundings (16 km).
Excursion spots
A sand drift museum has been established near the lighthouse Rubjerg Knude Fyr from 1900, and from the lighthouse, which is going to sand up within a few years, you can enjoy the scenic view of the sea and the landscape (19 km). Visit the idyllic and evocative fishing hamlet Lønstrup, which is famous for its many galleries and artist craftsmen among other things (24 km). The aquarium Nordsømuseet in Hirtshals contains Europe's largest saltwater aquarium: Ocenariet, which holds 4.5 million litres of water. Here you can experience about 60 different fish species from the North Sea and even touch some of them (40 km). In Hirtshals you can also visit the bunker museum Bunkermuseet Hirtshals 10. Batteri - a complete bunker installation from World War II with a museum.
Author: Ann Winter
Copyright © 2003-2018 Sol og Strand Feriehusudlejning A/S
Less

189 Holiday homes in Gronhoj
 

Reg. no.: 12-2062

Beds: 8

Bedrooms: 4

Pets allowed: No

Internet: Yes

350 m to water

 

Reg. no.: 12-0370

Beds: 6

Bedrooms: 3

Pets allowed: No

Internet: Yes

1400 m to water

 

Reg. no.: 12-0234

Beds: 8

Bedrooms: 3

Pets allowed: No

Internet: Yes

200 m to water

 

Reg. no.: 12-0046

Beds: 10

Bedrooms: 4

Pets allowed: No

Internet: Yes

450 m to water

 

Reg. no.: 12-0252

Beds: 6

Bedrooms: 3

Pets allowed: No

Internet: Yes

300 m to water

 

Reg. no.: 12-2043

Beds: 8

Bedrooms: 4

Pets allowed: No

Internet: Yes

150 m to water

 

Reg. no.: 12-2044

Beds: 8

Bedrooms: 3

Pets allowed: No

Internet: Yes

500 m to water

 

Reg. no.: 12-0180

Beds: 10

Bedrooms: 4

Pets allowed: 3

Internet: Yes

800 m to water

 

Reg. no.: 12-0336

Beds: 6

Bedrooms: 3

Pets allowed: 2

Internet: Yes

375 m to water

 

Reg. no.: 12-0275

Beds: 8

Bedrooms: 3

Pets allowed: 2

Internet: Yes

450 m to water

 

Reg. no.: 12-0339

Beds: 6

Bedrooms: 3

Pets allowed: No

Internet: Yes

375 m to water

 

Reg. no.: 12-0295

Beds: 8

Bedrooms: 3

Pets allowed: 2

Internet: Yes

350 m to water

 

Reg. no.: 12-0183

Beds: 4

Bedrooms: 3

Pets allowed: 1

Internet: Yes

400 m to water

 

Reg. no.: 12-0365

Beds: 4

Bedrooms: 2

Pets allowed: 2

Internet: Yes

200 m to water

 

Reg. no.: 12-0008

Beds: 10

Bedrooms: 4

Pets allowed: 1

Internet: Yes

100 m to water

 

Reg. no.: 12-0313

Beds: 6

Bedrooms: 3

Pets allowed: No

Internet: Yes

350 m to water

 

Reg. no.: 12-0102

Beds: 6

Bedrooms: 3

Pets allowed: No

Internet: No

150 m to water

 

Reg. no.: 12-0314

Beds: 7

Bedrooms: 4

Pets allowed: 1

Internet: Yes

275 m to water

 

Reg. no.: 12-0417

Beds: 6

Bedrooms: 3

Pets allowed: 1

Internet: Yes

500 m to water

 

Reg. no.: 12-0196

Beds: 8

Bedrooms: 4

Pets allowed: 2

Internet: Yes

900 m to water

 

Reg. no.: 12-0202

Beds: 8

Bedrooms: 3

Pets allowed: No

Internet: Yes

700 m to water

 

Reg. no.: 12-0343

Beds: 6

Bedrooms: 3

Pets allowed: 2

Internet: Yes

750 m to water

 

Reg. no.: 12-0309

Beds: 6

Bedrooms: 3

Pets allowed: No

Internet: Yes

900 m to water

 

Reg. no.: 12-0385

Beds: 6

Bedrooms: 3

Pets allowed: No

Internet: Yes

550 m to water

 

Reg. no.: 12-0330

Beds: 6

Bedrooms: 3

Pets allowed: No

Internet: Yes

750 m to water

 

Reg. no.: 12-0062

Beds: 6

Bedrooms: 3

Pets allowed: No

Internet: No

200 m to water

 

Reg. no.: 12-0418

Beds: 6

Bedrooms: 4

Pets allowed: No

Internet: Yes

300 m to water

 

Reg. no.: 12-0356

Beds: 6

Bedrooms: 3

Pets allowed: No

Internet: Yes

150 m to water

 

Reg. no.: 12-0245

Beds: 6

Bedrooms: 3

Pets allowed: 3

Internet: Yes

600 m to water

 

Reg. no.: 12-0373

Beds: 8

Bedrooms: 3

Pets allowed: No

Internet: Yes

1100 m to water

 

Reg. no.: 12-0228

Beds: 10

Bedrooms: 4

Pets allowed: 1

Internet: Yes

300 m to water

 

Reg. no.: 12-0181

Beds: 6

Bedrooms: 3

Pets allowed: No

Internet: Yes

140 m to water

 

Reg. no.: 12-0407

Beds: 8

Bedrooms: 4

Pets allowed: 1

Internet: Yes

400 m to water

 

Reg. no.: 12-0296

Beds: 4

Bedrooms: 2

Pets allowed: 1

Internet: Yes

900 m to water

 

Reg. no.: 12-0371

Beds: 8

Bedrooms: 4

Pets allowed: 1

Internet: Yes

1250 m to water

 

Reg. no.: 12-0242

Beds: 6

Bedrooms: 4

Pets allowed: 1

Internet: Yes

600 m to water

 

Reg. no.: 12-0372

Beds: 8

Bedrooms: 4

Pets allowed: No

Internet: Yes

1500 m to water

 

Reg. no.: 12-0358

Beds: 6

Bedrooms: 3

Pets allowed: 1

Internet: Yes

995 m to water

 

Reg. no.: 12-0364

Beds: 6

Bedrooms: 3

Pets allowed: No

Internet: Yes

980 m to water

 

Reg. no.: 12-0398

Beds: 8

Bedrooms: 3

Pets allowed: No

Internet: Yes

50 m to water

 

Reg. no.: 12-0410

Beds: 10

Bedrooms: 4

Pets allowed: 1

Internet: Yes

300 m to water

 

Reg. no.: 12-0390

Beds: 8

Bedrooms: 4

Pets allowed: No

Internet: Yes

150 m to water

 

Reg. no.: 12-0406

Beds: 4

Bedrooms: 2

Pets allowed: No

Internet: Yes

600 m to water

 

Reg. no.: 12-0086

Beds: 8

Bedrooms: 4

Pets allowed: No

Internet: Yes

150 m to water

 

Reg. no.: 12-0328

Beds: 10

Bedrooms: 4

Pets allowed: 2

Internet: Yes

1100 m to water

 

 

 

Reg. no.: 12-2038

Beds: 6

Bedrooms: 3

Pets allowed: No

Internet: Yes

300 m to water

 

Reg. no.: 12-0158

Beds: 7

Bedrooms: 3

Pets allowed: No

Internet: Yes

175 m to water

 

Reg. no.: 12-0332

Beds: 6

Bedrooms: 3

Pets allowed: 1

Internet: Yes

275 m to water

 

Reg. no.: 12-0227

Beds: 6

Bedrooms: 3

Pets allowed: No

Internet: Yes

300 m to water

 

Reg. no.: 12-0350

Beds: 8

Bedrooms: 4

Pets allowed: No

Internet: Yes

150 m to water

 

Reg. no.: 12-0002

Beds: 6

Bedrooms: 3

Pets allowed: 1

Internet: Yes

300 m to water

 

Reg. no.: 12-1008

Beds: 6

Bedrooms: 3

Pets allowed: 1

Internet: Yes

1200 m to water

 

Reg. no.: 12-0251

Beds: 8

Bedrooms: 3

Pets allowed: 1

Internet: Yes

600 m to water

 

Reg. no.: 12-0381

Beds: 6

Bedrooms: 3

Pets allowed: No

Internet: Yes

1300 m to water

 

Reg. no.: 12-0327

Beds: 5

Bedrooms: 3

Pets allowed: 2

Internet: Yes

275 m to water

 

Reg. no.: 12-0118

Beds: 6

Bedrooms: 3

Pets allowed: 2

Internet: Yes

250 m to water

 

Reg. no.: 12-2049

Beds: 6

Bedrooms: 3

Pets allowed: No

Internet: Yes

250 m to water

 

Reg. no.: 12-0246

Beds: 5

Bedrooms: 3

Pets allowed: No

Internet: Yes

300 m to water

 

Reg. no.: 12-0291

Beds: 6

Bedrooms: 3

Pets allowed: 1

Internet: Yes

275 m to water

 

Reg. no.: 12-0305

Beds: 6

Bedrooms: 3

Pets allowed: 1

Internet: Yes

300 m to water

 

Reg. no.: 12-0261

Beds: 8

Bedrooms: 4

Pets allowed: 2

Internet: Yes

150 m to water

 

Reg. no.: 12-0063

Beds: 6

Bedrooms: 3

Pets allowed: 2

Internet: Yes

300 m to water

 

Reg. no.: 12-0402

Beds: 10

Bedrooms: 4

Pets allowed: 1

Internet: Yes

1500 m to water

 

Reg. no.: 12-0397

Beds: 6

Bedrooms: 3

Pets allowed: No

Internet: Yes

900 m to water

 

Reg. no.: 12-0233

Beds: 6

Bedrooms: 3

Pets allowed: 2

Internet: Yes

375 m to water

 

Reg. no.: 12-0379

Beds: 8

Bedrooms: 3

Pets allowed: 1

Internet: Yes

500 m to water

 

Reg. no.: 12-0260

Beds: 6

Bedrooms: 3

Pets allowed: No

Internet: Yes

375 m to water

 

Reg. no.: 12-0320

Beds: 6

Bedrooms: 3

Pets allowed: 2

Internet: Yes

500 m to water

 

Reg. no.: 12-0333

Beds: 6

Bedrooms: 4

Pets allowed: No

Internet: Yes

1175 m to water

 

Reg. no.: 12-0182

Beds: 10

Bedrooms: 4

Pets allowed: No

Internet: Yes

700 m to water

 

Reg. no.: 12-0271

Beds: 6

Bedrooms: 3

Pets allowed: 2

Internet: Yes

500 m to water

 

Reg. no.: 12-0344

Beds: 6

Bedrooms: 3

Pets allowed: 2

Internet: Yes

425 m to water

 

Reg. no.: 12-0408

Beds: 6

Bedrooms: 3

Pets allowed: No

Internet: Yes

250 m to water

 

Reg. no.: 12-0262

Beds: 6

Bedrooms: 2

Pets allowed: No

Internet: Yes

300 m to water

 

Reg. no.: 12-2060

Beds: 5

Bedrooms: 3

Pets allowed: No

Internet: No

800 m to water

 

Reg. no.: 12-2001

Beds: 6

Bedrooms: 3

Pets allowed: 2

Internet: Yes

200 m to water

 

Reg. no.: 12-0315

Beds: 10

Bedrooms: 4

Pets allowed: 1

Internet: Yes

170 m to water

 

Reg. no.: 12-2069

Beds: 8

Bedrooms: 4

Pets allowed: 1

Internet: Yes

250 m to water

 

Reg. no.: 12-0383

Beds: 6

Bedrooms: 3

Pets allowed: 2

Internet: Yes

350 m to water

 

Reg. no.: 12-2065

Beds: 8

Bedrooms: 4

Pets allowed: 2

Internet: Yes

600 m to water

 

Reg. no.: 12-0334

Beds: 6

Bedrooms: 3

Pets allowed: 1

Internet: Yes

400 m to water

 

Reg. no.: 12-0340

Beds: 6

Bedrooms: 3

Pets allowed: 2

Internet: Yes

500 m to water

 

Reg. no.: 12-0120

Beds: 6

Bedrooms: 3

Pets allowed: 1

Internet: Yes

500 m to water

 

Reg. no.: 12-0122

Beds: 8

Bedrooms: 3

Pets allowed: No

Internet: No

150 m to water

 

Reg. no.: 12-0274

Beds: 12

Bedrooms: 5

Pets allowed: 2

Internet: Yes

400 m to water

 

Reg. no.: 12-0192

Beds: 10

Bedrooms: 5

Pets allowed: 5

Internet: Yes

180 m to water

 

Reg. no.: 12-0326

Beds: 6

Bedrooms: 3

Pets allowed: No

Internet: Yes

990 m to water