Spend some quality time in a holiday home in Goettrup
Holiday cottages in Goettrup, NW Jutland, Denmark!
A holiday in undisturbed countryside with numerous activities - only 10km from the North Sea.
Guest assessments from Goettrup
6 guests have granted an average assessment of 4,17 out of 5 possible stars.
Area
If you really want to relax, then you ought to go on holiday in the lovely surroundings around Gøttrup. The holiday home is located between the beautiful beaches of the North Sea, the mild Liim Fiord, and is only 57km from the medieval town of Ålborg, which has countless shopping opportunities and many interesting museums that relate tales of Vikings, sea-farers, and monks. Experience a holiday home area marked by fantastic countryside, or fish in the sea or the many lakes and enjoy your catch at dinner. Try one of Denmark's best golf courses, or take the children along to an amusement park that has wild roller coasters and an exciting water world. The location of the holiday home makes all this possible. If you want a totally undisturbed holiday, you can buy groceries only three kilometres away from your holiday home and therefore buy everything you need for a couple of peaceful days.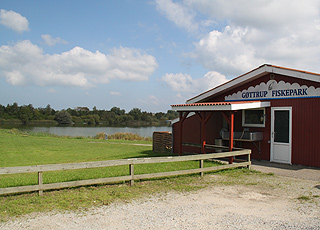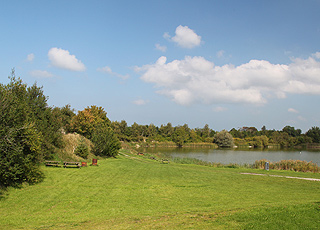 Beach
To the north of your holiday home, by the fantastic North Sea, are many beautiful beaches that invite you to swim, fish, or partake in beach activities. Den Grønne Strand - where cars are not allowed - is a broad, white sandy beach with few stones. On the gravel road to the beach are several tractors that have boat trailers fitted to them so that anglers can collect their fishing nets out of the water.
Nature
Svinkløv Plantage is a 700 ha. country park open to the public. Follow marked hiking trails through a plantation that changes from dune heath land, to fragrant fir trees, to fertile wooded gorges such as Faldet and Kaprifoliedalen. Fosdalen, a lovely large vale, has a waterfall. Fosdalen cuts through to Lien which is an approximately 7km long inland cliff with an elevation of up to 66m. Lien stretches from Tranum to Grønne Strand (15km). Bulbjerg is Denmark's only bird cliff, where gulls breed and are often seen floating in the wind over the cliff edge. Enjoy the lovely view at Bulbjerg (15km). The 6,000 ha. country park Vejlerne is located between Lønnerup Fjord to the west, Lund Fjord to the north, Bygholm Vejle in the east, and Liim Fiord to the south. This protected bird paradise has a large variety of natural sights - cows grazing in meadows, tidal meadows, masses of reeds, brackish water, marshes, fjords - which all attract ducks, geese, water birds, and birds of prey (19km).
Activities
Enjoy a refreshing walk through the lovely countryside that surrounds your holiday home, or sunbathe at any of the numerous inviting beaches in the area. You have the opportunity for beach fishing, or fishing at the Put & Take lakes nearby, such as at Gøttrup Fiskepark, which is only 3 kilometres away from your holiday home. Gøttrup Fiskepark is one of Denmark's largest and most pleasant Put & Take fishing parks. Here there is a large lake situated in an area 100,000m surrounded by woodland, gorges and grassy fields. O.8 to 10kg trout are released into the lake daily. Golf players can try the nearby Jammerbugtens Golfklub at Fjerritslev, where the 18-hole course has been created as a natural course in hilly terrain (8km), or Himmerland Golf & Country Club with 3 challenging 18-hole courses, PGA New Course, Old Course and Bette Course (31 km).
Worth a visit
The town of Fjerritslev is 7 kilometres north of your holiday home and has many interesting activity possibilities. Visit for example Han Herred Bolchekogeri & Lysstøberi and taste the sugar-free sweets. Fjerritslev Bryggeri- & Egnsmuseum is located in the centre of Fjerritslev and is one of northern Europe's best preserved country breweries. The brewery is intact and has brewing kettles that are over 100 years old, fermenting vats, and oil barrels - which can be found as if they have just been left by the brewery workers. In Fjerritslev you also have the possibility to visit Han Herred Naturcenter and discover more about the plant and animal life of the area. The old Købmandsgården has a wide selection of finished quilts, art and patchwork, as well as cloth and sewing equipment. The former stable has been converted into a shop with an extensive assortment of applied art, frost-proof figures and pots for the garden and terrace. Here you can also browse in peace.
Excursion spots
In Røgegård Naturreservat you can experience woods, heath and lakes, and get close to the animals. The nature reservation has a large number of deer, muflon and wild boar, which roam free in the vast area. Here you can also visit a hunting museum which has the largest collection of hunting weapons in the country (9km). Aggersborg castle by Aggersund north of Liim Fiord is Denmark's largest Viking castle. The castle has an inner diameter of 240 metres and ramparts 750 metres long (15km). The Bunkermuseet at Bulbjerg is part of a fortification from the Second World War. There is a small exhibition here with information about the Occupation, and also about the surrounding geology and birdlife (15km). The amusement park Fårup Sommerland offers more than 50 exciting activities for the whole family, and also has a large aquapark and the fast wooden rollercoaster Falken (52km).
Author: Ann Winter
Copyright © 2003-2020 Sol og Strand Feriehusudlejning A/S
Holiday homes in Goettrup
Destinations (NW Jutland)
 

Goettrup

Reg. no.: 16-1853

8000 m to water

 

Goettrup

Reg. no.: 16-1855

3000 m to water