Spend some quality time in a holiday home in Oster Hurup
Holiday cottages in Oster Hurup, NE Jutland, Denmark!
The holiday area Oster Hurup is located by the Kattegat and offers a lovely and child-friendly sandy beach with dunes, plenty of great holiday homes, an active town life and an evocative marina. When you spend your holiday in a holiday home in Oster Hurup, you are surrounded by unique nature and activities for the whole family.
Guest assessments from Oster Hurup
61 guests have granted an average assessment of 4,41 out of 5 possible stars.
Area
The holiday town Oster Hurup is situated right by the Kattegat, at one of the best bathing beaches in eastern Jutland, and not far from the inlet Mariager Fjord. Here you will find a scenic nature and lots of leisure activities for both children and adults. The town offers good shopping possibilities as well as a large selection of cafés and restaurants. Throughout the summer the nightlife is vivid at the bars and discotheques of the town. The harbour of Oster Hurup is a cosy and modern fishing harbour and marina, and here the atmosphere is full of life and activity. It is possible to buy fresh fish here every day. Oster Hurup is a lovely place to rent a holiday home and in many of our holiday homes, your dog is welcome.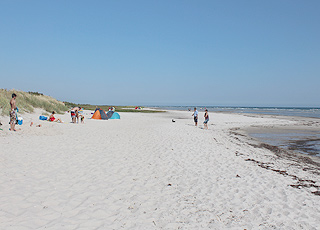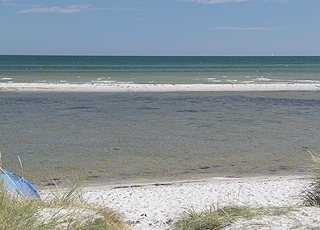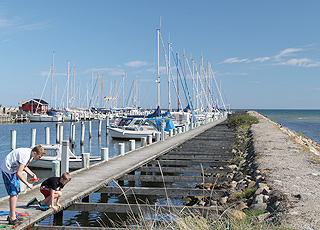 Beach
The long, white bathing beach of Oster Hurup has low dunes and Blue Flag. The beach is very suitable for children as the waves are low and the water shallow. The beach offer good conditions for bathing, sunbathing and various beach activities, such as e.g. windsurfing.
Nature
The nature, surrounding Oster Hurup is scenic and varying. Here you will find many places of scenic beauty during your holiday in a holiday home. Lille Vildmose is Denmark''s largest marsh area with lakes, fields with crops and the forests Høstemark Skov and Toft Skov. Toft Skov is a unique and untouched area, sceduled as an open space, and here you have the opportunity of experiencing wild boar, red deer and golden eagle. However, you have to follow a group on a tour here. Further inland you will find Denmark''s second largest forest, the beautiful Rold Skov, with an undulating terrain, many forest lakes and springs, varying plantation, a rich animal life and a number of walking paths.
Activities
Anglers have good possibilities in the harbour, in the inlet Mariager Fjord or in one of the streams or Put & Take fishponds of the area. By the point Als Odde you can rent a boat for fishing on Mariager Fjord. The area is level and therefore comfortable for bicyclists. Lovely nature experiences await you along the marked bicycle routes, which lead you through the scenic landscapes of eastern Himmerland and around the inlet Mariager Fjord. You will also find more nature paths and walking routes in the area. So go out on lovely walks and experience nature at close range when you spend your holiday in a holiday home. Furthermore Oster Hurup offers a subtropical water world, which is open year round, minigolf, tennis courts as well as rental of bicycles and horses. The beach offers good conditions for windsurfers. Sailing trips are arranged on Mariager Fjord. Golf players can try our more scenic courses in the area.
Worth a visit
Holiday home rental in Oster Hurup means that you are close to many interesting sights and experiences. In the beautiful garden by the castle Visborggård Slot the white gelding, which used to belong to King Christian X, is buried under a grave mound. Willestrup Barokhave from the year 1750 by the property Willestrup is a beautiful manor house garden with fountains, roses and bulbous plant. By Mariager Fjord you can see the beautiful mill Havnø Mølle with the thatched roof. The mill is northern Jutland''s largest preserved windmill and from here you will have a magnificent view of the inlet. The regional museum Als Hjemstavnsmuseum is established in a half-timbered house with a thatched roof and shows a farmhouse from the period 1750-1830 with furniture. The regional museum Hadsund Egns Museum is scenically situated and contains exhibitions, which informs of the history of the region.
Excursion spots
The large forest Rold Skov offers an undulating terrain, forest lakes, springs, varying forest, a rich animal life and many walking routes. In the animal kingdom Aalborg Zoo you can get close to 800 interesting animals. In Randers Regnskov (the rain forest of Randers) you can experience jungle paths, rocks, crokodiles and waterfalls. In Danmarks Saltcenter in Mariager you can experience the magic of the salt. The salt centre is only tourist attraction in Scandinavia, where the raw material salt is the main subject. In the lime stone mines Thingbæk Kalkminer by the forest Rold Skov an underground sculpture museum has been established in the old mine passages. The viking centre Fyrkat by Hobro consists of the preserved castle mounds Fyrkat as well as reconstructions of a castle house and a viking farm with nine houses, build shortly before the year 1000.
Author: Ann Winter
Copyright © 2003-2020 Sol og Strand Feriehusudlejning A/S
Holiday homes in Oster Hurup
Destinations (NE Jutland)
 

Oster Hurup

Reg. no.: 45-3052

100 m to water

 

Oster Hurup

Reg. no.: 45-3074

200 m to water

 

Oster Hurup

Reg. no.: 45-3176

100 m to water

 

Oster Hurup

Reg. no.: 45-3065

150 m to water

 

Oster Hurup

Reg. no.: 45-3067

600 m to water

 

Oster Hurup

Reg. no.: 45-3138

300 m to water

 

Oster Hurup

Reg. no.: 45-3001

500 m to water

 

Oster Hurup

Reg. no.: 45-3172

20 m to water

 

Oster Hurup

Reg. no.: 45-3132

300 m to water

 

Oster Hurup

Reg. no.: 45-3179

500 m to water

 

Oster Hurup

Reg. no.: 45-3130

100 m to water

 

Oster Hurup

Reg. no.: 45-3122

300 m to water

 

Oster Hurup

Reg. no.: 45-3143

800 m to water

 

Oster Hurup

Reg. no.: 45-3178

700 m to water

 

Oster Hurup

Reg. no.: 45-3177

500 m to water

 

Oster Hurup

Reg. no.: 45-3181

900 m to water