Spend some quality time in a holiday home in Laso, Byrum
Holiday cottages in Laso, Byrum, NE Jutland, Denmark!
Byrum is located in the centre of the lovely holiday island Laso, far out in the Kattegat, and offers more sights for the whole family, lovely nature and many coay holiday homes. When you spend your holiday in a holiday home in Byrum on Laso, you are surrounded by scenic nature, the preserved area Ronnerne and all of the attractions of Laso.
Guest assessments from Laso, Byrum
5 guests have granted an average assessment of 4,80 out of 5 possible stars.
Area
Byrum is the centre of Læsø and you will find good shopping possibilities and a lot of restaurants. You will also find the Læsø Tower, a 17 meter high lookout tower, from which you can enjoy the view of the entire town, the island and the sea. The holiday homes surround the town in green woodland and when you choose to stay here, you are close to all attractions and bathing beaches of Læsø. The natural resorts Læsø Plantation, Kærene and Rønnerne are just outside the town. Just a short ride on your bike will bring you to a number of artisans and attractions such as Lynghaven and the salt works.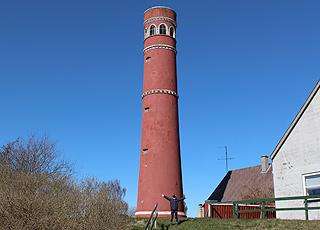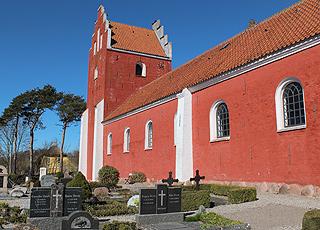 Beach
All bathing beaches on Læsø are just a short drive from Byrum. The closest one is Storedal, direct to the north of Byrum. Here you will find a nice sandy beach and lovely water, which, however, gets deep quite suddenly. A little to the east you find the beach Hvidebakker. Here you can enjoy a lovely bathing beach with dunes, fine sand and low bathing water and a child-friendly surf. The most child-friendly beach is Kongestranden, starting at Vesterør Harbour and following the coast all the way to the island Stokken. The water is shallow all way out to the third sandbank, and the beach is shielded by high dunes with lyme grasss.
Nature
Byrum is surrounded by fields, meadows and woodland. Right to the south of Byrum you can see the preserved marshland Rønnerne. The 1741 ha big, completely flat area has been laid down for a Natura 2000 area. Here you will find a big number of wild flowers and a lot of ducks and wading birds. You can see the Rønnerne on the back of an Icelandic horse or from the Rønne bus, pulled by a tractor. To the north-west of Byrum is the heathland Kærene. Here you find a big number of lakes, beautifully surrounded by heath and woodland. North of Byrum is the beautiful Læsø Dune Plantation with heathland, woods and beaches. The plantation has i.a. riding, walking and cycle paths, a forest cottage with temporary exhibitions and Gateway Læsø. Gateway Læsø comprises a big fenced-in dog park, a health place with training tools, a fire ring with tables, benches, toilets and clean drinking water in the summer season. In autumn you can go looking for mushrooms such as chanterelles in the plantatio
Activities
Med Byrums beliggenhed er det oplagt at cykle fra jeres sommerhus og rundt blandt Læsøs attraktioner og badestrande. Golfspillere kan afprøve den 18-hullers bane hos Læsø Seaside Golfklub, som ligger ca. 10 km mod nordvest. Banen, som har opnået 16 ud af 20 mulige stjerner i Peugeots Golf Guide, er åben for gæstespillere. Lystfiskere kan fiske i den 10.000 m2 store put & take sø, Læsø Fiskesø, som ligger syd for golfbanen. Her kan I fange ørreder, ål og flodkrebs. I kan også fiske og måske fange ferskvandsfisk i Hornekssøen, som ligger tæt ved Horneks Odde. I kan selvfølgelig også fiske i havet fra kysten eller fra havnemolerne i Østerby og Vesterø. I kan blandt andet fange havørreder her fra marts til november. Prøv også at tage på havfiskeri med båden Seadog, som sejler ud fra nåde Østerby og Vesterø.
Worth a visit
I og omkring Byrum kan I besøge flere kunsthåndværkere. Hos Læsø Glaspusteri, som ligger i en tidligere skole lidt uden for Byrum, kan I se, når det flydende glas bliver bearbejdet og omdannet til smukt kunsthåndværk. Keramikeren Anine Meilby omdanner ler til imponerende dyr og fugle, og hos Lynggård Keramik nær Kærene kan I se, når keramikeren laver brugsgenstande i keramik. I Byrum finder I også Luddes Hus, som er et lille museum med skiftende udstillinger af malerier, skulpturer og kunsthåndværk. Lige uden for Byrum kan I besøge den børnevenlige attraktion Storhaven, en stor gård med masser af børneaktiviteter samt produktion af is, mel og cremer. Her kan børnene møde gårdens tamme dyr, ride på islandske heste og skyde med bue og pil. Her kan I også prøv at støbe stearinlys og male mel på gårdens stubmølle.
Excursion spots
Et par kilometer mod syd ligger Saltsyderiet, og her kan I se, hvordan saltet, som udvindes fra Rønnerne, bliver sydet i åbne jernpander i de små sydehytter. Hør syderne fortælle om sydeprocessen og de gamle sydeteknikker, og køb evt. frisksydet Læsøsalt med hjem til sommerhuset. Fra tårnet ved saltsyderiet kan I se ud over hele Saltsyderiet og naturområdet Rønnerne. Tæt ved Byrum kan I også besøge Museumsgården, som er en af de mest velholdte tanggårde på Læsø. Under det tykke tangtag finder I et originalt Læsøhjem med åbne ildsteder, alkover og møbler fra 1800-tallet samt udstillinger af Læsø-dragter og malerier. På en rundvisning kan I høre mere om gårdens historie, beboerne, tangtagene og meget mere. Udenfor kan I se en stubmølle fra 1810. I Rhododendronhaven i Østerby, ca. 12 km mod øst, kan I opleve et væld af smukke blomster i maj og juni, men haven er et besøg værd på alle årstider.
Author: Ann Winter
Copyright © 2003-2020 Sol og Strand Feriehusudlejning A/S
7 Holiday homes in Laso, Byrum
Destinations (NE Jutland)
 

Laso, Byrum

Reg. no.: 47-0007

5000 m to water

 

Laso, Byrum

Reg. no.: 47-0010

3000 m to water

 

Laso, Byrum

Reg. no.: 47-0009

5000 m to water

 

Laso, Byrum

Reg. no.: 47-0013

4500 m to water

 

Laso, Byrum

Reg. no.: 47-0006

5000 m to water

 

Laso, Byrum

Reg. no.: 47-0011

7000 m to water

 

Laso, Byrum

Reg. no.: 47-0002

4000 m to water