Spend some quality time in a holiday home in Hegedal, Hobro
Holiday cottages in Hegedal, Hobro, NE Jutland, Denmark!
Undisturbed holiday home area - right by Mariager Fjord and only 4km from Hobro.
Guest assessments from Hegedal, Hobro
guests have granted an average assessment of 0,00 out of 5 possible stars.
Area
If you want an undisturbed holiday in a lovely natural area by Mariager Fjord, then we recommend Hegedal which is only 4km from Hobro. Here you are close to the tempting water of the delightful fiord that invites one to go swimming or fishing, and there is also easy access to numerous attractions, amusement parks, zoos, and museums in towns such as Randers (32km), Aalborg (54km), and Århus (70km). The nearest shop is only 2 kilometres away, and there are many shops in Hobro, or on the other side of the fiord, in the 600 year-old town of Mariager, which is known for its lovely roses (19km).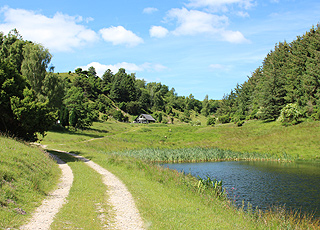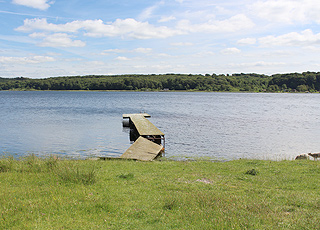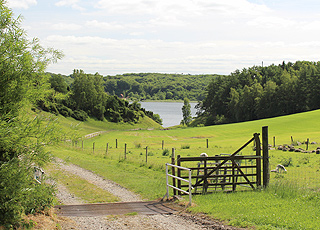 Beach
Immediately beside your holiday home there are possibilities for bathing in Mariager Fjord. However, the next bathing beach is only 9 kilometres from your holiday home. The beach at Bramslev Bakker has good sunbathing facilities as well as tables, chairs, and toilets. There is also the opportunity for waterskiing, and immediately nearby are restaurants and shops. The steamship Svanen can be found at Mariager Fjord, giving you a rich opportunity to sail on the fiord. If you want to swim in a lake, then we recommend a trip to Madum Sø in Rold Skov (26km). This idyllic lake has the cleanest clear water. The excellent Kattegat Strand Øster Hurup can be found 42 kilometres away. This is a kilometre long sandy beach with low cliffs, and has been awarded the Blue Flag. The Beach is extremely child-friendly, because the waves are very small at low-tide. The beach is well-suited for sunbathing, swimming, and various beach activities, as well as surfing.
Nature
Your holiday home is located in an area surrounded by woodland, heathland, and inviting beaches. On the other side of Mariager Fjord, 7 kilometres from your holiday home, Østerskoven stretches in an easterly direction from Hobro along the fiord. Østerskoven is an old, large woodland area, and is protected with many delightful hiking trails. Rold Skov and Hammer Bakker are approximately 26 kilometres from your holiday home. Here you can experience a multitude of woods, heath, hills, valleys, natural springs and lakes. This countryside invites rambling and bicycle trips, and not least, lovely trips to the woods for the whole family. The wetland of Bjørnsholm Ådal is Denmark's second largest environmental rejuvenation project. Here you can explore dry and flooded meadows that have grazing cows, marshes, willow scrub, and Nordjylland's largest lake, the 450ha. Vilsted Sø (53km). The protected Kongenshus Mindepark is located in Denmark's largest heathland (68km).
Activities
You can fish in Mariager Fjord, or in a fishing lake such as the undisturbed Volstrup Fiskepark (11km). The fish park has a large heated chalet, good toilets, and a gutting table for fish. Rainbow trout are released into the lake daily, and the park is open from sunrise to sunset. Golfers can swing their clubs at Mariager Fjord Golf Klub (27km) and enjoy one of Denmark's most beautiful views. Nearby there is Rold Skov Golfklub (31km) and Randers Golf Klub (32km) offers golfers everything their hearts desire. Hobro has various leisure activities, including the bowling centre 'Bowl'n'Fun Hobro' that has 10 modern bowling alleys with automatic scoring system and many child alleys. There is also airhockey, petanque, many fruit machines and a lovely restaurant.
Worth a visit
In Hobro you can visit the Gasmuseum, Museet for Danske Lystfartøjer, Hobro Museum and Vikingecenter Fyrkat. The Gasmuseet is located in a closed-down gas works and has exhibitions showing the role gas has played since 1853 to the present. There are also many gas appliances here that have been used in homes, for example, gas cookers, ovens, stoves, water boilers and gas meters. The Museet for Danske Lystfartøjer, a museum for Danish pleasure crafts, is situated in an old warehouse at Hobro Havn and details the interesting development of pleasure craft as a leisure activity. Hobro Museum is a cultural historic local museum and is located in the town's oldest house which dates from 1821. At Vikingecenter Fyrkat at Mariager Fjord there are activities and sights that take you back in time and show life at the largest Viking castle of its time.
Excursion spots
Verdenskortet shows the world in miniature with seas, rivers and mountain chains. Enjoy the delightful green area and try a game of crazy golf. There is also the possibility to sail in the 'Stillehavet', and children can go pony riding, or ride in a horse-drawn carriage (15km). In Mariager is Denmark's Saltcenter. Visit the underground salt mine, take a breathtaking multimedia trip through the world's largest salt mines on the Salt Fun Ride, or experience total relaxation in Det Døde Hav - a swimming pool with the temperature and salt content as the Dead Sea. Take a trip too to Djursland, or visit Randers Regnskov that has jungle paths, cliffs, crocodiles and a waterfall (32km). The dangerous sharks of Kattegatcentret await you (92km), and Ree Park Ebeltoft Safari is also certainly worth a visit. For children Djurs Sommerland is a very attractive destination (70km). Århus has also much to offer with Tivoli Friheden, Den Gamle By, exciting shops, and a lively atmosphere.
Author: Ann Winter
Copyright © 2003-2020 Sol og Strand Feriehusudlejning A/S
Holiday homes in Hegedal, Hobro
Destinations (NE Jutland)