Spend some quality time in a holiday home in Langø, Lolland
Holiday cottages in Langø, Lolland, Lolland, Falster and Mon, Denmark!
Langø on Lolland - direct by the inlet Nakskov Fjord - a nature's paradise
Guest assessments from Langø, Lolland
14 guests have granted an average assessment of 4,00 out of 5 possible stars.
Area
The village Langø on Lolland is a lovely holiday destination by the outlet Nakskov Fjord. Here you can recuperate in wonderful surroundings by the sea and lie lazy on attractive beaches awarded with the Blue Flag -in Nakskov you will find the warmest bathing water in Denmark! The beautiful inlet invite fishing and sailing, and on land you can experience the beautiful surroundings on foot or by bicycle It is possible to buy groceries within a radius of 4 km, and the nearest larger town is Nakskov (13 km) with good shopping possibilities and interesting museums. Look forward to a holiday area with an exciting flora and fauna and very interesting excursion spots - e.g. the neighbouring island Falster, which you can reach within 90-minutes drive.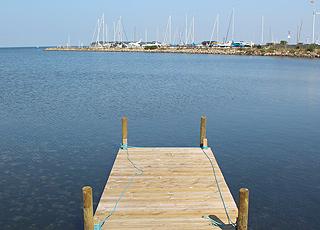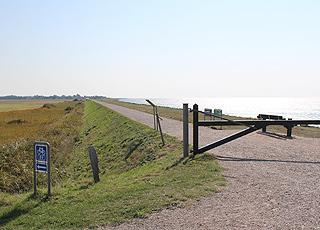 Beach
Nakskov Fjord is 400 metres from your holiday home. It is possible to bathe direct from your holiday home, but a short drive to the beach Albuen Strand or Hestehovedet Strand can be recommended. Albuen Strand, 4 km from your holiday home, is a lovely beach, which is situated on the tongue of land called Albuen Tange and surrounded by the sea on three sides - Femern Bælt, Langelandsbæltet and Nakskov Inlet. The beach is 7 km long and has Blue Flag. Hestehovedet Strand in Nakskov, which has the warmest bathing water in Denmark, can likewise be recommended. The beach is in walking distance from the centre of Nakskov and has Blue Flag as well. The beach is very suitable for children and an ideal spot for wind surfing. Here you will find a jetty, a kiosk, a playground and toilets.
Nature
Quiet, scenic and open areas with a rich animal life surround Langø by Nakskov Fjord, and the area is very suitable for bicycle rides and walks. Here you can follow i.a. the 30 km long path 'Digesti', which leads you from Albuen to Rødby. Nakskov Fjord is called the inlet in Denmark with the greatest number of islands, cowers an area of more than 50 square kilometres. During the whole year it is possible to experience a fantastic nature. Visit e.g. Enehøje, which is the biggest island of the inlet or the tongue of land Albuen with its fantastic bathing beach. By Nakskov Fjord and on the dikes in the southern part of Lolland you can find many exciting and even rare plants. The area by the beach Næsby Strand (7 km) is very suitable for walks due to the varied landscape with woods, small fields and ponds. Næsby Strand is especially known as the most important resting place for many migratory birds in the western part of Lolland.
Activities
You can go fishing in the inlet Nakskov Fjord and Hoby Put & Take (21 km), and it is possible to go sea fishing, as well. If the weather is for indoor activities, we recommend some eventful hours in 'Es Bowl Bowlingcenter' in Nakskov. Here can enjoy a game of billiard or the pinball machines. Make an outing to e.g. the village Maribo and take a ride with Denmark's oldest steam railway from Maribo to Bandholm. Golf players can choose between two different golf clubs: Vestlollands Golfklub (21 km) and Golfklubben Maribo Sø (50 km).
Worth a visit
The garden 'Peter Hansens Have', with exciting plants from all over the world, is only 6 km from your holiday home. Nakskov (13 km) is a historical town with cosy streets and interesting shops. Visit some of the many attractions of the town, e.g. Danmarks Sukkermuseum and Nakskov Skibs- & Søfartsmuseum.
Excursion spots
Knuthenborg Park & Safari by Maribo (41 km) is an absolute must-see. The wild animals move around in their natural surroundings - right around your car or bus. Observe giraffes, rhinos, ostriches, antelopes, zebras and Siberian tigers at close range. By Maribo in scenic surroundings and not far away from Maribo Søndersø, you will also find the open-air museum 'Frilandsmuseet' consisting of i.a. houses, a farm, built round a quadrang, a post mill, a forge and a school. Both the buildings and their inventory provide you with an authentic impression of the Lolland-Falster peasant culture and architectural style around the year 1800 (47 km). 'Krokodille Zoo' in Eskildrup (76 km) is also very exciting. Here you can experience 19 of the 23 existing crocodile and alligator species - right from the small, 1.5 metres long cayman to the gigantic Nile crocodile - and watch them being fed. In Golf & Fun Park in Væggerløse you can play AdventureGolf , FootballGolf and FrisbeeGolf 7 km).
Author: Ann Winter
Copyright © 2003-2020 Sol og Strand Feriehusudlejning A/S
Holiday homes in Langø, Lolland
Destinations (Lolland, Falster and Mon)
 

Langø, Lolland

 

Beds: 4   •   Bedrooms: 2
Pets allowed: no   •   300 m to water

 

 

 

Langø, Lolland

 

Beds: 8   •   Bedrooms: 3
Pets allowed: 1   •   100 m to water

 

 

 

Langø, Lolland

 

Beds: 10   •   Bedrooms: 5
Pets allowed: 1   •   250 m to water

 

 

 

Langø, Lolland

 

Beds: 8   •   Bedrooms: 4
Pets allowed: 1   •   100 m to water