Spend some quality time in a holiday home in Kramnitse
Holiday cottages in Kramnitse, Lolland, Falster and Mon, Denmark!
Kramnitse is a popular holiday home area on the south coast of Lolland with a great bathing beach, a small and cosy harbor and plenty of lovely holiday homes for every taste. Holiday home rental is very popular in Kramnitse, which invites comfort and family holiday in the nature of Lolland.
Guest assessments from Kramnitse
69 guests have granted an average assessment of 4,00 out of 5 possible stars.
Area
The holiday home area Kramnitse is located right behind the sea and the good bathing beach - a lovely place for a holiday in a holiday home. The town has a small fishing harbour, where it is possible to buy fresh fish directly from the fishing boats. It is possible to buy groceries in Kramnitse during the summer, but you will find good shopping possibilities in Rødby, which is situated about 10 km east of the town. Kramnitse and the neighbourhood offer more good restaurants. In Kramnitse you will also find holiday homes, where your dog is welcome.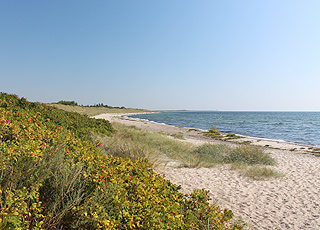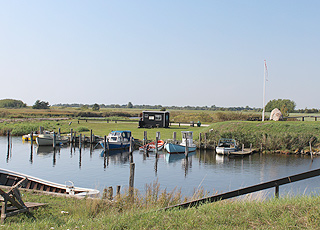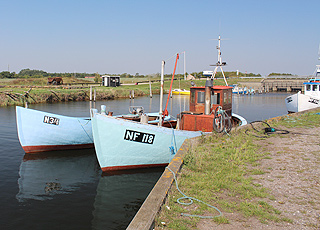 Beach
The beach by Kramnitse is a lovely sandy beach with dunes and Blue Flag. Because of the shallow water, the beach is also very suitable for children. A bathing jetty leads from the beach and out into the water, which enables i.a. wheelchair users to swim here. So go on lovely excursions to the beach during your holiday in a holiday home.
Nature
The landscape is very level on Lolland. Lovely beaches, dunes and meadows characterize the area, surrounding Kramnitse. More scenic walking and bicycle paths are available close to the water. The northern part of Lolland is rich in forest areas and has a rich animal life. Lovely experiences on Lolland await you, when you book a holiday home in Kramnitse. In the nature park Maribosøerne you can walk in the scenic landscape or go sailing on one of the four lakes, where you can observe a rich bird life.
Activities
Lolland is a paradise for anglers, as it is possible to fish directly from the shores and on the sea, onboard a fishing vessel. Furthermore, Lolland offers a number of Put & Take fishponds. Golf players can choose between more good courses. Holiday home rental on Lolland also appeals to golfers. Here you can choose between more courses.
Worth a visit
The area, surrounding Hummingen, is very rich in manor houses. At the amber museum 'Jack-Stone Ravsliberi og Museum' in Rødby you can experience amber - the gold of the sea - in all its aspects. The former barracks 'Polakkasernen' in Tågerup are now a museum, and here you can get an insight into the life and work of the Polish women, who worked in the beet fields.
Excursion spots
In 'Knuthenborg Safaripark' by Maribo the wild animals move around in their natural surroundings - right around your car or bus. Observe giraffes, rhinos, ostriches, antelopes, zebras and Siberian tigers at close range. 'Grøn Verden' (green world) by Nakskov is an exotic world with tropical birds, animals and plants. (20 km) Visit the pretty old marked town Maribo. Here you can experience the cosy atmosphere, music, marked days, interesting shops, sights and restaurants (26 km). By Nysted you will find the castle 'Aalholm Slot', the forest 'Aalholm Skov' and the automobile museum 'Aalholm Automobil Museum', which displays about 200 interesting cars from the year 1886 and up till today. 'Middelaldercentret' is an open-air museum by Sundby, where an authentic village from the 12th. century with houses, workshops, ships, vessels and a catapult has been created.
Author: Ann Winter
Copyright © 2003-2020 Sol og Strand Feriehusudlejning A/S
Holiday homes in Kramnitse
Destinations (Lolland, Falster and Mon)
 

Kramnitse

 

Beds: 8   •   Bedrooms: 4
Pets allowed: 1   •   100 m to water

 

 

 

Kramnitse

 

Beds: 6   •   Bedrooms: 3
Pets allowed: no   •   800 m to water

 

 

 

Kramnitse

 

Beds: 8   •   Bedrooms: 4
Pets allowed: 1   •   400 m to water

 

 

 

Kramnitse

 

Beds: 8   •   Bedrooms: 3
Pets allowed: 1   •   650 m to water

 

 

 

Kramnitse

 

Beds: 6   •   Bedrooms: 3
Pets allowed: no   •   200 m to water

 

 

 

Kramnitse

 

Beds: 10   •   Bedrooms: 5
Pets allowed: 1   •   300 m to water

 

 

 

Kramnitse

 

Beds: 4   •   Bedrooms: 2
Pets allowed: 1   •   160 m to water

 

 

 

Kramnitse

 

Beds: 4   •   Bedrooms: 2
Pets allowed: no   •   350 m to water

 

 

 

Kramnitse

 

Beds: 4   •   Bedrooms: 2
Pets allowed: no   •   300 m to water

 

 

 

Kramnitse

 

Beds: 8   •   Bedrooms: 4
Pets allowed: no   •   150 m to water

 

 

 

Kramnitse

 

Beds: 8   •   Bedrooms: 3
Pets allowed: 1   •   150 m to water

 

 

 

Kramnitse

 

Beds: 6   •   Bedrooms: 3
Pets allowed: no   •   100 m to water

 

 

 

Kramnitse

 

Beds: 12   •   Bedrooms: 5
Pets allowed: 2   •   200 m to water

 

 

 

Kramnitse

 

Beds: 8   •   Bedrooms: 3
Pets allowed: no   •   500 m to water

 

 

 

Kramnitse

 

Beds: 4   •   Bedrooms: 1
Pets allowed: 2   •   75 m to water

 

 

 

Kramnitse

 

Beds: 8   •   Bedrooms: 4
Pets allowed: 2   •   200 m to water

 

 

 

Kramnitse

 

Beds: 4   •   Bedrooms: 2
Pets allowed: no   •   535 m to water

 

 

 

Kramnitse

 

Beds: 4   •   Bedrooms: 3
Pets allowed: no   •   650 m to water

 

 

 

Kramnitse

 

Beds: 6   •   Bedrooms: 2
Pets allowed: no   •   500 m to water

 

 

 

Kramnitse

 

Beds: 6   •   Bedrooms: 3
Pets allowed: 2   •   400 m to water

 

 

 

Kramnitse

 

Beds: 4   •   Bedrooms: 2
Pets allowed: no   •   75 m to water

 

 

 

Kramnitse

 

Beds: 6   •   Bedrooms: 3
Pets allowed: 1   •   700 m to water