Spend some quality time in a holiday home in Hummingen
Holiday cottages in Hummingen, Lolland, Falster and Mon, Denmark!
The holiday area Hummingen on the southern part of Lolland offers a lovely beach, scenic and tranquil nature with a rich animal life as well as cosy holiday homes behind the beach and the path Digestien. Here you can be active in nature or go on an excursion to the sights and towns of Lolland.
Guest assessments from Hummingen
25 guests have granted an average assessment of 4,04 out of 5 possible stars.
Area
Hummingen on the southern coast of Lolland is situated in peaceful surroundings, and therefore the holiday destination is a good choice if you wish to relax, walk, drive on bicycle or fish in the quiet nature. A couple of restaurants are available in Hummingen and it is also possible to buy groceries here. Hummingen is a lovely place for a quiet holiday in a holiday home. Only a few km from Hummingen, you will find another popular holiday house area, Kramnitse. Kramnitse offers a small idyllic harbour, where you can buy fresh fish directly from the boats. The nearest larger town is Rødby, which is located about 13 km towards east.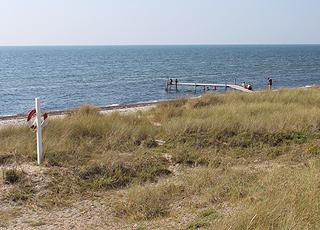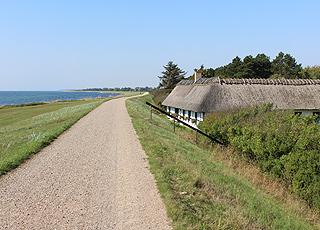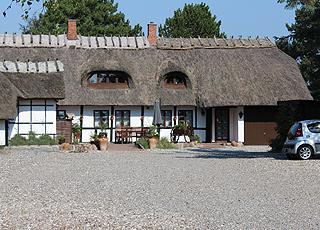 Beach
The beach of Hummingen is one of the best bathing beaches on southern Lolland. The beach is very suitable for children and has both dunes and Blue Flag. An ideal spot for swimming, sunbathing, waking and other beach activities.
Nature
Hummingen is situated in a quiet and scenic area with a rich animal and bird life. The landscape is fairly level and therefore very suitable for bicycle rides. You will find a number of good walking and bicycle paths close to the sea. Follow e.g. the 40 km long path Digesti, which leads you from Rodbyhavn to Albuen along the strait Femeren Bælt. So bring your bicycle along or rent a bicycle, when you go on holiday in a holiday home. The northern part of Lolland is rich in forest areas and has a rich animal life. In the nature park Maribosøerne you can walk in the scenic landscape or go sailing on one of the four lakes, where you can observe a rich bird life.
Activities
Walks in the peaceful area along the many paths of the holiday house area or on the dike 'Diget' are recommendable. Along the bicycle and walking path 'Digestien' you can enjoy the great view of the strait 'Femeren Bælt'. Anglers will find unsuspected fishing potentialities in this area, as you can fish from the shores or on the sea onboard a fishing vessel. Furthermore, Lolland offers more Put & Take fishponds. Golf players can choose between more good courses.
Worth a visit
Go explore the area when you rent a holiday home in Hummingen. You will find many lovely sights in the area. Visit the small town Kramnitse, which is situated 2-3 km from Hummingen. Kramnitse has a small and idyllic fishing harbour, where you can buy fresh fish directly from the boats. The area, surrounding Hummingen, is very rich in manor houses. At the amber museum Jack-Stone Ravsliberi og Museum in Rodby you can experience amber - the gold of the sea - in all its aspects (13 km). The former barracks Polakkasernen in Taagerup are now a museum, and here you can get an insight into the life and work of the Polish women, who worked in the beet fields (18 km).
Excursion spots
Go on a trip to Nakskov and experience some of the many sights of the town. Danmarks Sukkermuseum tells the history of sugar throughout 130 years. The manor house Pederstrup is situated about 25 km north of Hummingen. Here you can visit the museum Reventlow-Museet and a large park from the 1870-ies with more rare and very old trees. Visit the pretty old marked town Maribo. Here you can experience the cosy atmosphere, music, marked days, interesting shops, sights and restaurants (29 km). In Knuthenborg Safaripark by Maribo the wild animals move around in their natural surroundings - right around your car or bus. Observe giraffes, rhinos, ostriches, antelopes, zebras and Siberian tigers at close range.
Author: Ann Winter
Copyright © 2003-2020 Sol og Strand Feriehusudlejning A/S
Holiday homes in Hummingen
Destinations (Lolland, Falster and Mon)
 

Hummingen

 

Beds: 6   •   Bedrooms: 3
Pets allowed: 2   •   400 m to water

 

 

 

Hummingen

 

Beds: 6   •   Bedrooms: 3
Pets allowed: no   •   150 m to water

 

 

 

Hummingen

 

Beds: 6   •   Bedrooms: 3
Pets allowed: 2   •   200 m to water

 

 

 

Hummingen

 

Beds: 6   •   Bedrooms: 3
Pets allowed: 1   •   475 m to water

 

 

 

Hummingen

 

Beds: 6   •   Bedrooms: 3
Pets allowed: 1   •   695 m to water

 

 

 

Hummingen

 

Beds: 8   •   Bedrooms: 4
Pets allowed: 2   •   400 m to water

 

 

 

Hummingen

 

Beds: 6   •   Bedrooms: 3
Pets allowed: 1   •   650 m to water

 

 

 

Hummingen

 

Beds: 4   •   Bedrooms: 2
Pets allowed: 2   •   30 m to water

 

 

 

Hummingen

 

Beds: 4   •   Bedrooms: 3
Pets allowed: 1   •   700 m to water