Spend some quality time in a holiday home in Gedser
Holiday cottages in Gedser, Lolland, Falster and Mon, Denmark!
Spend your holiday in a holiday home in Gedser, Denmark's southernmost town. Here you are surrounded by The Baltic Sea, a cosy harbor, an active town and lovely nature. The holiday area Gedser and the rest of Falster offers activities and sights for the whole family.
Guest assessments from Gedser
15 guests have granted an average assessment of 3,40 out of 5 possible stars.
Area
Denmark's southernmost town Gedser is a vivid commercial town with a large, cosy marina, which is surrounded by green, recreational areas with i.a. a bbq area, as well as a ferry port with service to Germany. The small society offers characteristic buildings, like f.x. a pilot house, a life saving station and an old train station, more sights as well as a cosy town environment with good shopping opportunities and more restaurants. From the lighthouse Gedser Fyr you can enjoy the view towards Lolland and Germany as well as over the landscape of southern Falster. Gedser is surrounded by a calm and scenic nature. Towards south the southernmost point of Scandinavia - the spectacular point Gedser Odde - is situated. On the eastern side of the point you can see the remains of German bunkers from World War 2.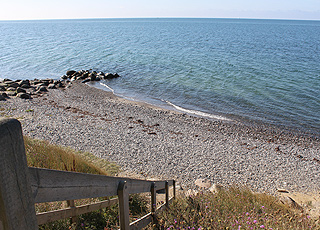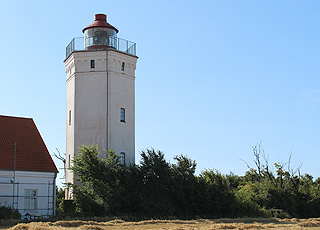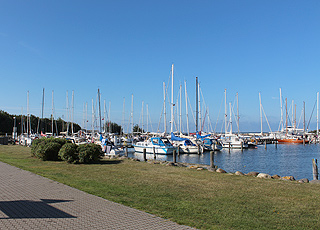 Beach
Between Gedser and Gedser Odde you will find a lovely, wide and sandy beach with inviting bathing water. Towards north you will equally find good bathing beaches. Along the eastern shore of Falster, the 25 km long, white and sandy beach with dunes is situated. This beach has been awarded with the Blue Flag for it's pure bathing water. All of the beaches in the area are suitable for swimming, sun bathing, walking as well as various beach activities. It is possible to find amber everywhere along the shores of Falster, and your chances are especially good by the point Gedser Odder right after a storm.
Nature
By Gedser Odde, Scandinavia's southernmost point, you can experience a unique nature. On the southern side of the point's clay cliff it is quiet and sheltered, whereas the northern side is very stormy. Here you are able to find amber, sea urchins etc. By the point you can observe birds of prey as well as large flocks of birds with i.a. finches, swallows, ducks and geese. The rich bird life of the area is illustrated on the bird station by the lighthouse Gedser Fyr. A few km north of Gedser the Bøtø forest is situated - a large pine forest, which is suitable for walks at all times of the year. The bird sanctuary Bøtø Nor has 2 bird gazeboes, from which you can enjoy the view of the rich bird life, the large lake, the fields, the forest of reed and the green meadows. The impressive Corselitze forests cover a large area on the north-eastern Falster. Besides beautiful beech forest and other scenic landscapes, the area contains more relics.
Activities
The lovely bathing beaches, surrounding Gedser, invites swimming and beach activities. If the weather should let you down, you can visit the swimming baths Svømmecenter Falster in Nykøbing, which offers 3 pools in subtropical surroundings. Here you can make use of a pool with 35 degrees centigrade warm water, springboards and a 66 m long water slide as well as borrow equipment for the children (23 km). Anglers will find ideal conditions on Falster, as it is possible to fish directly in the Baltic as well as in the straits Guldborgsund, Grønsund and Storstrømmen. Furthermore, a couple of Put & Take fishponds are available in the area and deep-sea fishing trips with a fishing vessel are being arranged from Gedser. Falster offers 3 golf course, from which the clubs 'Golfklubben Østersøen' by Marielyst (20 km) and 'Golfklubben Storstrømmen' by Nykøbing Falster (23 km) are the nearest. Horse race fans will enjoy the races on the trotting track 'Nykøbing Falster Travbane'.
Worth a visit
'Det Sorte Museum' (the black museum) in Gedser exhibits finds from the shores of Falster in the shape of fossils, rocks, minerals, amber and insects. 'Gedser Remise' is an active railway museum, where you can observe old trains and trams in the depot. The water tower 'Gedser Vandtårn' is Denmark's southernmost water tower, and here you can experience varying exhibitions as well as a magnificent view of Gedser. The life saving station 'Gedser Redningsstation' contains an extreme fast boat, which sails app. 70 km/h, as well as modern life saving equipment. The mill 'Gedesby Mølle' is a restored Dutch mill from the year 1911, which is still fully functional (3 km). In southern Falster you can visit a number of potteries, glass factories, galleries, art houses and museums.
Excursion spots
Visit 'Marielyst Familiepark & Aqualand' - a 200,000-m2 amusement park with water world and 50 leisure activities for the whole family (20 km). 'Middelaldercentret' is an open-air museum by Sundby, where an authentic village from the 12th. century with houses, workshops, ships, vessels and a catapult has been created (23 km). Trotting, dog and stockcar races are arranged throughout the summer at the trotting track in Nykøbing. In Nykøbing Falster Zoo (Folkeparken) you can experience no less the 500 animals divide in 94 species. Krokodille Zoo in Eskilstrup is Europe's largest collection of various crocodile species. Furthermore, you can experience tortoises, monitors and an anaconda here (34 km). In 'Knuthenborg Safaripark' by Maribo the wild animals move around in their natural surroundings - right around your car or bus. Observe giraffes, rhinos, ostriches, antelopes, zebras and Siberian tigers at close range (49 km).
Author: Ann Winter
Copyright © 2003-2020 Sol og Strand Feriehusudlejning A/S
Holiday homes in Gedser
Destinations (Lolland, Falster and Mon)
Inclusive cleaning

 

Gedser

 

Beds: 6   •   Bedrooms: 2
Pets allowed: no   •   10 m to water

 

 

 

Gedser

 

Beds: 4   •   Bedrooms: 2
Pets allowed: no   •   100 m to water

 

 

 

Gedser

 

Beds: 4   •   Bedrooms: 2
Pets allowed: no   •   50 m to water

 

 

 

Gedser

 

Beds: 5   •   Bedrooms: 2
Pets allowed: no   •   150 m to water