Spend some quality time in a holiday home in Gedesby
Holiday cottages in Gedesby, Lolland, Falster and Mon, Denmark!
Gedesby on Falster is a cosy holiday area with a long sandy and child-friendly beach with small dunes as well as many lovely holiday homes behind the beach and the dike. The holiday home area is very suitable for an active family holiday. Thanks to the relaxing atmosphere and the good bathing beach, holiday home rental is popular in Gedesby.
Guest assessments from Gedesby
114 guests have granted an average assessment of 4,40 out of 5 possible stars.
Area
In Gedesby the original village pond, the church and the old streets have been preserved. Gedser, 3 km south of Gedesby, is an active commercial town with a ferry service to Germany. The area, surrounding Gedesby and Gedser, is turning into a first class holiday area. Here you will find peace and quiet in cosy and scenic surroundings. Furthermore, the area is a good starting point for excursions in the area. Gedesby contains a bakery, which is open from Easter until Autumn.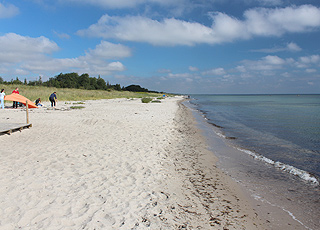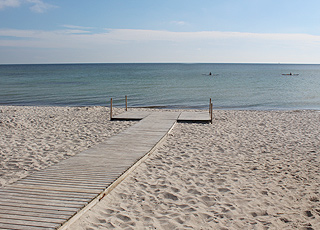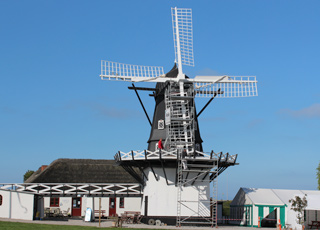 Beach
A good bathing beach is available on both sides of Gedesby. The shallow water makes it very suitable for children. The 25 km long white sandy beach with dunes on the eastern coast of Falster has been awarded with the Blue Flag because of its clear bathing water. An ideal place for swimming, sunbathing, hiking and various beach activities, when you are on holiday in a holiday home. It is possible to find amber all along the coast of Falster. The options are especially good by the point Gedser Odde.
Nature
Just north of Gedesby, by the south-eastern coast of Falster, the pine forest Bøtøskoven is situated. The forest abuts on the cove ''Bøtø Nor'' towards north and on Gedesby towards south. The forest is well suited for walks on all times of the year. The bird sanctuary ''Bøtø Nor'' has 2 bird gazeboes, from which you can enjoy the view of the rich bird life, the large lake, the fields, the forest of reeds and the green meadows. Birkemose is situated north of Gedser Odde - where the dam along the eastern coast of Falster ends. The area is covered with brushwood of pine and rose hip and is the habitat of resting small birds. The impressive forest ''Corselitze-skovene'' covers an area of app. 6,000 hectares of land on the north-eastern part of Falster. Besides a beautiful beech forest and other scenic landscapes, the forest offers more relics. A part of the forest is the small forest ''Halskov Vænge'', which contains 6 cromlechs and 72 grave mounds.
Activities
Holiday home rental in Gedesby is ideal for golfers. Falster offers 3 golf courses, from which the course of Golfklubben Østersøen by Marielyst and Golfklubben Storstrømmen by Nykobing Falster are the closest. Anglers will find good fishing opportunities on Falster. It is possible to fish by the coast of the Baltic and in the sounds Guldborgsund and Gronsund. Furthermore a couple of Put & Take fishponds are available near Gedesby. If you wish to go deep-sea fishing, you can go to strait Langelandsbaeltet onboard a boat from Onsevig on eastern Lolland. If you are interested in horse racing, you can visit the trotting track Nykobing Falster Travbane, which is situated about 20 km from Gedesby.
Worth a visit
The mill Gedesby Mølle is a restored Dutch mill from the year 1911, which is still fully functional. Det Sorte Museum (the black museum) in Gedser exhibits finds from the shores of Falster in the shape of fossils, rocks, minerals, amber and insects. Gedser also contains a local geological museum with many rare rocks. The post mill Stubmøllen in Stovby is the only one of its kind in Denmark. The mill was built in the year 1668 and has been destroyed by fire and re-erected. The mill is now fully restored and open to the public (15 km). In southern Falster you can visit a number of potteries, glass factories, galleries, art houses and museums. There is plenty to see and experience when you rent a holiday home in Gedesby.
Excursion spots
''Middelaldercentret'' is an open-air museum by Sundby, where an authentic village from the 12th. century with houses, workshops, ships, vessels and a catapult has been created (20 km). Trotting, dog and stockcar races are arranged throughout the summer at the trotting track in Nykøbing. In Nykøbing Falster Zoo (Folkeparken) you can experience no less the 500 animals divide in 94 species. Krokodille Zoo in Eskilstrup is Europe¿s largest collection of various crocodile species. Furthermore, you can experience tortoises, monitors and an anaconda here (32 km). In ''Knuthenborg Safaripark'' by Maribo the wild animals move around in their natural surroundings - right around your car or bus. Observe giraffes, rhinos, ostriches, antelopes, zebras and Siberian tigers at close range (47 km).
Author: Ann Winter
Copyright © 2003-2020 Sol og Strand Feriehusudlejning A/S
Holiday homes in Gedesby
Destinations (Lolland, Falster and Mon)
 

Gedesby

 

Beds: 6   •   Bedrooms: 3
Pets allowed: 1   •   150 m to water

 

 

 

Gedesby

 

Beds: 6   •   Bedrooms: 3
Pets allowed: no   •   10 m to water

 

 

 

Gedesby

 

Beds: 6   •   Bedrooms: 3
Pets allowed: no   •   350 m to water

 

 

 

Gedesby

 

Beds: 6   •   Bedrooms: 3
Pets allowed: no   •   150 m to water

 

 

 

Gedesby

 

Beds: 8   •   Bedrooms: 4
Pets allowed: no   •   300 m to water

 

 

 

Gedesby

 

Beds: 8   •   Bedrooms: 3
Pets allowed: no   •   900 m to water

 

 

 

Gedesby

 

Beds: 6   •   Bedrooms: 3
Pets allowed: no   •   10 m to water

 

 

 

Gedesby

 

Beds: 6   •   Bedrooms: 2
Pets allowed: 1   •   600 m to water

 

 

 

Gedesby

 

Beds: 6   •   Bedrooms: 2
Pets allowed: 1   •   550 m to water

 

 

 

Gedesby

 

Beds: 4   •   Bedrooms: 3
Pets allowed: no   •   200 m to water

 

 

 

Gedesby

 

Beds: 4   •   Bedrooms: 2
Pets allowed: no   •   10 m to water

 

 

Inclusive cleaning

 

Gedesby

 

Beds: 7   •   Bedrooms: 2
Pets allowed: no   •   25 m to water

 

 

 

Gedesby

 

Beds: 4   •   Bedrooms: 2
Pets allowed: no   •   75 m to water

 

 

 

Gedesby

 

Beds: 8   •   Bedrooms: 3
Pets allowed: no   •   195 m to water

 

 

 

Gedesby

 

Beds: 5   •   Bedrooms: 3
Pets allowed: 3   •   450 m to water

 

 

 

Gedesby

 

Beds: 6   •   Bedrooms: 3
Pets allowed: 1   •   200 m to water

 

 

 

Gedesby

 

Beds: 6   •   Bedrooms: 2
Pets allowed: 1   •   300 m to water

 

 

 

Gedesby

 

Beds: 10   •   Bedrooms: 4
Pets allowed: 1   •   20 m to water

 

 

 

Gedesby

 

Beds: 8   •   Bedrooms: 4
Pets allowed: no   •   80 m to water

 

 

 

Gedesby

 

Beds: 4   •   Bedrooms: 2
Pets allowed: 1   •   495 m to water

 

 

 

Gedesby

 

Beds: 6   •   Bedrooms: 3
Pets allowed: 1   •   600 m to water

 

 

 

Gedesby

 

Beds: 7   •   Bedrooms: 3
Pets allowed: no   •   600 m to water

 

 

 

Gedesby

 

Beds: 6   •   Bedrooms: 3
Pets allowed: no   •   250 m to water

 

 

 

Gedesby

 

Beds: 8   •   Bedrooms: 3
Pets allowed: no   •   900 m to water

 

 

 

Gedesby

 

Beds: 4   •   Bedrooms: 2
Pets allowed: 1   •   1000 m to water

 

 

 

Gedesby

 

Beds: 5   •   Bedrooms: 3
Pets allowed: no   •   350 m to water

 

 

 

Gedesby

 

Beds: 6   •   Bedrooms: 3
Pets allowed: no   •   900 m to water

 

 

 

Gedesby

 

Beds: 5   •   Bedrooms: 2
Pets allowed: no   •   500 m to water

 

 

 

Gedesby

 

Beds: 5   •   Bedrooms: 3
Pets allowed: no   •   350 m to water

 

 

 

Gedesby

 

Beds: 4   •   Bedrooms: 2
Pets allowed: no   •   250 m to water

 

 

Inclusive cleaning

 

Gedesby

 

Beds: 4   •   Bedrooms: 2
Pets allowed: no   •   400 m to water

 

 

Inclusive cleaning

 

Gedesby

 

Beds: 8   •   Bedrooms: 4
Pets allowed: no   •   800 m to water

 

 

 

Gedesby

 

Beds: 6   •   Bedrooms: 2
Pets allowed: no   •   200 m to water

 

 

 

Gedesby

 

Beds: 6   •   Bedrooms: 2
Pets allowed: 1   •   650 m to water

 

 

 

Gedesby

 

Beds: 6   •   Bedrooms: 3
Pets allowed: 2   •   300 m to water

 

 

 

Gedesby

 

Beds: 6   •   Bedrooms: 4
Pets allowed: no   •   800 m to water

 

 

 

Gedesby

 

Beds: 3   •   Bedrooms: 1
Pets allowed: 1   •   600 m to water