Spend some quality time in a holiday home in Toftum Bjerge
Holiday cottages in Toftum Bjerge, The Liim Fiord, Denmark!
The holiday homes in Toftum Bjerge by the broad Nissum Bredning are highly situated and from many holiday homes, you can enjoy a beautiful view of the water. Toftum Bjerge is a tranquil holiday area with scenic nature and a lovely bathing beach below the steep slopes. Here you can enjoy the area and the views or go on an excursion to nearby town Lemvig.
Guest assessments from Toftum Bjerge
29 guests have granted an average assessment of 4,52 out of 5 possible stars.
Area
The scenic and popular holiday house area is situated in the middle of the hilly inlet landscape and appeals to families with children, anglers, golf players and nature lovers among others. Here you will find peace, quiet, good beaches and lovely nature. From the distinctive and 50 metres high coastal cliffs by Toftum Bjerge you can enjoy a magnificent view of the Liim Fiord towards Tyborøn, Thy, Thyholm and Oddesund. More restaurants are available and it is possible to buy groceries in the area. 9 km from here, Struer offers shops, restaurants, sights and the largest marina of the Liim Fiord.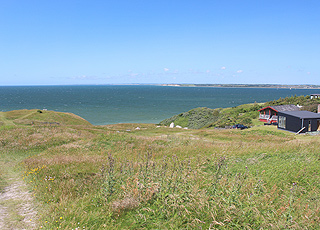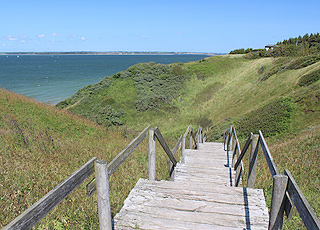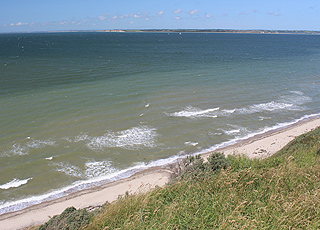 Beach
By the broad 'Nissum Bredning' the inlet is more salt than any other place, which makes it appear more like a sea. Opposite Toftum Bjerge you will find a lovely and long bathing beach with find sand. The water is calm and shallow, which makes the beach suitable for children. On some stretches of the beach, the high coastal cliffs raise right behind the beach.
Nature
The nature, surrounding Toftum Bjerge, is quite unique with its high and characteristic cliffs towards the sea. 'Struer Lystanlæg - Borglunden' is a more than 100 years old park in the middle of Struer with many trees and flowers. On the island Venø you can experience a scenic and very varying nature, which is characterized by fields, moor landscapes, forest areas and steep slopes. Venø has a rare and rich bird and animal life, and the island is especially famous for its many unique species of butterflies (12 km). 'Klosterhede Plantage' is Denmark's largest planted forest. The forest is situated south of Lemvig and contains more relics from World War 2, like airstrips and bunkers, a large playground as well as many walking, bicycle and bridle paths (app. 15 km).
Activities
The wonderful and undulating landscape by Toftum Bjerge makes the area very suitable for hikes. The inlet by the area is ideal for activities like sailing, surfing and fishing. The golf course of 'Struer Golfklub' is situated by Humlum, only a few km from the holiday houses of Toftum Bjerge. The club offers a scenic, slightly undulating, 18-hole seaside course as well as a 9-hole Play & Play course. In Lemvig, 16 km from here, you will find another lovely golf course. Anglers will find good opportunities in this area, as it is possible to fish from the shore or from a boat, in the lakes, streams, marshes and Put & Take fishponds of the area as well as on the sea, onboard a fishing vessel, which sails out from Hanstholm or Thyborøn. The fishpond 'Humlum Lystfisker Sø' lies right by Toftum Bjerge. Other recommendable fishing spots are: The meadow 'Engbo Mose', a few km behind the shore, as well as the bridge 'Oddesundbroen', which leads towards Thyholm, 6 km from Toftum Bjerge.
Worth a visit
Visit Struer with the largest marina of the Liim Fiord, a cosy town life as well as more galleries and sights. The culture-historical 'Struer Museum' has been established in the town's oldest estate 'Torngård', and here you can experience an old farmhouse room, a bottle ship exhibition, an ancient collection and a B&O collection (9 km). In the art and culture centre 'Gimsinghoved' by Struer you can see interesting and varying exhibitions. Lemvig offers many cultural sights, like i.a. more museums, as well as good shopping possibilities and restaurants. On the harbour of Lemvig, which is primarily a fishing harbour, a public fish auction is held every morning (16 km). Lemvig Museum is an interesting, slightly old-fashioned museum of local history with i.a. sculptures and paintings.
Excursion spots
The commercial town Holstebro has many specialist shops in the traffic-free town centre. The town also offers lots of art and culture, cosy cafes and a beautiful stream environment (24 km). The open-air museum 'Hjerl Hede Frilandsmuseum' is an interesting and lifelike museum for the whole family. See how the daily life in the country 150 years ago is vitalized (31 km). 'Vejlby Sommerpark' is an amusement park with horse rental, fishpond, mini cross, horse-drawn carriages, mini zoo, motocross and minigolf (32 km). By Vemb you will find the well-preserved, 700 years old manor houses 'Nørre Wosborg', which is surrounded by a moat. The manor house functions as a museum (33 km). In Thyborøn you will find the aquarium 'Jyllands Akvariet', where you can stroke a shark on it's head or hold a crap in your hand, 'Kystcentret', an interesting experience and communication centre, and 'Sneglehuset' - a house, which is decorated with millions of sea shells both inside and outside (41 km).
Author: Ann Winter
Copyright © 2003-2020 Sol og Strand Feriehusudlejning A/S
14 Holiday homes in Toftum Bjerge
Destinations (The Liim Fiord)
 

Toftum Bjerge

Reg. no.: 31-5013

200 m to water

 

Toftum Bjerge

Reg. no.: 31-5022

500 m to water

 

Toftum Bjerge

Reg. no.: 31-5015

250 m to water

 

Toftum Bjerge

Reg. no.: 31-5011

300 m to water

 

Toftum Bjerge

Reg. no.: 31-5020

300 m to water

 

Toftum Bjerge

Reg. no.: 31-5019

300 m to water

 

Toftum Bjerge

Reg. no.: 31-5023

300 m to water

 

Toftum Bjerge

Reg. no.: 31-5012

350 m to water

 

Toftum Bjerge

Reg. no.: 31-5014

600 m to water

 

Toftum Bjerge

Reg. no.: 31-5025

250 m to water

 

Toftum Bjerge

Reg. no.: 31-5027

300 m to water