Spend some quality time in a holiday home in Strandet
Holiday cottages in Strandet, The Liim Fiord, Denmark!
Strandet is a lovely and quiet holiday house area, situated only a few km south of Virksund, directly by the Liim Fiord.
Guest assessments from Strandet
18 guests have granted an average assessment of 4,22 out of 5 possible stars.
Area
If you wish to spend your holiday in peaceful, cosy and unspoiled nature surroundings, Strandet could be a good choice for you. Here you can relax and enjoy nature or go on an excursion in the area. Close to Strandet you will find the small fishing hamlet Virksund, which offers a marina with a cosy atmosphere, shopping possibilities and more restaurants. The nearest larger town is Skive, which is situated 17 km from Strandet.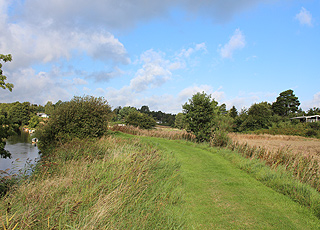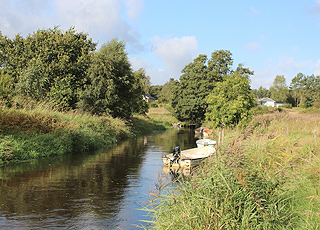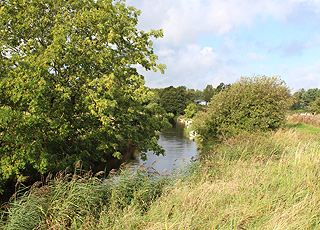 Beach
By Strandet the nature grows all the way down to the inlet. You will find the nearest bathing beach in Virksund, which offers a 20 m wide and 2 km long sandy beach with small rocks. The beach is very suitable for children as the water is shallow by the water''s edge. The bottom is sandy with a few rocks, and the water is clean and almost always clear. The conditions for windsurfing are good here - no matter if you are a beginner or an experienced surfer.
Nature
The Liim Fiord and a varying and unspoiled nature with a rich animal life surround Strandet. The area is abounding in water and has moor streams as well as al large lake ''Flynder Sø''. It is often possible to observe seals in the inlet between the beach and the dam by Virksund. Directly opposite Virksund you will find the preserved nature area ''Ulbjerg Klint'' where a steep cliff leads directly down into the inlet. Good nature experiences await you in the forest ''Kvindskarp Skov'' by the manor house ''Ørslev Kloster''.
Activities
Anglers will find good opportunities for a haul in the stream, which flows through the holiday house area of Strandet. Furthermore, coastal fishing is a very popular activity in this area. The relatively calm water of the inlet invites a sail in a rowboat or a canoe as well. A minigolf course is available in Virksund. The nearest golf courses are available by Skive (17 km) and Skals (18 km). The area offers good conditions for windsurfers at all levels. The water by ''Ulbjerg Klint'' is shallow and therefore suitable for beginners, whereas the waves are higher by Lundø, which attracts the more skilled surfers.
Worth a visit
The area is rich in old manor houses. ''Staarup Hovedgaard'' is the oldest estate of the area and here you will find exhibitions with i.a. antiquities and art. The convent ''Ørslev Kloster'' has its own church, park, forests and fields. Here you will also find a nature path as well as a small exhibition, which informs of the story of the convict. By ''Taarupgaard'' 2 walking paths are available, and from here you can enjoy a magnificent view of the scenic inlet ''Hjarbæk Fjord''.
Excursion spots
The lime pit ''Mønsted Kalkgruber'' by Stoholm is an endless labyrinth of 2 km illuminated mine corridors with both large caves and narrow galleries (14 km). Visit the scenically situated Skive, which is rich in museums and galleries. Here you will also find a charming marina, a cosy pedestrian street as well as good shopping possibilities and more restaurants (17 km). The mediaeval castle ''Spøttrup Middelalderslot'' by Skive contains a castle museum and marked days, concerts and much more are arranged here during the summer. The open-air museum ''Hjerl Hede Frilandsmuseum'' near Vinderup is an interesting and lifelike museum for the whole family. See among other things how the daily life in the country 150 years ago is vitalized (39 km). The flower park ''Jesperhus Blomsterpark'' is the largest flower park in Scandinavia with colourful flower arrangements, jungle zoo with i.a. beautiful tropical birds, pirate and play land as well as water world with various activities (45 km).
Author: Ann Winter
Copyright © 2003-2020 Sol og Strand Feriehusudlejning A/S
Holiday homes in Strandet
Destinations (The Liim Fiord)
 

Strandet

 

Beds: 8   •   Bedrooms: 3
Pets allowed: no   •   300 m to water

 

 

 

Strandet

 

Beds: 4   •   Bedrooms: 3
Pets allowed: no   •   300 m to water

 

 

 

Strandet

 

Beds: 6   •   Bedrooms: 3
Pets allowed: 1   •   250 m to water

 

 

 

Strandet

 

Beds: 4   •   Bedrooms: 2
Pets allowed: no   •   500 m to water

 

 

 

Strandet

 

Beds: 6   •   Bedrooms: 2
Pets allowed: no   •   500 m to water