Spend some quality time in a holiday home in Selde
Holiday cottages in Selde, The Liim Fiord, Denmark!
The holiday area Selde is located at the top of the peninsula Salling, right by the Limfjord and with a view of the island Fur. Selde offers a beach, lovely nature and holiday homes for everyone. Here you can spend your holiday in quiet surroundings and visit some of the sights in the area.
Guest assessments from Selde
32 guests have granted an average assessment of 4,31 out of 5 possible stars.
Area
Selde is a cosy village, situated in the cove 'Selde Vig' on the north coast of Salling and surrounded by lovely and quiet nature areas. Selde is an ideal holiday destination for angers, surfers and anyone, who merely enjoy sojourning in the fresh Liim Fiord nature. It is possible to buy groceries in the area, and Glyngøre, 15 km south-west of Selde, offers more shops and restaurants.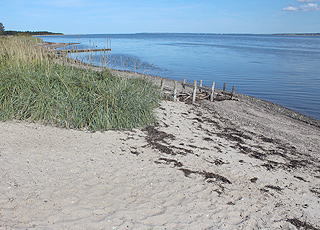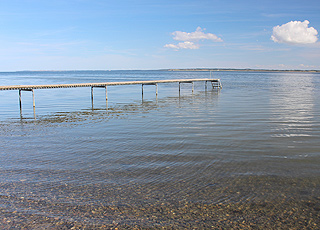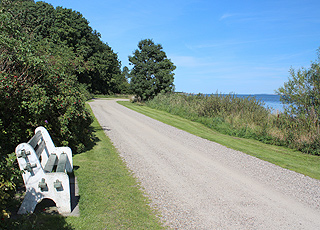 Beach
Sand banks with shallow water, lagoons and salt meadows characterize the coast by the bay `Selde Vig¿. You will find the best bathing beaches of Salling along the western coast of the peninsular. For example is the beach of Glyngøre, 15 km south-west of Selde, recommendable. The beach is a good and wide sandy beach with clean water and good opportunities for bathing and windsurfing. Petanque and beach volley courts are also available here. The beach is also awarded with the Blue Flag.
Nature
Selde is scenically situated and surrounded by inlet, fields and forest. If you take the trip across the bridge 'Sallingsundbroen' to Mors, you can experience the preserved nature area 'Legind Bjerge'. Here you will find a very varying forest with valleys, lakes and high old trees from the north-western part of USA as well as an abundance of interesting paths, which leads you through the scenic areas. The island Livø is traffic-free and offers a scenic nature with large oak forests, more marked walking paths, cliffs, a rich animal life with i.a. seals as wells as a quite unique silence.
Activities
The waters by Selde offer good conditions for surfers. The golf course of 'Harre Vig Golfklub' is situated close to Vile, 19 km south-west of Selde. You will also find good golf courses by 'Morsø Golfklub' and 'Skive Golfklub'. Anglers will find good opportunities for a haul in the inlet. Furthermore, a couple of fishponds are available in the area, like f.x. 'Vile Put & Take Sø' - a 3,000 square metres large lake in beautiful nature surroundings. The nature landscape around the sound 'Sallingsund' offers many good walking and bicycle routes, which lead through area that are rich in prehistoric relics.
Worth a visit
The museum 'Sallingsund og Omegns Museum' is situated in Glyngøre and displays an exhibition about the railway 'Sallingbanen', fishing and photography. Furthermore, varying special exhibitions are arranged here (15 km). The manor house 'Hessel' on the preserved peninsular Louns by Hvalpsund is the only preserved manor house in Denmark with a thatched roof. Here you can experience how family and servants lived in the old days (17 km).
Excursion spots
From Branden, 2 km north of Selde, you can sail out to the island Fur. Fur offers diversified and distinctive landscapes, which is characterized by level moors, lakes, fields, hills, steep coastal cliffs, forests and moler graves. The castle 'Spøttrup Borg' in Spøttrup, just south of Vile, is the best preserved mediaeval castle in Denmark (23 km). The flower park 'Jesperhus Blomsterpark' is the largest flower park in Scandinavia with colourful flower arrangements, jungle zoo with i.a. beautiful tropical birds, pirate and play land as well as a water world (29 km). The scenically situated stone age centre 'Stenaldercentret' in Ertebølle describes the life and nature in and around Ertebølle 6-7,000 years ago. A reconstructed village shows what the huts of that time looked like (35 km). The open-air museum 'Hjerl Hede Frilandsmuseum' near Vinderup is an interesting and lifelike museum for the whole family. See how the daily life in the country 150 years ago is vitalized (43 km).
Author: Ann Winter
Copyright © 2003-2020 Sol og Strand Feriehusudlejning A/S
Holiday homes in Selde
Destinations (The Liim Fiord)
 

Selde

Reg. no.: 32-5054

30 m to water

 

Selde

Reg. no.: 32-5051

300 m to water

 

Selde

Reg. no.: 32-5037

90 m to water

 

Selde

Reg. no.: 32-5055

500 m to water

 

Selde

Reg. no.: 32-5052

100 m to water

 

Selde

Reg. no.: 32-5057

500 m to water

 

Selde

Reg. no.: 32-5056

400 m to water

 

Selde

Reg. no.: 32-5047

250 m to water

 

Selde

Reg. no.: 32-5043

200 m to water

 

Selde

Reg. no.: 32-5042

500 m to water

 

Selde

Reg. no.: 32-5046

400 m to water

 

Selde

Reg. no.: 32-5008

300 m to water