Spend some quality time in a holiday home in Lyby Strand
Holiday cottages in Lyby Strand, The Liim Fiord, Denmark!
The quiet and calm holiday house area Lyby Strand is situated by the Liim Fiord on the south-eastern coast of Salling.
Guest assessments from Lyby Strand
7 guests have granted an average assessment of 4,00 out of 5 possible stars.
Area
The unspoiled coast by Lyby Strand provides you with good conditions for swimming, surfing, fishing and sailing. The town has its own jetty and you will find many marinas in the vicinity. The area is characterized by lovely nature, good Liim Fiord beaches, lime pits, moor areas, flower parks, water worlds and much more. Equally, the area is rich in cultural sights like i.a. manor houses and churches. In Lyby Strand it is possible to eat and buy groceries. In Skive, 12 km south of Lyby Strand, you will find good cultural offers, more restaurants and rich shopping possibilities.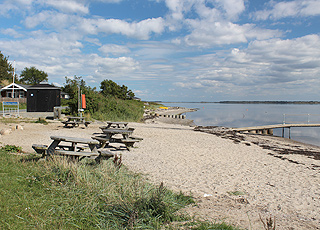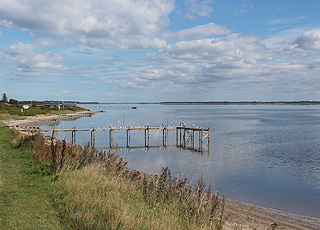 Beach
The beach of Lyby is about 15 metres wide and 1 km long. It primarily consists of sand and small stones. The water is clean and the beach is, as the other Liim Fiord beaches, very suitable for children, as the water is shallow by the edge. During the summer, a bathing jetty is available by the beach.
Nature
Around Lyby Strand the landscape is very varied with inlet, fields, forest and moor areas. Here you will find a rich bird life, and often it is possible to spot seals in the inlet. By the scenic areas 'Urhøjene' and 'Junget Krat', 20 km north of Lyby Strand, you can experience a magnificent view of Salling, the islands Fur and Livø, Himmerland and Mors from the highest point in the area (56 m).
Activities
The clean inlet offers good conditions for surfers. Anglers can fish directly from the shore or on the inlet from a boat. In the area a number of marked walking paths are available. The nearest golf course you will find by 'Harre Vig Golfklub' in Roslev (9 km). Furthermore, you can try out the courses of 'Skive Golfklub' (12 km) or 'Hjarbæk Fjord Golf Klub' in Skals (41 km).
Worth a visit
Visit the home of the poet Jeppe Aakjær 'Jenle' by Breum. Here you can see the poet's workroom as well as varying exhibitions (10 km). Visit the scenically situated Skive, which is rich in museums and galleries. Here you will also find a charming marina, a cosy pedestrian street as well as good shopping possibilities and more restaurants (12 km). 'Sundsøre Pakhus' by the spit Sundsøre Odde, 18 km north of Lyby Strand, is a restored warehouse with varying exhibitions. The flower park 'Jesperhus Blomsterpark' on the Liim Fiord island Mors is the largest flower park in Scandinavia with colourful flower arrangements, jungle zoo with i.a. beautiful tropical birds, pirate and play land as well as water world with various activities (20 km).
Excursion spots
When you spend your holiday in a holiday home in Lyby Strand, you can go on an excursion to the island Mors and Jesperhus. Here can children can play in a water world and a play centre, and the whole family can see the beautiful tropical animals in the jungle zoo, experience entertainment and enjoy the sight of the many flowers in the park (20 km). On the island Fur you can enjoy the unique atmosphere and the beautiful landscapes, which are characterized by shore, hills, steep slopes, forests and clay pits (23 km). In Monsted Kalkgruber near Stoholm you can walk around in the labyrinthine underground passages and see a magnificent world (27 km). Visit another world in the open-air museum Hjerl Hede and experience a village with animals, humans, houses, shops and workshops, as it appeared around 200 years ago (32 km). Learn more about the Stone Age at Stenaldercentret in Ertebolle. Here you can see exhibitions about nature, finds and reconstructed houses (37 km).
Author: Ann Winter
Copyright © 2003-2020 Sol og Strand Feriehusudlejning A/S
Holiday homes in Lyby Strand
Destinations (The Liim Fiord)
 

Lyby Strand

Reg. no.: 32-7013

50 m to water

 

Lyby Strand

Reg. no.: 32-7015

400 m to water

 

Lyby Strand

Reg. no.: 32-7011

300 m to water