Spend some quality time in a holiday home in Lihme
Holiday cottages in Lihme, The Liim Fiord, Denmark!
Lihme is a small and cosy village on the south-western part of the peninsular Salling, just south of the island Venø.
Guest assessments from Lihme
19 guests have granted an average assessment of 4,11 out of 5 possible stars.
Area
If you wish to spend your holiday in peaceful, quiet and lovely nature surroundings, Lihme on Salling is a good choice. Here you will find nice beaches, a scenic and varying nature, good conditions for anglers and interesting walking paths. A grocer's shop is available in Lihme, and 20 km from here Skive offers more shops and restaurants. By the shore off Lihme the cosy marina 'Gyldendal Lystbådehavn' is situated.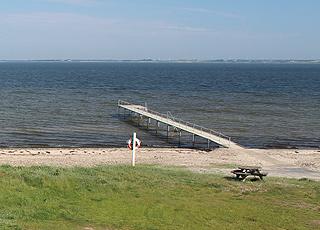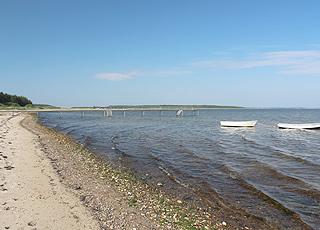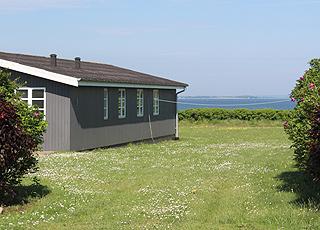 Beach
Both north and south of Lihme, in the broad 'Kås Bredning', more good sandy beaches with shallow water and small waves are available. The beaches are all suitable for children. The beach 'Blaabjerg-Houstrup Strand', which is situated a few km towards south, is one of the loveliest beaches on Salling. The 3 km long beach offers fine sand, dunes, clean water and a lovely sandy bottom. Towards north, by Spøttrup, the beach 'Gyldendal Strand' is situated. This beach has good conditions as well, as both of these beaches have Blue Flag. The beach 'Ejsingholm Strand', 11 km south of Lihme, is a fine beach with good surf conditions. A surf centre is also available here.
Nature
The nature landscape of Salling offers many experiences. Enjoy f.x. a walk along Denmark's largest and most beautiful moorland lake 'Flyndersø'. The 8 km long lake is surrounded by heathery areas, oak coppices, pine plantations and an amazingly rich bird life, which can be experienced at all times of the year. This is also the case by the lake 'Spøttrup Sø', where you can experience the otter if you are in luck. Marked routes, which lead you through some very beautiful area, are available by both lakes. By Spøttrup you will also find the mound 'Vendal Høj', an app. 3,500 years old grave mound from the bronze age. The mound is scenically situated in the landscape, and from the top you can enjoy an amazing view of the Liim Fiord, the area Thyholm and the bay Venøbugt.
Activities
By Ejsingholm, just north of Vinderup, the shallow water, the calm waves and the certain wind provide surfers with good conditions. Here you will also find a surf centre with a surf school. Salling is famous for its good fishing spots, and here it is possible to fish along the shores and in the Put & Take fishponds of the area. Golf players can try out the two golf courses of Salling, which offers the courses of 'Skive Golfklub' and 'Harre Vig Golfklub' by Vile. A number of marked and mapped bicycle and walking routes are available in the neighbourhood.
Worth a visit
The castle 'Spøttrup Borg' in Spøttrup is Denmark¿s best-preserved mediaeval castle. In the castle museum 'Spøttrup Borgmuseum' you can see how people lived in the rough and beautiful mediaeval castle throughout the years. Experience the medicine, rose and herb garden as well. Activities, music, exhibitions, theatre and marked days are also arranged here.
Excursion spots
Visit the scenically situated Skive, which is rich in museums and galleries. Here you will also find a charming marina, a cosy pedestrian street as well as good shopping possibilities and more restaurants (20 km). The open-air museum 'Hjerl Hede Frilandsmuseum' near Vinderup is an interesting and lifelike museum for the whole family. See among other things how the daily life in the country 150 years ago is vitalized (22 km). The lime pit 'Daugbjerg Kalkgruber' by Stoholm is an endless labyrinth of 2 km illuminated mine corridors with both large caves and narrow galleries (34 km). The flower park 'Jesperhus Blomsterpark' on the Liim Fiord island Mors is the largest flower park in Scandinavia with colourful flower arrangements, jungle zoo with i.a. beautiful tropical birds, pirate and play land as well as water world with various activities (39 km).
Author: Ann Winter
Copyright © 2003-2020 Sol og Strand Feriehusudlejning A/S
7 Holiday homes in Lihme
Destinations (The Liim Fiord)
 

Lihme

Reg. no.: 32-2034

300 m to water

 

Lihme

Reg. no.: 32-2033

200 m to water

 

Lihme

Reg. no.: 32-2035

300 m to water

 

Lihme

Reg. no.: 32-2036

500 m to water

 

Lihme

Reg. no.: 32-2030

500 m to water

 

Lihme

Reg. no.: 32-2024

350 m to water

 

Lihme

Reg. no.: 32-2037

600 m to water