Spend some quality time in a holiday home in Strib
Holiday cottages in Strib, Funen, Denmark!
Strib is a cosy old ferry town on north-western Funen, surrounded by water, beach and lovely nature.
Guest assessments from Strib
11 guests have granted an average assessment of 4,36 out of 5 possible stars.
Area
Strib is a lovely holiday home area on a small point on north-western Funen. When you spend your holiday in a holiday home in Strib, you are surrounded by sea, lovely beach and scenic nature. And more houses here are situated right by the water. Besides the lovely nature, you will find a cosy boat harbour with playground, an automobile museum, a swimming bath and a lighthouse. Here you can swim, fish and walk along the paths by the shore. Strib is located just 6 km from Middelfart, there you can shop, dine at restaurants and enjoy the atmosphere of the marina.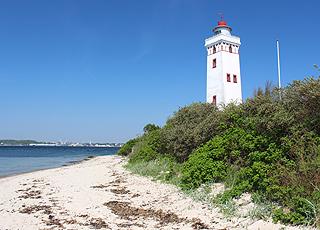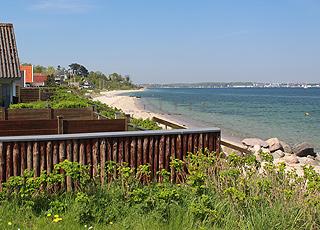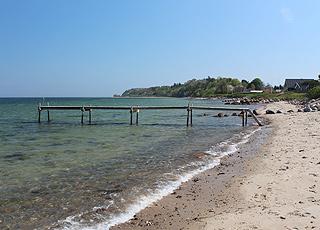 Beach
The water is inviting along the most of the small point, on which Strib is located. You can use a platform in the water, which functions as a bathing jetty. You can swim and relax on the lovely sandy beach. Please notice, however, that the water is deep her. You can also visit Vejlby Fed, which offers one of the best bathing beaches on Funen. The child-friendly beach has the blue flag as well as a bathing jetty for those, who wish to jump into the water. It is also popular to surf by Vejlby Fed, which is located 7 km from Strib.
Nature
The nature, surrounding Strib, is green and hilly. You can follow a path along the north beach and out to the preserved cliff Røjle Klint in the untouched forest Kasmose Skov. The forest has been untouched since 1993 and contains a multiplicity of animals and plants. From Røjle Klint you can enjoy the view of the area and the latest bridge over the Little Belt, where you can experience porpoise, if you are in luck. Kasmose Skov is located 4 km to the north-east.
Activities
Strib is a very popular angling spot. You can fish all the way along the shore, but the stretch by the lighthouse Strib Fyr is the most attractive because of its good conditions. Here you can catch codfish and sea trout year round, as well as flatfish and garfish in the summer. From Middelfart you can also go on a fishing trip with a fishing vessel. Allow yourselves a special experience and take a walk onthe Old Little Belt Bridge. Bridge Walking Lillebælt enables you to enjoy the scenic view of Lillebælt from a height of 60 metres. The area is very suitable for hikes and bicycle trips, as it is very scenic and has a view of the water almost anywhere. By the castle Hindsgavl Slot you can also take park in mountain bike runs. Golf players can test the course of the club Golfklubben Lillebælt in Middelfart.
Worth a visit
At Strib Automobilmuseum you can experience around 50 motorised treasures on 4 wheels as well as a number of vintage motorbikes. Here you will find interesting, rare and well-card-for cars within more brands. Visit Middelfart - a good commercial town with shops, cafés, restaurants and a charming marina. You can experience pure Funen idyll in the small, cosy and cobbled streets with half-timbered houses and hollyhocks. You can visit interesting museums like e.g. Middelfart Museum, the psychiatric collection Psykiatris Samling, the old wharf Lillebælt-Værftet and the pottery museum Danmarks Keramikmuseum. From Middelfart you can go on a porpoise safari in the Little Belt (6 km).
Excursion spots
By Middelfart you will find the forested peninsular Hindsgavlhalvø with the beautiful and historic castle Hindshavn Slot. Here you can see the scenic palace garden and walk in the animal park Hindsgavl Dyrehave, which is a large, fenced nature area with good walking paths and a rich population of red deer and fallow deer. From the castle mound Hindsgavl Voldsted you can enjoy the view of the coast of Jutland as well as the inlet of Kolding (10 km). On the peninsular Hindsgavl you can experience the castle Hindsgavl Slot and visit the animal park Hindsgavl Dyrehave as well as the activity and nature centre Hindsgavl, where you can take part in interesting activities and make use of a playground, a Tarzan course and a great picnic area with fire ring (11 km). Visit a genuine bison farm in Morud, where Ditlevsdal Bison Farm offers animal experiences, different activities and bison meat (37 km).
Author: Ann Winter
Copyright © 2003-2020 Sol og Strand Feriehusudlejning A/S
Holiday homes in Strib
 

Strib

 

Beds: 6   •   Bedrooms: 3
Pets allowed: no   •   5 m to water

 

 

 

Strib

 

Beds: 8   •   Bedrooms: 4
Pets allowed: 1   •   5 m to water