Spend some quality time in a holiday home in Sandager Næs
Holiday cottages in Sandager Næs, Funen, Denmark!
The cove 'Sandager Næs' is situated in quiet and scenic surroundings on the western part of Funen, right at the Little Belt,
Guest assessments from Sandager Næs
28 guests have granted an average assessment of 4,46 out of 5 possible stars.
Area
The holiday house area by Sandager Næs is surrounded by lovely landscapes with forests, coasts and a bird sanctuary. Sandager Næs is an ideal holiday destination if you with to fish, hike, drive on bicycle or just enjoy nature in the peaceful surroundings. It is possible to buy groceries in the town Sandager, and from here the distance to the old charming marked town Assens is 10 km.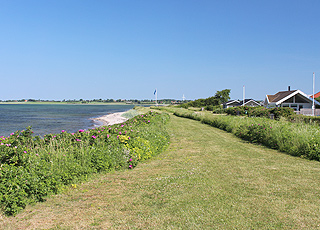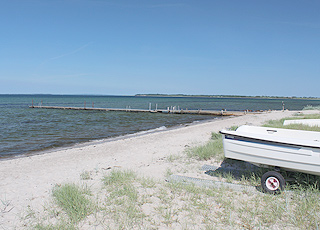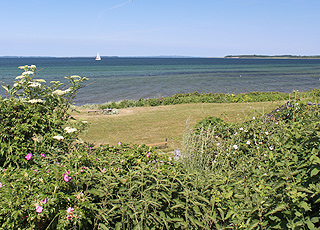 Beach
A good bathing beach is available by Sandager Næs. The water is shallow, which makes the beach very suitable for children. From the beach you can enjoy the view of the cove 'Emtekær Nor', which is an interesting marsh area with a rich bird area.
Nature
Sandager Næs is surrounded by a lovely and varying nature. The marsh area and bird sanctuary 'Emtekær Nor' is situated only a few km from Sandager Næs and is visible from the beach. In the forest grounds in Assens you can walk around the forest lake. The forest 'Krengerupskovene' by Glamsbjerg has a number of marked walking paths (20 km). The peninsula 'Helnæs' is situated about 28 km south of Sandager and connected to western Funen by a small dam. The varied landscape of the peninsula is a nature experience in a class by itself.
Activities
Anglers have good possibilities for a haul along the shores by the Little Belt and in the Put & Take fishponds of the area. Golf players can choose between many courses on Funen. The closest courses are the ones by 'Vestfyns Golfklub' close to Glamsbjerg, 'Golfklubben Lillebælt' close to Middelfart and 'Fåborg Golfklub'. Tennis courts and minigolf courses are available in Assens. The varying landscape, surrounding Sandager Næs, with coast, forest, small villages and viewpoints invites bicycle trips and walks. Equally it is very popular to drive on a cycle trolley in this area. The route begins and ends in Assens and leads you by vigorous landscapes, fields, forests and small towns.
Worth a visit
The area is rich in manor houses as f.x. 'Wedellsborg', 'Krengerup Slot', 'Brahesborg' and 'Hagenskov Slot'. At the mediaeval castle 'Hagenskov' by Ebberup, 14 km from Sandager, it is possible to experience an old dungeon. 'Frydenlund Fuglepark' by Tommerup is a lovely nature park with 700 birds from all over the world, waterholes, aviaries and a 2 km long walking path, which leads you under large old trees and out on the open savannah (30 km).
Excursion spots
Assens is an 800-years old marked town with Denmark''s most beautiful street. In the charming and very well-preserved town centre you will find merchant''s houses and gable house in timber frames. But Assens also has modern buildings, shops and a cosy marina. The museum ''Willemoesgårdens Mindestuer'' in Assens shows a shipping collection with ship''s models, paintings, figureheads, and weapons a.s.o. A small ferry sails daily from Assens to the island Bågø, which is an idyllic and scenic island. Visit the home town of H.C. Andersen, Odense, a modern and evocative town with a number of leisure potentialities in the shape of music, theatre, shows on the squares of the town, pedestrian streets, cafés, restaurants and pubs (50 km).
Author: Ann Winter
Copyright © 2003-2020 Sol og Strand Feriehusudlejning A/S
Holiday homes in Sandager Næs
 

Sandager Næs

 

Beds: 8   •   Bedrooms: 4
Pets allowed: 1   •   400 m to water

 

 

 

Sandager Næs

 

Beds: 6   •   Bedrooms: 3
Pets allowed: no   •   10 m to water

 

 

 

Sandager Næs

 

Beds: 6   •   Bedrooms: 3
Pets allowed: no   •   20 m to water

 

 

 

Sandager Næs

 

Beds: 6   •   Bedrooms: 2
Pets allowed: no   •   20 m to water

 

 

 

Sandager Næs

 

Beds: 6   •   Bedrooms: 3
Pets allowed: 1   •   250 m to water

 

 

 

Sandager Næs

 

Beds: 6   •   Bedrooms: 2
Pets allowed: no   •   10 m to water