Spend some quality time in a holiday home in Løkkeby
Holiday cottages in Løkkeby, Funen, Denmark!
Spend your holiday in a holiday home in Lokkeby on Langeland. Here you stay in scenic surroundings - right by the belt Langelandsbaltet and close to the ferry town Spodsbjerg. A holiday home in Lokkeby is a great starting point for an active family holiday. Here you are close to many interesting sights.
Guest assessments from Løkkeby
guests have granted an average assessment of 0,00 out of 5 possible stars.
Area
The small holiday home area Lokkeby is peacefully located, just north of the ferry town Spodsbjerg on the east coast of Langeland. When you spend your holiday in a holiday home in Lokkeby, you are close to cosy villages, lovely nature beaches and many interesting attractions, such as the beautiful castle Tranekar Slot. A holiday in a holiday home in Lokkeby is a good base, if you wish to be active in nature and visit historic attractions. You can buy groceries in Tullebolle or Spodsbjerg, both 1 km from Lokkeby, or visit Rudkobing, the charming ''capital'' of Langeland, which offers a marina, cosy town life and many sights (9 km).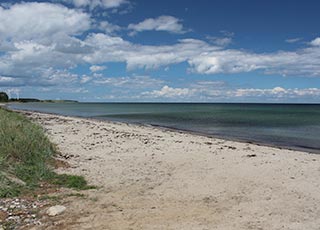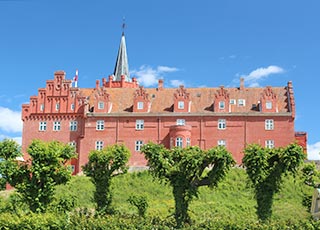 Beach
You can follow more paths from the holiday home area to the bathing beach in Lokkeby. The beach is a good and quiet bathing beach with a sandy bottom. Furthermore, you can swim from the wide and child-friendly beach Drejet in Spodsbjerg towards south.
Nature
The holiday home area Lokkeby is surrounded by beach, forest, fields, moors and the stream Akkermoserenden, which flows between Tullebolle and Lokkeby. Lokkeby Enge is a meadow area by the shore, which provides good conditions for wading birds. Near Spodsbjerg you will find the characteristic hills ''Hatbakkene'', which were formed during the last Ice Age. Around Tranekar you can visit more woods with marked walking paths. Along the paths you can experience a rich bird lift. A something quite unique you can also experience wild horses of the breed exmoor more places on Langeland. The horses stay in large fenced area, which is open for everyone. You can see the horses from the hill Ornehoj near the moor Gulstav Mose and from the area Fladet near Tranekar.
Activities
The scenic nature, which surrounds the holiday homes in Lokkeby, encourage bicycle trips and hikes. You can also fish in the water as well as in the streams and Put & Take fishponds of the area. The 150 km long shore line of Langeland enables you to swim, dive, surf and sail, when you spend your holiday in a holiday home in Lokkeby. Near Humble you can play golf on the scenic course of Langlands Golf Klub (21 km).
Worth a visit
One of Langeland''s most beautiful ancient monuments, the long barrow Lokkebydyssen, is located right outside your holiday home area. In general, Langeland is rich in passage graves, long barrows and bronze age mounds. 3 km inland behind Lokkeby you can visit the red castle Tranekær Slot. The castle is highly situated on a hill next to the palace garden Tranekar Slotspark in the idyllic town Tranekar with old half-timbered houses and the sculpture Galakse. The pretty castle mill Tranekar Slotsmolle functions as a museum for wind power and is worth a visit.
Excursion spots
Visit Rudkobing, which offers beautiful buildings, cosy streets and small squares. Here you can also the charming marina, the Langelands Museum, the exhibition of H. C. Orsted, the boat and nature centre Ohavets Smakkecenter as well as more galleries (9 km). At the museum of the cold war ''Koldkrigsmuseet Langelandsfortet'' near Bagenkop you can experience a former fort, the submarine Springeren and the minesweeper Asko among many other things (32 km).
Author: Ann Winter
Copyright © 2003-2020 Sol og Strand Feriehusudlejning A/S
Holiday homes in Løkkeby