Spend some quality time in a holiday home in Horne
Holiday cottages in Horne, Funen, Denmark!
Horne is situated on the peninsular Horne Land between Bøjden and Fåborg on south Funen.
Guest assessments from Horne
guests have granted an average assessment of 0,00 out of 5 possible stars.
Area
The holiday houses of Horne are situated close to the south Funen coast, in a quiet and scenic area. Horne Land is surrounded by the Little Belt and many small island, and offers i.a. fine bathing beaches, small ports, a number of grave mounds, cromlechs and stone fences, a bird sanctuary and lovely lush nature. Horne was established in the viking age and used to be Denmark's largest village. You will still see many half-timbered houses here, a haracteristic round church and an old well-preserved windmill. Horne is centrally located on south Funen, and the distances to activities, sights, lovely nature areas and larger towns are short. It is possible to buy groceries in Horne, and only 5 km from here, the old and cosy commercial town Fåborg offers a vivid commercial life, small cosy alleys, many craftsmen, more cultural sights as well as many good restaurants.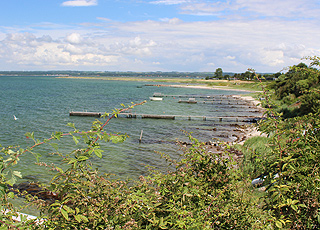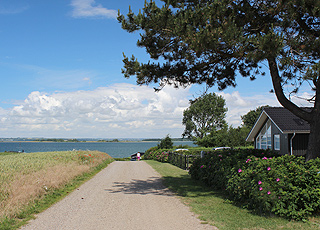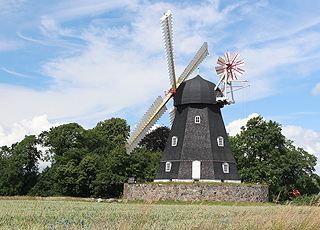 Beach
A number of good bathing beaches are available on Horne Land. The beach by Horne has shallow water, coarse sand and stones. The beach of Bøjden is a lovely bathing beach with both stones and coarse sand. The water is shallow, and therefore the beach is very suitable for children. Windsurfers will find good conditions by this beach. Right behind the beach, the nature reserve 'Bøjden Nor' is situated (5 km). The beach 'Sinebjerg Strand', a few km towards east, is also a good beach, which is suitable for children, and here you can rent boats and kayaks (5 km). By the area 'Knold' by Dyreborg a beach with lovely sand, fresh and deep water as well as a bathing jetty is available (7 km).
Nature
Horne is surrounded by lovely nature with coast, slightly undulating fields and green recreational areas. The landscape of the peninsular 'Horne Land' is generally hilly, open and surrounded by water. The preserved 'Bøjden Nor' is a bird sanctuary, where about 50 different bird species can be observed. A walking path leads you along the salt meadow, and from a shelter you can observe the bird life at close range (5 km). The hilly area 'Svanninge Bakker' - called the alps of Funen - is situated just north of Fåborg. The area is a beautiful and alternating forest area with heathery hills, a rich animal life, meadow, lakes, streams as well as bicycle and walking paths. From the hills you will have an amazing view of south-western Funen and the south Funen archipelago (6 km). In the forest 'Dyreborg Skov' towards east you may see a fallow deer. Enjoy the lovely nature and special atmosphere here (7 km). The forest 'Sollerup Skov' is situated in a scenic and undulating area (9 km).
Activities
The area is ideal for anglers, as the possibilities for coastal fishing are very good along the shores of Horne Land. The water is abounding in fish here. You can also go deep-sea fishing with a fishing vessel from Fåborg. The district, surrounding Horne is very scenic and invites therefore bicycle trips and walks along the many paths. If you wish to sail on the Little Belt, you can rent boats and kayaks in Sinebjerg, 4 km towards south. Windsurfers will find good conditions all along the shores of Horne Land. Golf players can test the course of 'Fåborg Golfklub', which is one of Denmark's most scenically situated courses with 18 challenging holes. The course lies by Dalkildegaard in the northern part of 'Svanninge Bakker'. In Fåborg you can play tennis in lovely surroundings, play petanque and minigolf and make use of the swimming baths with i.a. hot-water pool, sauna and solarium.
Worth a visit
Horne has the only round church in Funen, which was build as a church of fortification around the year 1100. At the museum 'Horne Lands Folkemindesamling' in Horne you can see a collection of museum objects, textiles and photos from former times on Horne Land. At the nearby castle 'Hvedholm Slot' you will find a wine cellar and a shop with handicraft (2 km). The mill 'Grubbe Mølle' by Svanninge is a recently restored Dutch wind and watermill (4 km). In the old market town Fåborg you can sense the cosy atmosphere and visit some the many sights of the town, like f.x. the beautiful merchant's house 'Den Voigtske Gård', the remains of the fortress from the Middle Ages, the flower garden 'Strandlyst', the prison museum 'Fåborg Arrests Fængselsudstilling', the miniature town of Fåborg 'Fåborg Miniby' and the art museum 'Fåborg Museum for Fynsk Malerkunst' (5 km). Visit the small, idyllic and evocative fishing hamlet Dyreborg with more houses from the 16th. and 17th. century (7 km).
Excursion spots
The beautiful castle 'Egeskov Slot' by Kværndrup is characterized as one of the best preserved Renaissance island forts in Europe. See the beautiful gardens, a giant maze and more museums here (25 km). 'Frydenlund Fuglepark' by Tommerup is a lovely nature park with 700 birds from the whole world, waterhole, aviaries and a 2 km long walking path, leading you under large old trees and out on the open savannah (34 km). Visit the home town of H.C. Andersen, Odense, a modern and evocative town with a number of leisure potentialities (41 km). In Odense Zoo you can see a special chimpanzee department and a large 'Oceanarium'. 'Den Fynske Landsby' by Odense is an open-air museum, showing a Funen village environment from around the year 1850.
Author: Ann Winter
Copyright © 2003-2020 Sol og Strand Feriehusudlejning A/S
Holiday homes in Horne