Spend some quality time in a holiday home in Horne Sommerland
Holiday cottages in Horne Sommerland, Funen, Denmark!
Horne Sommerland in southern Funen is a quiet and calm holiday area for the whole family.
Guest assessments from Horne Sommerland
5 guests have granted an average assessment of 5,00 out of 5 possible stars.
Area
Horne Sommerland is situated on the south Funen peninsula Horne Land, which is rich in grave mounds, cromlechs and stone fences. Horne was founded in the viking age and was once the larges village in Denmark. You will still see many half-timbered houses here, and one of the old windmills is also preserved. Horne Sommerland is a small and cosy holiday house area, which is situated right at the shore, a couple of km from Horne and about 7 km from Fåborg. From the beach you can enjoy the view of the south Funen archipelago with i.a. the islands Lyø and Ærø. It is possible to buy groceries in Horne, and Fåborg offers a vivid commercial life, restaurants, small cosy streets, art and cultural sights.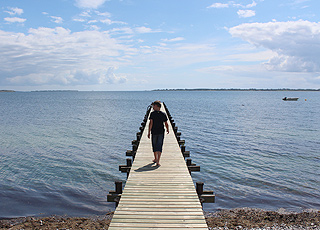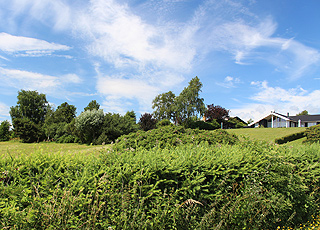 Beach
The beach by Horne Sommerland is a good beach, which is also very suitable for children. Enjoy the beautiful sunset over the bay 'Helnæsbugten' from here. By the area 'Knold', close to Dyreborg, about 6 km east of Horne Sommerland, you will find another beach with lovely sand, fresh and deep water as well as a bathing jetty. The conditions for windsurfing are also very good here.
Nature
The landscape of the peninsular is hilly, open and surrounded by water. Behind Horne the beautiful and undulating forest area 'Svanninge Bakker', the alps of Funen, is situated. From the hills you will have an amazing view of south-western Funen and the south Funen archipelago. A bicycle route and many forest paths and roads lead you through the area. In the forest 'Dyreborg Skov' towards east you may see a fallow deer. Enjoy the lovely nature and special atmosphere of this forest. The preserved cove 'Bøjden Nor', towards west, is a bird sanctuary and a winter resting place for many ducks and wading birds. A marked walking path leads you along the salt meadows and from the observation shelter you can study the bird life on close range.
Activities
The area around Horne Sommerland is very scenic and invites therefore bicycle trips and walks along the many paths. The south Funen archipelago offers good conditions for anglers, surfers and sailors. The waters, surrounding the peninsula, are abounding in fish, but you can also go deep-sea fishing from Fåborg. Dinghies for fishing can be rented in the area. 'Fåborg Golfklub' has one of Denmark's most scenically situated courts with 18 challenging holes. The course is situated by Dalkildegaard in the northern part of 'Svanninge Bakker'. In Fåborg you can play tennis in recreational surroundings, play petanque and minigolf and make use of the swimming baths with i.a. a hot water pool, sauna and solarium. From Fåborg you can go with the ferry to the islands Ærø, Avernakø, Lyø and Bjørnø.
Worth a visit
Horne has the only round church in Funen, which was build as a church of fortification around the year 1100. At the nearby castle 'Hvedholm Slot' you will find a wine cellar and a shop with handicraft. The small town Dyreborg is situated 7 km from Horne Sommerland. Here in the old peaceful fishing hamlet you will find more houses from the 16th. and 17th. century, a small harbour with an atmosphere of its own and a scenic surrounding area. The flower garden 'Strandlyst' by Fåborg is a 7,500 m2 vigorous garden with i.a. a water landscape, lakes, a gorge, a cave, a Japanese tea house and a gazebo (7 km). 'Fåborg Arrest Fængselsudstilling' is the only county gaol in Denmark, which is open to the public. Here you can see an exhibition about the history of punishment, from the Middle Ages and up till today. In the basement you will find an accurate copy of an old cell. 'Fåborg Museum for Fynsk Malerkunst' is a collection of paintings and sculptures - exclusively by Funen artists.
Excursion spots
The beautiful castle 'Egeskov Slot' by Kværndrup is characterized as one of the best preserved Renaissance island forts in Europe. See the beautiful gardens, a giant maze and more museums here (28 km). 'Frydenlund Fuglepark' by Tommerup is a lovely nature park with 700 birds from the whole world, waterhole, aviaries and a 2 km long walking path, leading you under large old trees and out on the open savannah (37 km). 'Fun Park Fyn' in Aarup contains is a water world, farm animals as well as various amusements for the whole family. When the entry has been paid for, you can make use of all activities as much as you like (40 km). Visit the home town of H.C. Andersen, Odense, a modern and evocative town with a number of leisure potentialities (44 km). In Odense Zoo you can see a special chimpanzee department and a large 'Oceanarium'. 'Den Fynske Landsby' by Odense is an open-air museum, showing a Funen village environment from around the year 1850.
Author: Ann Winter
Copyright © 2003-2020 Sol og Strand Feriehusudlejning A/S
Holiday homes in Horne Sommerland
 

Horne Sommerland

 

Beds: 6   •   Bedrooms: 3
Pets allowed: 1   •   50 m to water