Spend some quality time in a holiday home in Hasmark
Holiday cottages in Hasmark, Funen, Denmark!
Hasmark on the north coast of Funen is a lovely and popular holiday area with child-friendly bathing beaches and lovely holiday homes, which are located right behind the beach. A holiday in a holiday home in Hasmark is an ideal starting point for a cosy and active family holiday.
Guest assessments from Hasmark
79 guests have granted an average assessment of 4,49 out of 5 possible stars.
Area
Hasmark is situated on the 77 km long Kattegat coast of north Funen and with a view towards the tip on Funen Fyns Hoved. A number of good bathing beaches are available on the long, straight stretch of coast. Perfect for you, who loves good bathing beaches during your holiday in a holiday home. From Hasmark the distance to Odense is 20 km and to Otterup 7 km. Towards east the conservation areas Enebærodde and Odense Fjord are situated, and both are important resting places for migratory birds. This tongue is a lovely nature area with a rich bird life and a lighthouse from the year 1869. It is popular to drive on bicycle, walk, fish and have a picnic here. In the summer time it is possible to buy groceries in the holiday house area, and you will find good shopping possibilities in Otterup. In Hasmark you can also rent a holiday home, where your dog is welcome.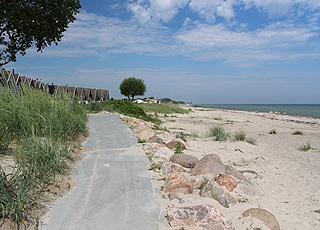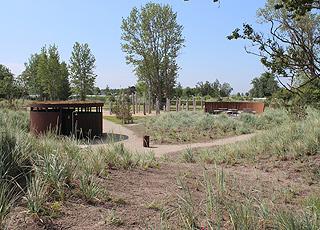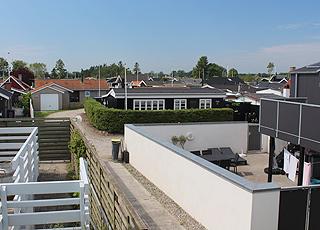 Beach
The beach of Hasmark - a fine, sandy beach with shallow water - is said to be one of the best bathing beaches in Funen. It is also very suitable for children. So with a holiday home in Hasmark you can really enjoy lovely visits to the beach. Towards east the beach is close by a bar in order to keep cars away from the beach, but it is possible to walk or cycle the 6 km all the way out to the lighthouse. By Flyvesandet you will find another really lovely sandy beach with shallow water and dunes.
Nature
North Funen is characterized by forest as well as level, green and luxuriant landscapes. Agernæs is a conservation area and game preserve, which is partially sheltered from the open sea by the tongue Nørreby Hals. East of Hasmark you will find the tongue Enebærodde, which is a preserved and scenic nature area with a rich bird life. The lighthouse Enebærodde Fyr from the year 1869 is also located here. The area is only accessible on foot or on bicycle. By the conservation area Flyvesandet you will find one of the best bathing beaches in Funen. By the forest Storskoven, close to Flyvesandet, the forest grows all the way down to the beach. The forests by Langesø and Morud have a rich and varied bird life. Holiday home rental in Hasmark means many lovely nature experiences for the whole family.
Activities
It is possible to make use of a large, interesting water world in Viking style with more pools, 2 water slides, steam cubicle, scented sauna, Finnish sauna, jacuzzi etc. by the caravan park of the town. The area offers good fishing opportunities - especially by 'Enebærodde', where the trout fishing is unique. You can go deep-sea fishing with the ship 'M/S Castor', which departs from Bogense year round. The inlet boat 'Svanen' sails on the inlet of Odense 'Odense Fjord' during the summer. Good nature experiences await you along the many walking and bicycle routs of the area, f.x. on the tongue 'Enebærodde' and on 'Den Grønne Sti' (the green path) in the outskirts of Otterup. Furthermore a minigolf course is available in Hasmark.
Worth a visit
'Hofmansgave' is a charming half-timbered manor house from the year 1784 with a small potato museum. A beautiful park with many rare plants belongs to the manor house. Funen has the largest concentration of manor houses in Denmark, and with their fields, forests, avenues and stone fences they are all worth a visit. One example is the old estate 'Gyldensteen Slot', which is situated close to 'Flyvesandet' and today works as a modern farm.
Excursion spots
Visit the home town of H.C. Andersen, Odense, a modern and evocative town with a number of leisure potentialities. In the house of H.C. Andersens the strange story of the poet's life is told. In the marine centre 'Fjord- & Bælt Centret' in Kerteminde you can come close to f.x. porpoises from the outdoor bridge or from the long underwater tunnel. The railway museum 'Danmarks Jernbanemuseum' is a large museum with games, technique, experiences, discoveries and nostalgia. 'Den Fynske Landsby' by Odense is an open-air museum, showing a Funen village environment from around the year 1850. The beautiful castle 'Egeskov Slot' by Kværndrup is characterized as one of the best preserved Renaissance island forts in Europe. See the beautiful gardens, a giant maze and more museums here.
Author: Ann Winter
Copyright © 2003-2020 Sol og Strand Feriehusudlejning A/S
Holiday homes in Hasmark
 

Hasmark

 

Beds: 6   •   Bedrooms: 3
Pets allowed: no   •   5 m to water

 

 

 

Hasmark

 

Beds: 9   •   Bedrooms: 3
Pets allowed: 1   •   5 m to water

 

 

 

Hasmark

 

Beds: 6   •   Bedrooms: 3
Pets allowed: no   •   200 m to water

 

 

 

Hasmark

 

Beds: 8   •   Bedrooms: 3
Pets allowed: no   •   300 m to water

 

 

 

Hasmark

 

Beds: 4   •   Bedrooms: 2
Pets allowed: 1   •   20 m to water

 

 

Inclusive cleaning

 

Hasmark

 

Beds: 6   •   Bedrooms: 2
Pets allowed: no   •   200 m to water

 

 

 

Hasmark

 

Beds: 5   •   Bedrooms: 2
Pets allowed: no   •   10 m to water

 

 

 

Hasmark

 

Beds: 8   •   Bedrooms: 3
Pets allowed: 1   •   75 m to water

 

 

 

Hasmark

 

Beds: 6   •   Bedrooms: 3
Pets allowed: no   •   300 m to water

 

 

 

Hasmark

 

Beds: 6   •   Bedrooms: 2
Pets allowed: no   •   75 m to water

 

 

 

Hasmark

 

Beds: 6   •   Bedrooms: 2
Pets allowed: no   •   10 m to water

 

 

 

Hasmark

 

Beds: 6   •   Bedrooms: 2
Pets allowed: 1   •   25 m to water

 

 

 

Hasmark

 

Beds: 6   •   Bedrooms: 2
Pets allowed: 1   •   125 m to water

 

 

 

Hasmark

 

Beds: 6   •   Bedrooms: 3
Pets allowed: 2   •   150 m to water

 

 

 

Hasmark

 

Beds: 6   •   Bedrooms: 3
Pets allowed: 1   •   200 m to water

 

 

 

Hasmark

 

Beds: 6   •   Bedrooms: 3
Pets allowed: 1   •   400 m to water

 

 

 

Hasmark

 

Beds: 8   •   Bedrooms: 4
Pets allowed: 1   •   300 m to water

 

 

 

Hasmark

 

Beds: 6   •   Bedrooms: 3
Pets allowed: 1   •   100 m to water

 

 

 

Hasmark

 

Beds: 4   •   Bedrooms: 1
Pets allowed: 1   •   50 m to water

 

 

 

Hasmark

 

Beds: 8   •   Bedrooms: 3
Pets allowed: 1   •   200 m to water

 

 

 

Hasmark

 

Beds: 10   •   Bedrooms: 5
Pets allowed: 2   •   9000 m to water

 

 

 

Hasmark

 

Beds: 4   •   Bedrooms: 2
Pets allowed: no   •   50 m to water