Spend some quality time in a holiday home in Brende Molle
Holiday cottages in Brende Molle, Funen, Denmark!
By Brende Mølle on western Funen you will find peace, idyll, scenic nature and the stream 'Bende Å' with Denmark's most beautiful fish ladder.
Guest assessments from Brende Molle
guests have granted an average assessment of 0,00 out of 5 possible stars.
Area
The holiday area Brende Mølle is situated in quiet, rural and very scenic surroundings, right by the stream 'Brende Å', which is abounding in fish. It takes its rise by Tommerup and flows out into the ocean close to the watermill Brende Mølle, which was formerly used for milling and producing electricity. By the old watermill you can experience Denmark's most beautiful fish ladder, which makes sure that the fish from the Little Belt can swim upstream. The area is situated about 4 km behind the shores of the Little Belt, the bird area 'Emtekær Nor' and the peninsular 'Wedellsborg' with the castle of the same name. Brende Mølle is an ideal holiday destination for i.a. nature lovers and anglers. Here you can enjoy the beautiful nature, drive on bicycle or walk in the area, study birds or visit some of Funen's many forests and interesting sights. The nearest larger town is the charming old market town Assens, which is situated 14 km towards south.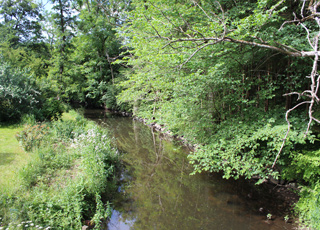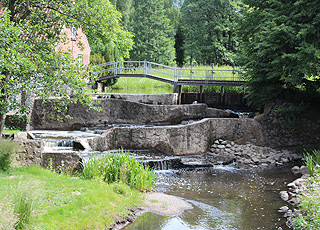 Beach
No bathing beach is available directly by Brende Mølle, as the area is situated a couple of km behind the shore, but 7 km from here you will find a lovely bathing beach by Sandager Næs. This beach is very suitable for children, as the water is shallow. From the beach you have a view of the cove 'Emtekær Nor' - an interesting marsh area, which is rich in birds. A number of good bathing beaches are available in the area, and if you wish to go surfing, the conditions are good by Assens.
Nature
A scenic and undulation terrain with i.a. forest surrounds Brende Mølle, which is located in the river valley 'Brende Å-dal'. 'Brende Å' is an interesting stream with many falls, and many birds stay in the area. From the fish ladder and the millpond more paths lead out in the surrounding nature. The interesting marsh and bird area 'Emtekær Nor' is situated just south of the peninsular Wedellsborg and here you can experience a number of ducks and wading birds (4 km). By Frøbjerg you will find the point 'Frøbjerg Bavnehøj' - the highest point on Funen (131 metres above sea level) and a popular excursion spot. From here you can enjoy the beautiful view of the landscape (16 km).
Activities
The varying and scenic landscape, surrounding Brende Mølle, invites bicycle trips and walks. Anglers will find good opportunities for a haul in the stream 'Brende Å', Funen's cleanest stream with a total length of 28 km, as well as all the way around the tip of the peninsular Wedellsborg, which makes up a stretch of 5 km. Furthermore, more Put & Take fishponds are available in the area. Golf players can try out one of Funen's many attractive golf courses. The closest ones are those of 'Vestfyns Golfklub' by Glamsbjerg (24 km), 'Golfklubben Lillebælt' by Middelfart (25 km) and 'Blommenslyst Golfklub' (26 km). Equally it is very popular to drive on a cycle trolley in this area. The route begins and ends in Assens and leads you by vigorous landscapes, fields, forests and small towns.
Worth a visit
There is no public access to the beautiful castle 'Wedellsborg Slot', but you can enjoy the sight of the castle and the idyllic palace garden with i.a. fallow deer from outside. The cosy village Skydebjerg has a village pond as well as more beautiful half-timbered houses (10 km). 'Fun Park Fyn' in Aarup contains a water world with water slides, farm animals as well as various amusements for the whole family. When the entry has been paid, all amusements can be used for free (10 km). Assens is an 800-years old marked town with Denmark's most beautiful street. In the charming and very well-preserved town centre you will find merchant's houses and gable house in timber frames. But Assens also has modern buildings, shops and a cosy marina (14 km). The museum 'Willemoesgårdens Mindestuer' in Assens shows a shipping collection with ship's models, paintings, figureheads, and weapons a.s.o. A small ferry sails daily from Assens to the island Bågø, which is an idyllic and scenic island.
Excursion spots
Visit the terrarium in Vissenbjerg and see Scandinavia's larges terrarium with reptiles and amphibian from the whole world. Experience crocodiles, snakes, iguanas, frogs and many other exotic animals at close range (18 km). At the mediaeval castle 'Hagenskov' by Ebberup it is possible to experience an old dungeon (19 km). 'Frydenlund Fuglepark' by Tommerup is a lovely nature park with 700 birds from all over the world, waterholes, aviaries and an open savannah (27 km). Visit Odense, the home town of 'H.C. Andersen', - a modern and evocative town with a number of leisure potentialities in the shape of music, theatre, shows, pedestrian streets, cafés, restaurants and pubs (37 km).
Author: Ann Winter
Copyright © 2003-2020 Sol og Strand Feriehusudlejning A/S
Holiday homes in Brende Molle