Spend some quality time in a holiday home in Gl. Løgten Strand
Holiday cottages in Gl. Løgten Strand, Djursland and Mols, Denmark!
Spend your holiday in a holiday home in Gl. Løgten Strand – here you are close to beach, forest, attractions and towns with many sights.
Guest assessments from Gl. Løgten Strand
guests have granted an average assessment of 0,00 out of 5 possible stars.
Area
Gl. Løgten Strand is a family-friendly holiday area with lovey nature and many leisure activities. The holiday area, Gl. Løgten Strand, is located in the top of the bay Kalø Vig, just a 20 minutes' drive from the centre of Aarhus. The area is surrounded by water, shore and idyllic woodlands. It is characterized as a small oasis in a scenic area. Near the holiday home area you will find the commercial town Egå with a cosy marina, the larger holiday area Følle Strand as well as the castle ruin Kalø Slotsruin, which is visible from the holiday home area. You can buy groceries in Løgten and Rønde, a 5 minutes' drive from the holiday home area. Gl. Løgten Strand is a lovely holiday area and a good starting point for excursions to Aarhus as well as the many attractions of Djursland.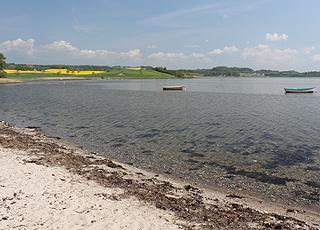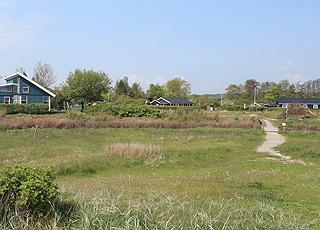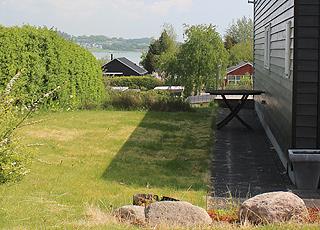 Beach
In Gl. Løgten Strand you can swim from a sandy beach. The water is shallow in the top of the bay Kalø Vig, and therefore the beach is child-friendly. You can also visit the nearby beach of Følle Strand, which is a lovely beach with sandy bottom, shallow clear water and a long bathing jetty (4 km).
Nature
The holiday home area is surrounded by sea, forest and green spaces. App. 1 km to the south of the holiday area Gl. Løgten Strand you will find the forest Vosnæsskoven on the scenic point Vosnæs Pynt, which is also a popular fishing spot. In the forest Hestehaveskoven, behind the castle ruin Kalø Slotsruin, you can experience burial mounds and dolmens as well as a rich animal and plant life. Nationalpark Mols Bjerge, between Gl. Løgten Strand and Ebeltoft, is a scenic and hilly landscape with walking paths, varying nature and scenic views, e.g. from the viewpoints Agri Bavnehøj and Trehøje, which are both situated more than 100 metres above sea level.
Activities
When you spend your holiday in a holiday home in Gl. Løgten Strand, the leisure activities are situated right outside your doorstep. You can swim and walk on the nearby beach or cycle in the beautiful and tranquil forests, which surround Gl. Løgten Strand. Anglers can try their luck along the shore, in the streams of the area or in the Put and Take fishpond Moesholm Put and Take, a few kilometres from the holiday area. You can also rent horses and ride out in the forest with a guide. If you play golf, Djursland offers many interesting courses. Just 4 km from your holiday home you can test the course of Kalø Golf Center, which also offers Pay and Play golf for beginners. Furthermore, the water of the bay Kalø Vig invites sails along the shore, surfing, diving and canoeing.
Worth a visit
The castle ruin Kalø Slotsruin from the year 1313 is an interesting excursion spot, which is scenically situated on a peninsular, separated from the mainland with a 500 metres long dam. Visit the ruin on your own or take part in a guided tour during the school holidays. In the forest behind Kalø Slotsruin you can see burial mounds and barrows from the Stone Age (9 km). The impressive castle Rosenholm Slot in Hornslet is a well-preserved aristocratic home, which displays, how the nobility has lived here throughout 450 years. Go on a guided tour in the impressive halls and take a walk in the beautiful palace garden (10 km).
Excursion spots
In Skandinavisk Dyrepark you can see impressive bears, polar bears and wolves from a 250 metres long footbridge (20 km). At the castle Gl. Estrup Slot you can visit a manor house museum and an agricultural museum. See how the masters and servants lived here through 600 years and take part in interesting activity days (22 km). Visit Aarhus and enjoy the atmosphere in the charming city with plenty of attractions (23 km). Experience the charming atmosphere in the cobbled streets with leaning half-timbered houses in Ebeltoft. Here you can also see the world's largest wooden battleship; Fregatten Jylland (28 km). In Ree Park the animals live in natural surroundings and here you will find plenty of space for both animals and guests. Go on safari drive and come close to the animals of the savannah (29 km). Djurs Sommerland offers 8 theme lands and no less than 60 rides for the whole family. Enjoy a day, full of fun and activities, in the awarded amusement park (36 km).
Author: Ann Winter
Copyright © 2003-2020 Sol og Strand Feriehusudlejning A/S
Holiday homes in Gl. Løgten Strand
Destinations (Djursland and Mols)