Rental of holiday homes in Denmark
Choose from more than 6000 wonderful holiday homes and find just the home that suits you.
Sol og Strand has more than 30 years' experience within rental of holiday homes in Denmark. This makes us a qualified and steady partner, when you are looking for the right holiday home or flat for your holiday.
Popular holiday home destinations
Holiday homes for anybody's liking
Whether you want a holiday home or a holiday flat close to the beach and the woods, or you just want to pamper yourselves by a luxurious holiday, you will find the right place with us. The on-line catalogue gives you easily and fast an overview of our wide range within rental of holiday homes. We offer different kinds of holiday homes and if you want a luxurious holiday home with a pool, whirlpool or a sauna, you will find that as well. You just find out where you want your holiday home to be situated. In each area you can read about news and events that might inspire you to have wonderful experiences in the holiday home or flat.
At Sol og Strand rental of holiday homes we offer a wide range of holiday homes and flats, allowing you to find exactly the kind of housing that best meets your requirements as to the holiday. Our private holiday homes and flats are often situated by the coast, where you can enjoy the lovely Danish sandy beaches and just relax or have an active holiday for the whole family. You can build lovely sandcastles and ornament them with seashells, or you could just go for a lovely swim in the sea. On several Danish beaches it is possible to surf and angle, so you can combine most of your family's interests during the holiday in a private holiday home.
The Danish nature offers more than just beautiful sandy beaches. All over the country you find beautiful woods and plantations in a varied landscape and a rich bird and animal life, which will give you a lot of good nature experiences. In many woods you will find playgrounds and fenced-in dog parks for children and dogs to spend hours playing and gambolling in the beautiful nature. Take a lovely walk or rent bikes to go further out in nature at your holiday home. At a lot of places, it is possible to rent horses and go for a lovely guided ride.
Denmark offers lots or exciting attractions and activities. We could mention golf courses, paintball and bowling centres, where you can be active and get good memories of your holiday. There is also a lot of amusement parks with roller coasters, huge ice cream cones and playgrounds for a funny day for the whole family. If you want to see art and culture, there are lots of art museums and small galleries with workshops. Gain insight into the creation of art and find unique specimens at your holiday in a holiday home.
Holiday in a holiday home by the coast
We have a lot of beautiful holiday destinations by the west coast and the east coast, where you will enjoy staying in a holiday home close to the beach and every thing it offers. At the west coast you will i.a. find the popular holiday destinations Rømø and Fanø. On these lovely islands by the west coast you can spend a holiday in a holiday home with the genuine island atmosphere and wide, beautiful, white beaches. Rømø has wonderful nature with woods, heath and lovely sandy beaches. Rømø has every possibility for spending a holiday exactly as it suits you best. By means of our rental of holiday homes you can rent a luxury holiday home, a holiday flat or a holiday home, where you can bring your dog. We have flats in i.a. the luxurious Enjoy Resorts Rømø and in Holiday centre RIM Rømø. When you visit Rømø you could go on an exciting seal safari with a nature guide, who takes you on a trip to watch seals and beautiful nature. On Rømø you also find interesting museums showing the history of the island and its nature.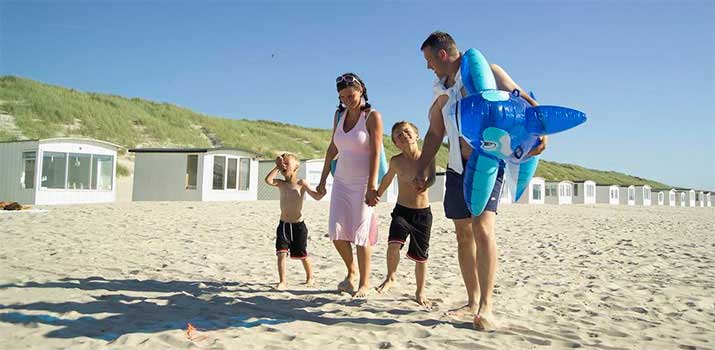 On Fanø you find beautiful nature by the Wadden Sea and wide, white, sandy beaches - a lovely place for a holiday in a holiday home. Nature is full of birds and animals and you may be lucky enough to see rare species of birds, seals and wild rabbits. Fanø is a vivid island, where you can always find lots of exciting activities and attractions. The island often frames various festivals with a lot of good experiences. Our rental of holiday homes on Rømø gives you the possibility to rent a lovely, private holiday home and you can also find a perfect, luxurious holiday home with a pool, whirlpool or a sauna. You can bring your dog to a lot of our holiday homes. On Fanø you can easily find a lovely holiday flat, and if you choose one in Fanø Bad, you and your family can enjoy the many common facilities.
A wide range of holiday homes
Sol og Strand rental of holiday homes offers a wide range of lovely holiday homes. If you want to add a little extra luxury to your holiday, you should rent one of our nice luxury holiday homes. Such a home makes it possible to have a holiday with extra focus on wellness, cosiness and relaxation. A luxury holiday home often has a private pool, whirlpool and a sauna for extra wellness. In particular, you find a lot of luxury holiday homes in beautiful Blåvand ved Vestkysten.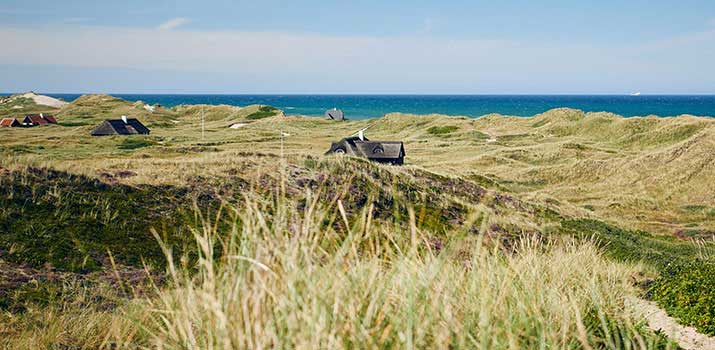 Our range wide of holiday homes includes nice holiday flats at popular destinations. You can choose a holiday flat in special surroundings, a holiday flat at a marina or a holiday flat in connection with a holiday centre or a holiday town. Some of our holiday flats have just got the little extra you might want. This could be a particular location, a luxury home or something else. Such flats do not always offer common facilities.
You could also choose a holiday flat in a marina house and enjoy the lovely view of the sea. A marina house is a holiday flat positioned in a marina and this means the possibility of enjoying a beautiful maritime atmosphere during your holiday. You can stroll along in the marina and look at the beautiful boats on the shiny water. Often you will not have far to go to visit exciting attractions and good restaurants, when you rent a holiday flat close to a marina.
When you choose a holiday flat in a holiday centre or a holiday town, you can enjoy a lot of common facilities such as aqua parks, playgrounds and playing fields. In a holiday flat in a holiday centre you have access to a lot of funny activities, while still enjoying the surrounding nature. Your holiday flat may be close to beautiful, sandy beaches, where you can enjoy lovely days building sandcastles and going for a swim in the sea. For a holiday flat in a holiday centre or a holiday town there is often a reception desk, where you can get assistance and guidance.
Holiday in a holiday home with discount
Renting a holiday home does not necessarily mean an expensive way of spending a holiday. Sol og Strand has many, cheap holiday homes at its disposal and a lot of discounts, that you can make use of, when renting a holiday home. A Bonus Holiday offers a good discount for you who want an extra long holiday in a holiday home. If you take at least a 14 day's holiday out of the peak season, you will get a discount on your holiday. Spend the extra long holiday to relax and enjoy the local attractions. If you are two persons who need a holiday in lovely surroundings in a holiday home, you could profit from the 2 persons' discount. With this kind of discount, you can get up to 25% discount on your holiday home. If you choose a holiday in a holiday home at the last minute, you could be lucky to find a home with a Last Minute discount. With Last Minute you can have a spontaneous holiday with a discount of up to 40%.
Bring your dog
Bring your dog for your holiday in a holiday home. Choose rental of a holiday home and enjoy the fact that your dog can spend the holiday with you. You might find a private holiday home with a fenced-in site, where your dog can run free. But there are off-leash dog parks various places in Denmark, where you can walk your dog in beautiful surroundings. Maybe there is an off-leash dog park nearby, with agility facilities, and often there are tables and benches for a cup of coffee while your dog is just having a great time. A holiday with the dog in a holiday home can be an active holiday, where your dog can join you for wonderful runs on the beach or nice walks in the woods.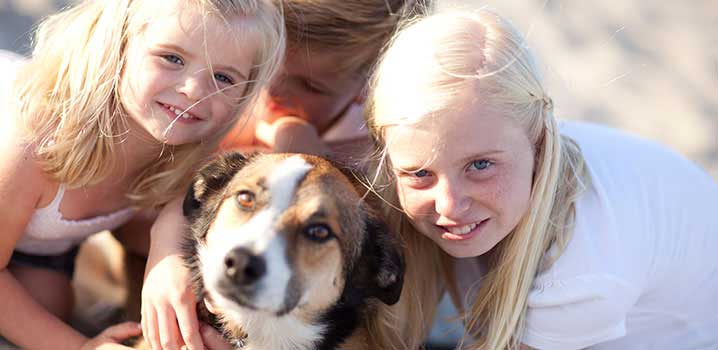 A holiday in a holiday home can create wonderful memories. You can be together as a family and enjoy having time for one another. No matter what destination and kind of holiday housing you choose, you will always find beautiful nature experiences and attractions near by. A holiday in a holiday home can vary from one year to the next at different destinations and types of housing. You could also go somewhere, that you really love and enjoy the pleasure of seeing it again and even get new experiences. So, choose rental of holiday homes and have a holiday that meets your specific wishes and needs.