Spend some quality time in a holiday home in Rutsker Hojlyng
Holiday cottages in Rutsker Hojlyng, Bornholm, Denmark!
Spend your vacation in spectacular nature on the beautiful rocky island, which offers experiences for the whole family.
Guest assessments from Rutsker Hojlyng
4 guests have granted an average assessment of 4,25 out of 5 possible stars.
Area
Rutsker Højlyng is located by the small village Rutsker in the beautiful, rocky North Bornholm, which is characterized by peace, quiet, fresh air, unique nature, good walking paths, scenic sunsets and cosy fishing hamlets. Here you can enjoy nature, observe birds, taste the freshly smoked fish, explore rock caves and castle ruins, play golf, angle, bathe or go on excursions to some of the evocative towns and interesting sights of Bornholm. The closest towns with shops and restaurants are Hasle (6 km) and Allinge (8 km).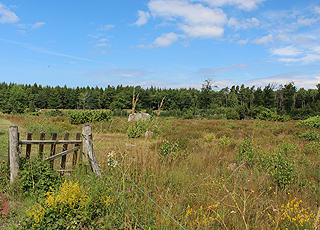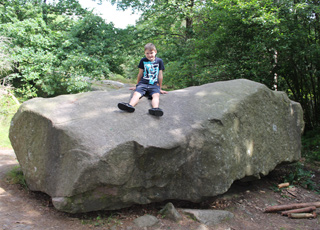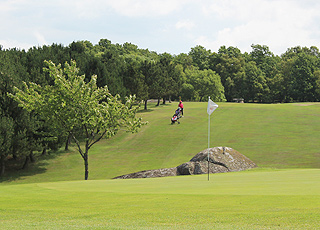 Beach
Cliffs characterize the coast on a level with Rutsker Højlyng, and therefore, no bathing beach is available here. However, you can swim by the lovely sandy bathing beach Sandvig Strand, 9 km towards northeast, or by the beautiful westerly beach Lystskoven Strand near Hasle, 7 km towards south. Don't miss the scenic sunset over the Baltic, which can be enjoyed from Lystkoven Strand. The broad, fine and white sandy beaches are available near Balka and Dueodde, southern most on Bornholm, app. 45 km from Rutsker Højlyng. Here the beaches offer shallow and clear water with a sandy bottom, which makes them very suitable for children.
Nature
Rutsker Højlyng is surrounded by the 134-hectare partly preserved nature area Rutsker Plantage. Heather, bushes, trees, boulders and rocking-stones, of which the largest weighs 30 tons, characterize the plantation. The area is part of the forest and rock area Slotslyngen, which covers North Bornholm. Furthermore, Slotslynten contains the bird cliff Mulekleven. The coast on a level with Rutsker consists of cliffs and soft hills, covered with vegetation. Here you can see the unique rock cave Jons Kapel. The unspoiled, peaceful and scenic landscape Ringebakkerne is situated south of Vang. Here you can experience dramatic cliffs, rift valleys, woods, small lakes and a beautiful view of Hammerhus (4 km). At the amazing nature area Hammerknuden you will be fascinated by scenic cliff coasts, rift valleys, waterfalls and rock caves (8 km). Caves, grottos and rugged cliff formations in the water create dramatic sceneries by Helligdomsklipperne near Gudhjem (22 km).
Activities
The exceptional, beautiful and hilly nature invites walks, bicycle rides and horseback rides as well as rock climbing and bird observation. Bornholm offers some of Denmark's best coastal fishing for sea trouts, and if you wish to angle in a Put & Take fishpond, you can visit Krusegård near Rutsker, which offers no less than three ponds, among these a trout pond. You can also go deep-sea fishing from the harbour of Sandvig (9 km). The two 18-hole golf courser of Rø Golfbaner are located just a few km from Rutsker Højlyng, and in connection with this you will find two Par-3 courses. Furthermore, golf courses are available in Nexø and Rønne. From the small harbour Hammerhavnen, below Hammeshus, you can go on a sail along the shore and experience the magnificent cliffs from the sea (8 km).
Worth a visit
The large rock cave Jons Kapel is located by the water, 3 km from Rutsker Højlyng. Stairs lead through a cleft and down to the cave. At the most elevated spot in the area you can see the beautiful white round church St. Ols. Visit the original, charming fishing hamlets Helligpeder and Teglkås (both 4 km). The smokehouse Hasle Silderøgeri with the 4 chimneys has been converted into a museum, but it still functions as a traditional smokehouse. See the fish hanging on a row in the old smoking chambers and try some of the specialities (6 km). Hammershus is an impressive old castle from around 1250, which rises from a steep cliff on the northern tip of Bornholm. The scenically situated castle ruin is the most popular attraction on Bornholm. It was abandoned around 1745 and fell into ruin after that. Today, the ruins are scheduled and a sight in a class of its own (8 km). Many craftsmen inhabit the island, and you can visit sculptors, glass blowers, potters and painters around the island.
Excursion spots
Go to Rønne and experience the pleasant atmosphere of the marina. The town also offers museums, a bowling alley, a swimming baths, shops and restaurants (15 km). The art museum Bornholms Kunstmuseum is situated in one of Bornholm¿s most scenic areas. Here you can see works of famous Bornholm painters as well as theme exhibitions with art, design and handicraft (22 km). Bornholms Middelaldercenter in Gudhjem is a historic experience centre. Get an impression of the peasant life in the years 1350-1450. The live mediaeval environment contains living-quarters, a water mill, a forge and a fortified castle mounds (22 km). NaturBornholm in Åkirkeby informs of the Bornholm nature - from the origination in the glowing lava more than 1 billion years ago (31 km). JOBOLAND Brændesgårdshaven' by Svaneke is a popular nature and amusement park for the whole family with f.x. rowboats, aerial cableway, climbing frames, minigolf, bowling, wooden cars, monkeys, goats and a large aquapark (36 km).
Author: Ann Winter
Copyright © 2003-2020 Sol og Strand Feriehusudlejning A/S
Holiday homes in Rutsker Hojlyng
 

Rutsker Hojlyng

 

Beds: 6   •   Bedrooms: 2
Pets allowed: 2   •   3000 m to water