Spend some quality time in a holiday home in Hasle
Holiday cottages in Hasle, Bornholm, Denmark!
The holiday area Hasle on the west coast of Bornholm offers a great sea bath, a charming harbour, an inviting smoke house, an active town life and holiday homes for everyone. When you spend your holiday in a holiday home in Hasle on Denmark''s rocky island you are surrounded by scenic nature and unique sights, like e.g. the castle ruin Hammershus.
Guest assessments from Hasle
56 guests have granted an average assessment of 4,34 out of 5 possible stars.
Area
The charming town Hasle is situated on the steep slopes, which rise behind the cosy fishing harbour and marina Hasle Marina. The town is famous for its characteristic Bornholm smokehouse Hasle Silderogeri, which function as a museum-smokehouse, where fish are still smoked according to the old and traditional method in open chimneys. By Hasle Marina you can make use of recreational facilities, among other things a harbour bath. Near Hasle you will find the forest Hasle Lystskov with bicycle and walking paths. And just north of Hasle you can follow the path Redningsstien, which leads you all the way along the shore to Hammershus. Hasle offers good shopping possibilities and more restaurants. When you rent a holiday home in Hasle, your dog is often welcome in our holiday homes.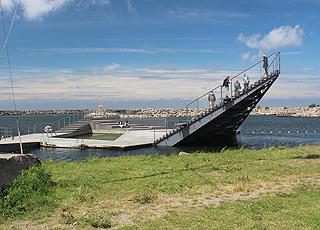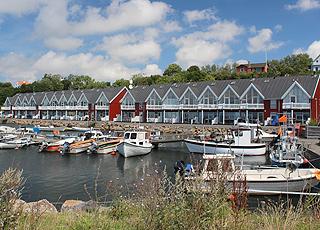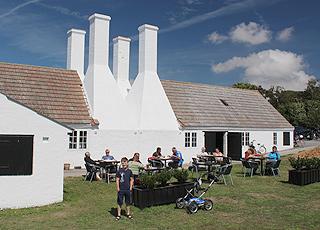 Beach
By Hasle Marina you will find a lovely bathing establishment, which is being established in 2012. An architect competition was organized in order to find the right design for the public bath, and the ideas were multiple. The idea behind the project is to convert the former fishing harbour into a recreational area for children and adults. Just south of Hasle you will find the lovely, westerly beach Lystskoven Strand. The beach is a long and wide sandy beach with dunes and good bathing conditions. Right behind the beach the forest Hasle Lystskov is situated. Don''t miss the beautiful sunset over the Baltic, which can be enjoyed from the beach. The wide, fine and white sandy beaches are available by Balka and Dueodde, about 42 km from Hasle. The beaches have shallow and clear water, a sandy bottom and they are very suitable for children. With a holiday home in Hasle you can enjoy many lovely beaches nearby.
Nature
In the scenic and peaceful forest 'Hasle Lystskov' you will find a number of walking paths and the two beautiful forest lakes 'Rubinsøen' and 'Smaragdsøen'. You will find a rich bird life by the lakes. The stream 'Blykobbe Å' flows right through the preserved forest 'Skovly' by Sorthat, 6 km towards south. Here you will also find more walking and bridle paths. 'Safirsøen' is a scenic clay pit, filled with water, by Sorthat, which is inhabited by a large number of marsh frogs and toads. The beautiful forest Almindingen is situated in the centre of Bornholm. Here you can experience the 162 metres high hill 'Rytterknægten', beautiful forest lakes and the largest rift valley of the island. The fabulous nature area 'Hammerknuden' will impress you with scenic rocky coast, rift valleys, waterfalls and rocky caves. Caves and rugged cliff formations in the water create dramatic sceneries by the cliffs 'Helligdomsklipperne' close to Gudhjem (22 km).
Activities
Holiday home rental in means many interesting activities and here you will find something for any taste. Anglers will find good fishing opportunities in the harbour of Hasle, along the shores, in the forest lakes of Hasle Lystskov as well as in the stream Blykobbe Å in the forest Skovly by Sorthat. Furthermore, a couple of Put & Take fishponds are available in Bornholm. You can play minigolf and rent rowboats as well as bicycles in the area. Golf players can try out no less than 3 courses on the island. Hasle is situated right between the clubs Bornholms Golf Klub in Ronne and Nordbornholms Golf Klub, but also Nexo Golf Klub is also recommendable. The many marked walking, bicycle and bridle paths of the island enable you to experience the scenic and distinguished nature landscape at close range. So you can experience nature in many ways when you spend your holiday in a holiday home in Hasle.
Worth a visit
'Hasle Silderøgeri' with the 4 chimneys is a famous museum-smokehouse, which still function as a traditional smokehouse. See the fish hanging on a line in the old smoking chambers and try some of the specialities of the place. In the pretty church of Hasle you can experience a unique and beautiful interior. The gallery 'Grønbechsgård - Kunsthåndværkernes Hus' in the centre of Hasle shows varying exhibitions of local craftsmen. Here you will also find a glass factory and a maritime exhibition with effects from old fishing vessels. 3-5 km north of Hasle you can experience the original, charming fishing hamlets Helligpeder and Teglkås. Hammershus is an impressive old castle from around the year 1250, which rises from a steep rock hillock on the northern tip of Bornholm (12 km). Visit Rønne and experience the cosy atmosphere of the marina. The town also offers museums, a bowling alley, a swimming baths, good shopping possibilities and restaurants (12 km).
Excursion spots
At the art museum 'Bornholms Kunstmuseum' works of famous Bornholm painters as well as theme exhibitions with art, design and handicraft can be admired (22 km). 'NaturBornholm' in Åkirkeby informs of the Bornholm nature - right from the origination in the glowing lava more than 1 billion years ago (26 km). 'Oluf Høst Museum' has been established in the home of the artist in Gudhjem, and here you can experience his paintings (27 km). 'Bornholms Middelaldercenter' in Gudhjem is a historic experience centre. The live environment from the Middle Ages contains living-quarters, a water mill, a forge and a fortified castle mounds. 'JOBOLAND Brændesgårdshaven' by Svaneke is a popular nature and amusement park for the whole family with i.a. rowboats, aerial cableway, climbing frames, minigolf, bowling, wooden cars, monkeys, goats and a large water world (41 km). The 4 round, characteristic and whitewashed churches; Østerlars, Olsker, Nylars and Nyker are the landmarks of Bornholm.
Author: Ann Winter
Copyright © 2003-2020 Sol og Strand Feriehusudlejning A/S
Holiday homes in Hasle
 

Hasle

 

Beds: 4   •   Bedrooms: 2
Pets allowed: no   •   15 m to water

 

 

 

Hasle

 

Beds: 8   •   Bedrooms: 3
Pets allowed: 1   •   5 m to water

 

 

 

Hasle

 

Beds: 5   •   Bedrooms: 2
Pets allowed: no   •   250 m to water

 

 

 

Hasle

 

Beds: 8   •   Bedrooms: 4
Pets allowed: 1   •   500 m to water

 

 

Inclusive cleaning

 

Hasle

 

Beds: 10   •   Bedrooms: 4
Pets allowed: no   •   10 m to water

 

 

Inclusive cleaning

 

Hasle

 

Beds: 6   •   Bedrooms: 3
Pets allowed: no   •   10 m to water

 

 

 

Hasle

 

Beds: 8   •   Bedrooms: 3
Pets allowed: 1   •   10 m to water

 

 

 

Hasle

 

Beds: 10   •   Bedrooms: 4
Pets allowed: 1   •   600 m to water

 

 

 

Hasle

 

Beds: 8   •   Bedrooms: 3
Pets allowed: 2   •   10 m to water

 

 

 

Hasle

 

Beds: 6   •   Bedrooms: 3
Pets allowed: no   •   10 m to water

 

 

 

Hasle

 

Beds: 8   •   Bedrooms: 4
Pets allowed: 2   •   800 m to water

 

 

 

Hasle

 

Beds: 8   •   Bedrooms: 4
Pets allowed: 2   •   600 m to water

 

 

 

Hasle

 

Beds: 8   •   Bedrooms: 4
Pets allowed: no   •   1200 m to water

 

 

 

Hasle

 

Beds: 4   •   Bedrooms: 2
Pets allowed: 1   •   1000 m to water

 

 

 

Hasle

 

Beds: 6   •   Bedrooms: 2
Pets allowed: 1   •   1200 m to water